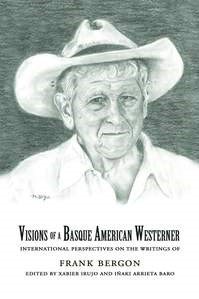 Visions of a Basque American WesternerInternational Perspective on the Writings of Frank Bergon$25.00
Author:
Frank Bergon
Format: Paper
Pages:
ISBN: 9781949805192
Published Date: 2021
Visions of a Basque American Westerner: International Perspectives on the Writings of Frank Bergon gathers the essays of nine scholars and writers from the United States and Europe, who presented papers on the novels, essays, and critical works of Frank Bergon at a two-day conference, sponsored by the Center for Basque Studies and the Jon Bilbao Basque Library at the University of Nevada, Reno, in March 2019.
 
Topics range from Basque aspects of Bergon's fiction to his investigation of inauthenticity in a post-truth world, from discussions of Shoshone Mike as a "perfect novel" to work on The Journals of Lewis and Clark as a "dazzling and foundational account" in literary ecocriticism.
 
A focus on Bergon's fiction reveals his uniqueness as the only novelist to present Basque American experience linearly across four generations and the first to render fully the voices of Okie California since The Grapes of Wrath.
Author Bio
Frank Bergon is a critically acclaimed novelist, critic, and essayist. His writing mainly focuses on the history and environment of the American West, including his most recent works The Toughest Kid We Knew and Two-Buck Chuck & The Marlboro Man. Frank was born in Ely, Nevada, and grew up on a ranch in Madera County in California's San Joaquin Valley.
Reviews
"Frank Bergon's writing often consists of equal parts elegance and hardpan. The beguilingly roughhewn sketch of him (by Madeline Bergon) on the cover ofVisions [of a Baque American Westerner] exemplifies that mix of qualities and hints at the additional riches and insights awaiting a reader in this handsome new volume of essays." –Michael Kowalewski, Western American Literature