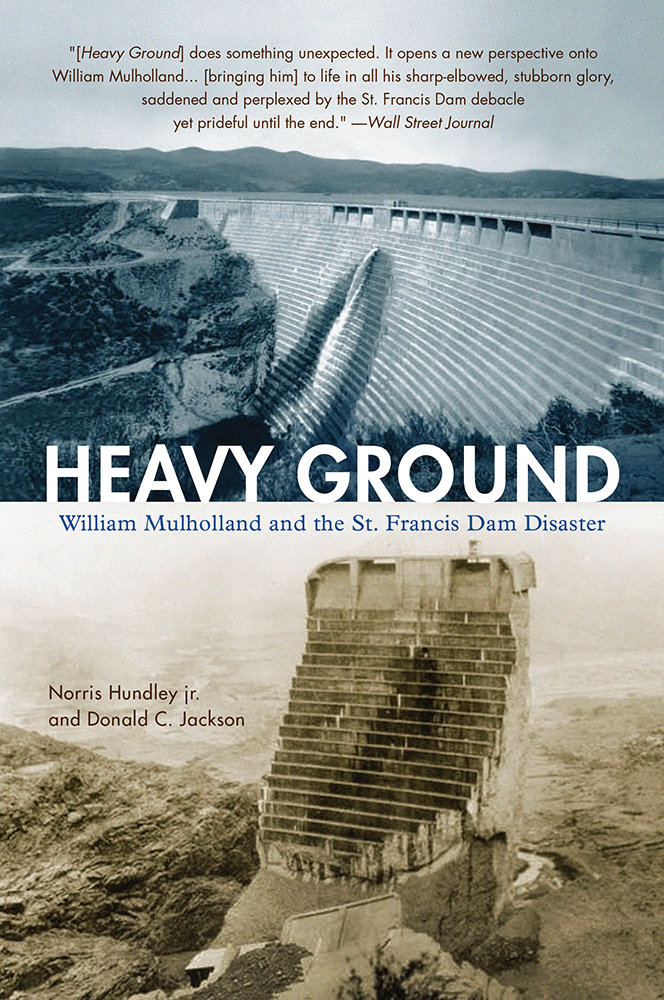 Heavy GroundWilliam Mulholland and the St. Francis Dam Disaster$45.00
Author:
Norris Hundley
Author:
Donald C. Jackson
Format: Paper
Pages: 440
ISBN: 9781948908887
Published Date: 2020
Minutes before midnight on March 12, 1928, the St. Francis Dam collapsed, sending more than 12 billion gallons of water surging through Southern California's Santa Clara Valley and killing some 400 people. This tragic failure is widely recognized as the greatest civil engineering disaster in twentieth-century American history. Extensively illustrated and carefully researched, Heavy Ground provides a compelling an account of how the St. Francis Dam came to be built, its relationship to the Los Angeles Aqueduct (which is famed for bringing water from the rural Owens Valley to the growing urban enclave in Southern California), the reasons for its collapse, the terror and heartbreak brought by the flood to the people of the Santa Clara Valley (including the communities of Saugus, Piru, Fillmore, and Santa Paula), efforts to restore the homes and landscape ravaged by the flood and to compensate victims for their losses,  the political factors influencing investigations of the failure, the relationship of these investigations to the impending Congressional passage of the Boulder Canyon Project Act (which authorized what became known as Hoover Dam), and the effect of the disaster on subsequent dam safety regulation in California.  Underlying all is a consideration of how the dam-and the disaster- was inextricably intertwined with the life and career of William Mulholland, one of the most renowned engineers in the American West who was also responsible for the design and construction of the ill-fated dam.
 
Author Bio
Norris Hundley (1935–2013) was an author and leader in the history of the American West and in the nascent field of water history. He was a was long time member of the History Department at UCLA and served as president of both the Western History Association and the Pacific Coast Branch of the American Historical Association.
 
Donald C. Jackson is the Cornelia F. Hugel Professor of History at Lafayette College in Easton, Pennsylvania. He has authored many books and articles on the history of dams and hydraulic engineering.
 
 
Reviews
"[Heavy Ground] does something unexpected. It opens a new perspective onto William Mulholland... [bringing him] to life in all his sharp-elbowed, stubborn glory, saddened and perplexed by the St. Francis Dam debacle yet prideful until the end."
— Wall Street Journal

"A meticulously researched… case study of the catastrophic failure north of Los Angeles in March 1928 of the St. Francis Dam that killed 400-450 people… [Heavy Ground] is exemplary for its use of previously unavailable original sources, particularly the L.A. Coroner's Inquest report."
 — Pacific Historical Review
 
"A gripping account of this ill-fated dam and the person most directly responsible for its flawed design: William Mulholland."
 — Technology and Culture
 
"Carefully-crafted, exhaustively-researched, liberally-illustrated, and engagingly-written... an important and welcome addition to the pantheon of scholarship on California Water History."
 — Southern California Quarterly
 
 "Above all, [Hundley and Jackson] tell the story of the tragedy itself, the testimonies and recollections of survivors, the arguments over reparations for property damage and lives lost. Forget about Chinatown. This books sets a standard for scholarship that scholars will have to meet in their own research into Los Angeles' controversial water history."
 — Western Historical Quarterly

 "For its lucid explanation of the politics surrounding the [St. Francis] disaster, its minute-by-minute description of the dam's final moments, and ensuing tidal wave that murderously swept down the valley, and its meticulous and careful analysis of the dam's design, construction, and failure, Heavy Ground joins the list of [Hacker Prize] books displaying "exceptional scholarship" while reaching for readers "beyond the academy." Additionally, the book superbly integrates the history of technology with social, cultural, and economic contexts."
 — Sally Hacker Prize citation