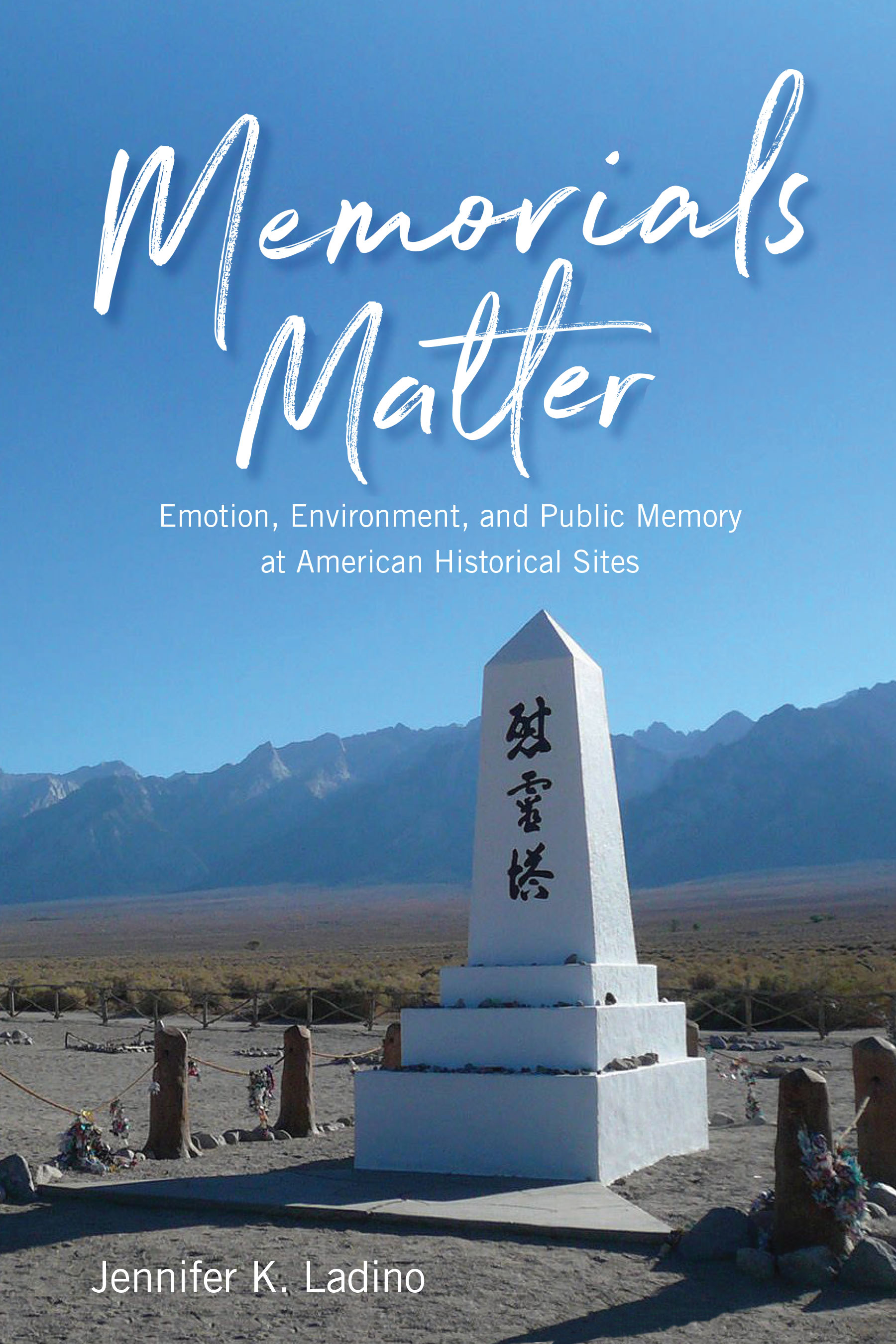 Memorials MatterEmotion, Environment and Public Memory at American Historical Sites$29.95
Author:
Jennifer K Ladino
Format: Paper
Pages: 320
ISBN: 9781943859962
Published Date: 2019
From the sculptured peaks of Mount Rushmore to the Coloradan prairie lands at Sand Creek to the idyllic islands of the Pacific, the West's signature environments add a new dimension to the study of memorials. In such diverse and often dramatic landscapes, how do the natural and built environments shape our emotions?

In Memorials Matter, author Jennifer Ladino investigates the natural and physical environments of seven diverse National Park Service (NPS) sites in the American West and how they influence emotions about historical conflict and national identity. Chapters center around the region's diverse inhabitants (Mexican, Chinese, Japanese, African, and Native Americans) and the variously traumatic histories these groups endured—histories of oppression, exploitation, incarceration, slavery, and genocide. Drawing on material ecocritical theory, Ladino emphasizes the ideological and political importance of memorials and how they evoke visceral responses that are not always explicitly "storied," but nevertheless matter in powerful ways.

In this unique blend of narrative scholarship and critical theory, Ladino demonstrates how these memorial sites and their surrounding landscapes, combined with written texts, generate emotion and shape our collective memory of traumatic events. She urges us to consider our everyday environments and to become attuned to features and feelings we might have otherwise overlooked.
 
Author Bio
Jennifer Ladino is an author and associate professor of English at the University of Idaho, where she specializes in American literature and the environmental humanities.
 
Reviews
"From Pearl Harbor to Manzanar, Jennifer Ladino's Memorials Mattershows us how the physical environments of U.S. national memory sites foster affective responses and politicized action. Deploying first-person narrative scholarship and drawing on her experience as a former park ranger, Ladino makes unique and accessible contributions to material ecocriticism, affect studies, and national park studies. As threats to the U.S. national park system continue to proliferate alongside resurgent white nationalisms, Memorials Matterproves a timely and necessary work."
Nicole Seymour, author of Strange Natures
"In Ladino's study, national parks are sites of emotional friction and emotional discovery…For the parks lover and ecocritic alike, Ladino's book informs and guides."
Heather Houser, author of Ecosickness in Contemporary US Fiction
"... I found myself fascinated by the topic...I learned a lot, more than I can possible describe here."
National Parks Traveler
Memorials Matter offers a timely and thoughtful examination of the ways in which the built and natural environment shape collective memories and national identity...a book commendably and unabashedly of this time.
Western Historical Quarterly
She is optimistic that the NPS can improve its interpretative work to include the complications of racism and environmental losses in its memorialization while allowing visitors still to feel 'awe and wonder' in these amazing landscapes (243). My fingers are crossed that she is right.
Western American Literature
Public historians and students of public history, especially those interested in the field's connection to environmental history, will find Ladino's book both familiar and satisfying. It is familiar because her work is grounded in consideration of humans' relationship with both the built and natural environments and satisfying because of the academic heft of affect theory and how it helps us better understand and articulate visitors' and our own experiences with public memorials.
Public Historian