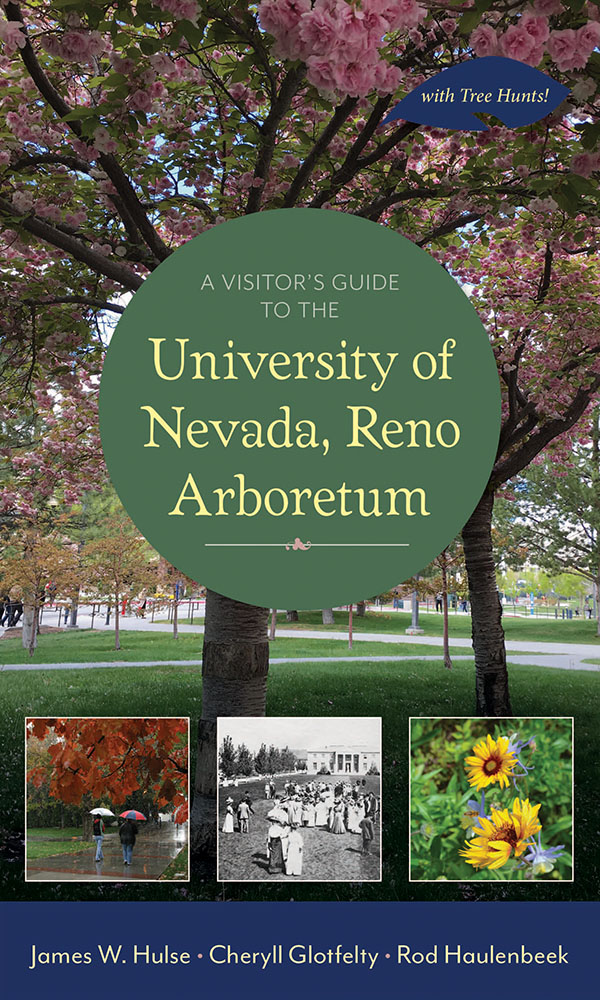 Visitor's Guide to the University of Nevada, Reno Arboretum$14.95
Author:
James W. Hulse
Author:
Cheryll Glotfelty
Author:
Rod Haulenbeek
Format: Paper
Pages: 125
ISBN: 9781943859320
Published Date: 2018
A Nevada State Arboretum, the University of Nevada, Reno campus is home to more than 3,000 trees representing more than 200 species and varieties. This attractive guidebook introduces readers to the university's beautiful campus and its botanical treasures. Richly illustrated with both contemporary color and archival photos, this book captures the charm of the campus in all four seasons and shows how the grounds of the university have evolved over the years. Featuring 19 distinct tours around campus, a comprehensive map, and family-friendly interactive "tree hunts," this guide showcases the campus' ecological diversity and interesting tree species and will appeal to first-time visitors as well as longtime residents.
Author Bio
James W. Hulse, alumnus of University of Nevada, Reno, taught for 35 years as a member of the university's history department faculty. Hulse is the author of several books, including Great Basin Mosaic, Nevada's Environmental Legacy: Progress or Plunder, The Silver State: Nevada's Heritage Reinterpreted (now in its 3rd edition), Reinventing the System: Higher Education in Nevada, 1968-2000.
 
Cheryll Glotfelty is an English professor at the University of Nevada, Reno and editor of Literary Nevada: Writings from the Silver State. She became chair of the University of Nevada, Reno Arboretum Board in 2014, and since then has become obsessed by trees and passionate about the arboretum.
 
Rod Haulenbeek, also known as "The Tree Hunter," spent a 20-year career in the oil industry. Since then he has published two books about trees, is heavily involved in the Nevada Big Tree Program, and has completed tree inventories for the Nevada Division of Forestry of over 15,000 trees with over 200 species. His certifications include Master Gardener, Tree Worker, Arborist, and Tree Risk Assessment.
 
Reviews
"A delightful tree guide full of factual, historical, and important botanical information for those who just want to enjoy a stroll through the campus arboretum, and for those who study horticulture, plant science, and environmental resources."
Bill Carlos, M.S., horticulturist, manager of the Wilbur D. May Arboretum and Botanical Garden