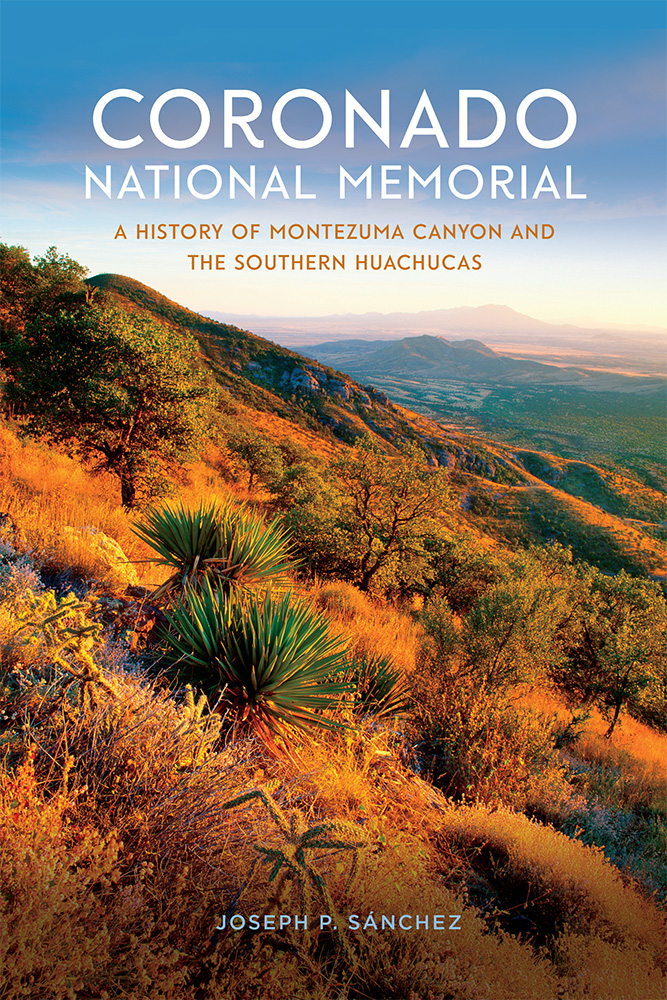 Coronado National MemorialA History of Montezuma Canyon and the Southern Huachucas$24.95
Author:
Joseph P. Sánchez
Format: Paper
Pages: 216
ISBN: 9781943859313
Published Date: 2017
Coronado National Memorial explores forgotten pathways through Montezuma Canyon in southeastern Arizona, and provides an essential history of the southern Huachuca Mountains. This is a magical place that shaped the region and two countries, the United States and Mexico. Its history dates back to the expedition led by Conquistador Francisco Vásquez de Coronado in 1540, a mere forty-eight years after Columbus' first voyage. Before that time Native Americans occupied the land, later to be joined by Spanish and Mexican period miners and ranchers, prospecting entrepreneurs, missionaries, and homesteaders.

Sánchez is the foremost historian of the area, and he shifts through and decodes a number of key Spanish and English language documents from different archives that tell the story of an historical drama of epic proportions. He combines the regional and the global, starting with the prehistory of the area. He covers Spanish colonial contact, settlement missions, the Mexican Territorial period, land grants, and the ultimate formation of the international border that set the stage for the creation of the Coronado National Memorial in 1952.

Much has been written about southwestern Arizona and northeastern Sonora, and in many ways this book complements those efforts and delivers details about the region's colorful past. 
 
Author Bio
Joseph P. Sánchez worked for the National Park Service for 35 years. He is the founder of the Spanish Colonial Research Center at University of New Mexico, and founding editor of Colonial Latin American Historical Review. He is the author of several books, including most recently, Early Hispanic Colorado, 1678-1900. He lives in Albuquerque, NM.
Reviews
"...an excellent account of the national memorial, its resources, and the borderlands historiography of the Coronado expedition."—The Western Historical Quarterly
"Sánchez examines the historical, cultural, and ecological contexts that gave rise to the southeastern corner of Arizona known as Montezuma Canyon and its surrounding environs. He shows how the area developed strong and durable multicultural ties that are transnational in nature and scope. His book delivers quite compellingly the 'global dimensions of a microcosm' that few authors are able to achieve."—Michael M. Brescia, Curator of Ethnohistory, Arizona State Museum, University of Arizona