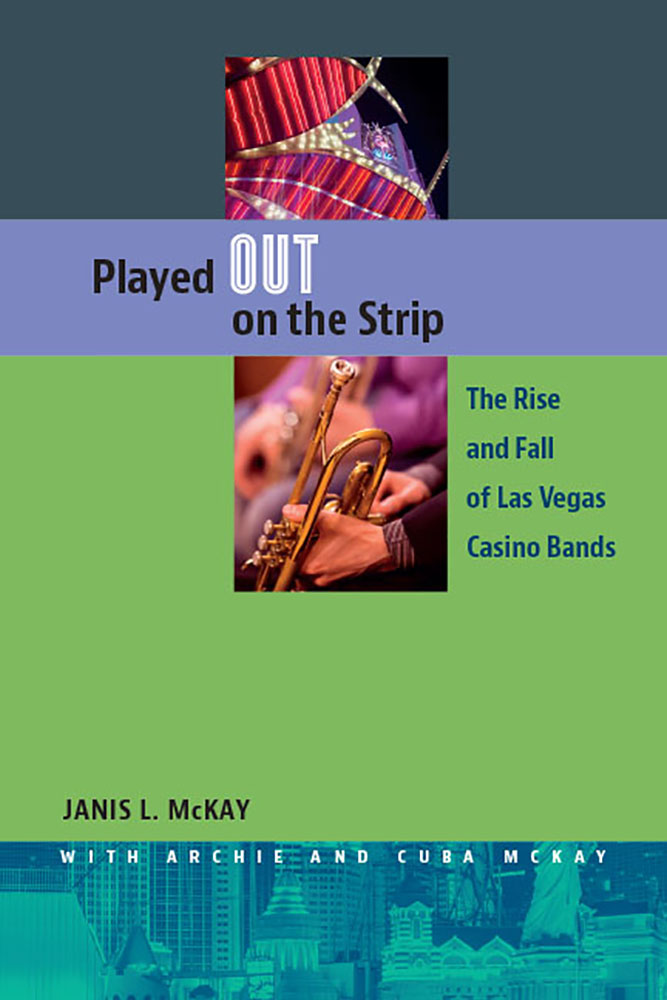 Played Out on the StripThe Rise and Fall of Las Vegas Casino Bands$27.95
Author:
Janis L. McKay
Format: Paper
Pages: 256
ISBN: 9780874179996
Published Date: 2016
From 1940 to 1989, nearly every hotel on the Las Vegas Strip employed a full-time band or orchestra. After the late 1980s, when control of the casinos changed hands from independent owners to corporations, almost all of these musicians found themselves unemployed. Played Out on the Strip traces this major shift in the music industry through extensive interviews with former musicians. In 1989, these soon-to-be unemployed musicians went on strike. Janis McKay charts the factors behind this strike, which was precipitated by several corporate hotel owners moving to replace live musicians with synthesizers and taped music, a strategic decision made in order to save money. The results of this transitional period in Las Vegas history were both long-lasting and far-reaching for the entertainment industry. With its numerous oral history interviews and personal perspectives from the era, this book will appeal to readers interested in Las Vegas history, music history, and labor issues.
Author Bio
Janis L. McKay is an associate professor of bassoon at the University of Nevada, Las Vegas, and Principal Bassoon for the Las Vegas Philharmonic Orchestra. She also performs as Principal Bassoon for the Classical Music Festival in Austria, and as Contrabassoon for the Reno Philharmonic. McKay has performed with many noteworthy musicians, including Plácido Domingo, Luciano Pavarotti, Andrea Bocelli, and many others.
Reviews
"Don't be fooled by the numbered footnotes and scholarly imprint. McKay's book is full of stories: Debbie Reynolds cleaning up a deposit left by an elephant onstage. The conductor who hooked his toupee on a baton and flipped it out into the audience. But Played Out on the Strip is also the serious book Las Vegas musicians deserve." – Mike Weatherford, Las Vegas Review Journal
 
Las Vegas Review Journal