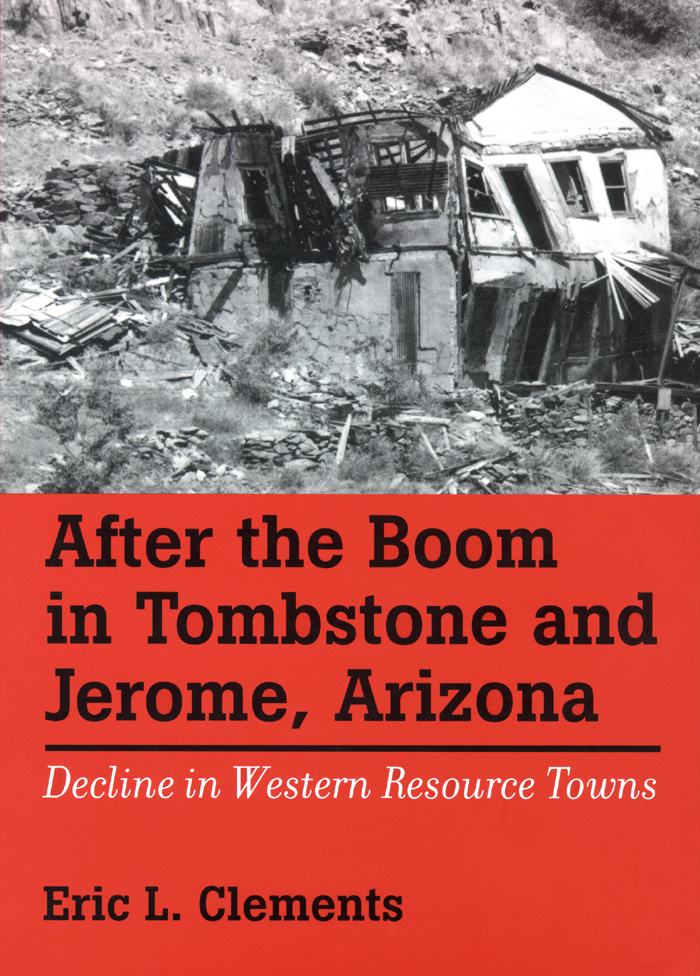 After The Boom In Tombstone And Jerome, ArizonaDecline In Western Resource Towns$34.95
Author:
Eric L. Clements
Format: Paper
Pages: 408
ISBN: 9780874179583
Published Date: 2014
Focusing on two Arizona towns that had their origins in mining bonanzas—Tombstone and Jerome—historian Eric L. Clements offers a rare study dissecting the process of bust itself—the reasons and manners in which these towns declined as the mining booms ended. Tombstone was the site of one of the great silver bonanzas of the nineteenth century, a boom that started in the late 1870s and was over by 1890. Jerome's copper deposits were mined for much longer, beginning in the 1880s and enduring until the 1930s. But when the mining booms ended, each town faced its decline in similar ways. The process of decline was more complex than superficial histories have indicated, and Clements discusses the role of labor unions in trying to stave off collapse, the changing demography of decline, the nature and expression of social tensions, the impact on institutions such as churches and schools, and the human responses to continued economic depression. But bust involved more than a steady decline into ghost-town status, Clements discovers: the towns' remaining residents employed numerous strategies to survive and reduce household expenses. In the end, both towns reinvented themselves as late-twentieth-century tourist attractions.
Author Bio
Eric L. Clements is an associate professor of history at Southeast Missouri State University and editor of the Mining History Journal. His areas of interest include both the mining and maritime history of the American West. He has published articles and given presentations on mine health and safety reform, the Western Federation of Miners, the nature and meanings of ghost towns, and the social and physical consequences of legalized casino gambling in three former mining towns in Colorado.
Reviews
"Clements addresses his question, 'What happens after the boom,' with detail and affection. The result is an inclusive and informative portrait of two western resource towns that outlived their resources." —Journal of Arizona History
"Clements writes with flair and has a penchant for working authentic bits of rustic western vernacular into his text." —Journal of American History
"By consciously choosing and carefully researching a subject that has received little attention from historians, Clements has made an important contribution to the literature." —Utah Historical Quarterly