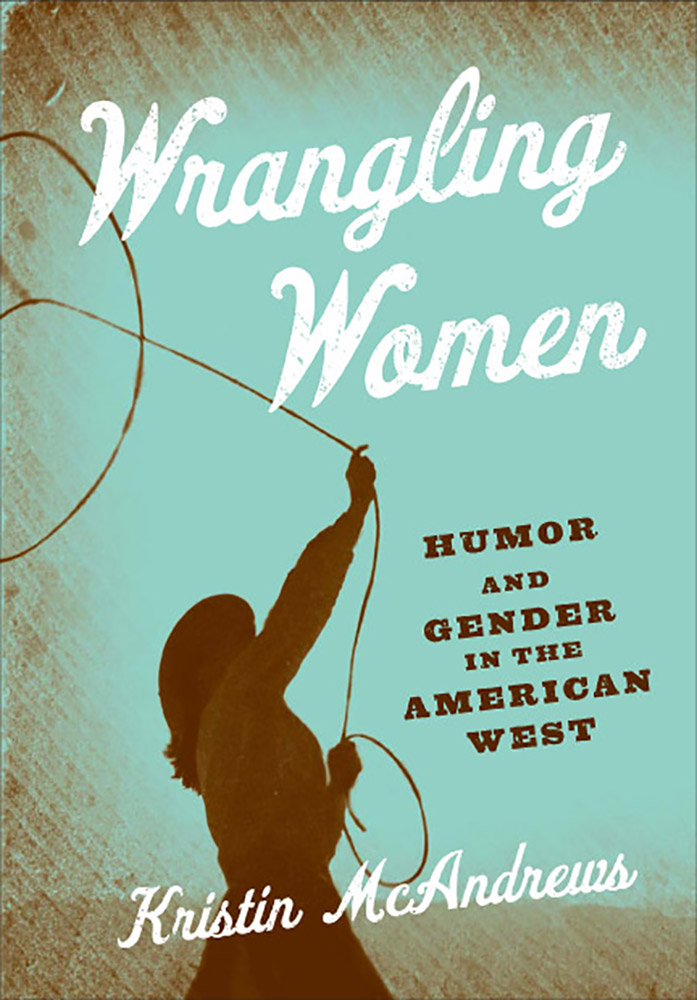 Wrangling WomenHumor and Gender in the American West$21.95
Author:
Kristin M. McAndrews
Format: Paper
Pages: 200
ISBN: 9780874177589
Published Date: 2008
The small Methow Valley community of Winthrop, Washington, has reinvented itself as a western-theme town. Winthrop women function as trail guides, wranglers, horse trainers, packers, and ranchers and work in an environment where gender stereotypes must be carefully preserved for the sake of the tourist-based economy. Yet these women often subvert and undermine traditional gender images with humor. How the wrangling women of Winthrop accomplish this challenging balancing act is a fascinating study of women's manipulation of language and gender stereotypes in the modern West.
Kristin McAndrews states that she "began to suspect that the reason there was so little scholarship on women's humor was that male researchers didn't understand it, or perhaps they didn't recognize it." To examine the humor of one group of women, she conducted interviews with Winthrop's female wranglers, collecting stories about their lives as workers and as members of their community. For all these women, professional success depends on courage, ingenuity, a sense of humor, and a facility with language—as well as on an ability to perform within the traditional gender stereotypes evoked by their town's Wild west image.
Author Bio
Kristin M. McAndrews is an associate professor of English at the University of Hawai'i at Manoa. She is a specialist in folklore, humor, gender and tourist studies, culture and cuisine, the American West, and Hawaiian popular culture.
Reviews
"This volume is a skillful assemblage of theoretical and empirical approaches to a fascinating naturally occurring social experiment. It is well illustrated and well annotated, and has an exhaustive bibliography."<br> --The Journal of Popular Culture<br> <br> <br> "This book is an enjoyable read of the contemporary western horsewoman and makes a worthwhile contribution to folklore tradition, gender studies, and human-animal relations."<br> --Journal of the West<br> <br> "A delightful exploration of gender studies, stereotypes, and human resourcefulness, Wrangling Women frequently quotes the women it studies, allowing the reader to partake in both scholarly observation and the visceral feel of being there. A lively and entertaining treatise."<br> --The Midwest Book Review<br> <br>
"A delightful exploration of gender studies, stereotypes, and human resourcefulness, Wrangling Women frequently quotes the women it studies, allowing the reader to partake in both scholarly observation and the visceral feel of being there. A lively and entertaining treatise." —Susan Bethany, Midwest Book Review, February 2007
 
"The stories themselves are the best part of the book and they demonstrated there is a difference between the humor of men and women, both in content and purpose. Many of the stories of pack-trip disasters and adventures made me smile, but some of the same stories made my wife laugh out loud when she read them, which could indicate a difference in perspective and perception....I found McAndrews' conclusions to be insightful. I also liked the conclusion of her epilogue; it illustrates the strong sense of her own role as a researcher she keeps throughout the book." —Bill Andrus, The East Oregonian, 12 November 2006
 
"The book is filled with humor of woman-man, human-horse, human-mule relations. And well-worth reading." - Journal of American & Culture
 
"McAndrews creates an admirable study, making the narrations fun to read and...introducing the reader to capable and likable people." - Oral History Review
 
"A skillful assemblage of theoretical and empirical approaches to a fascinating naturally occurring social experiment." - The Journal of Popular Culture