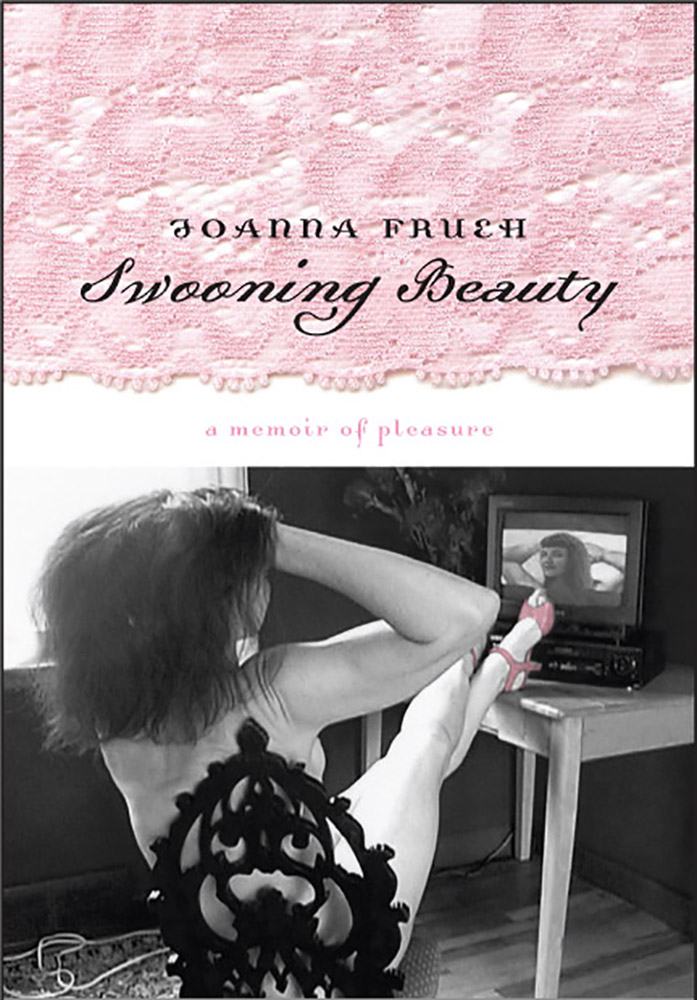 Swooning BeautyA Memoir Of Pleasure$24.95
Author:
Joanna Frueh
Format: Paper
Pages: 304
ISBN: 9780874176728
Published Date: 2006
When her parents died and her marriage disintegrated within the span of a few months, art historian and performance artist Joanna Frueh entered a painful period of grief and mourning. This book is about how she healed herself and in the process explored the range of her potential as a woman.Swooning Beauty is an intimate memoir of discovery and healing. Frueh's path to recovery lay through a profound examination of her intuitions, desires, fantasies, dreams, and emotions, her capacity for pleasure—visual, sensual, intellectual, gastronomic, and erotic—and her sense of her own heroic female identity. Hers is the passionate voice of a creative, intelligent woman scrutinizing the nature of love in all its forms and the ways of being that make us free, flexible, more fully real and more fully human. The result is an engaging view into the rich and colorful inner life of a woman at the threshold of middle age, of the blossoming of mind and spirit that comes after suffering and self-realization. Pleasure, she concludes, "is the absence of lack. Self-love is a necessary plenitude. Vigilance in love brings us freedom. Freedom is not an absolute whose attainment is humanly impossible. Yogis say that the self that is not ego is free. That self is the spacious heart, the spacious mind." Frueh offers us wisdom and comfort for the journey into middle age, and the deep pleasure of encountering a generous, lively spirit and a remarkably spacious mind.
Author Bio
Joanna Frueh is an art critic and art historian, a writer, an actress, a singer, and a multidisciplinary and performance artist. A professor of art history at the University of Nevada, Reno, her publications include essays, scholarly articles, edited volumes, and two books, Monster/Beauty: Building the Body of Love and Erotic Faculties. Known for her personal and autobiographical approach to ideas, Frueh is more revealing than ever in Swooning Beauty. There her trailblazing consciousness continues the exploration of love, eros, sex, and human relations that appear in her previous books. Frueh's performance texts and her writings on contemporary art and women artists have appeared in numerous books and journals. Recognized as a powerful, provocative, and articulate performer, she has presented her one-woman shows—as well as lectures—at museums, galleries, universities, and conferences in the United States, Canada, Australia, and the UK. Please visit her website at www.joannafrueh.com
Reviews
"This book is definitely a significant contribution to the genre of memoir/autobiography in that the author's life is fascinating and her recommendations for approaching the problems of mid-life will be recognized as useful and encouraging by most women. . . . I can't imagine any serious reader not coming away from the book with a sense that it has enriched her—or his—life." —Carol Siegel, author of Male Masochism: Modern Revisions of the Story of Love
 
"Pain and grief, and pain caused by grief, offer many lessons if we're able to learn from them. Art history professor and performance artist Frueh, whose work possesses, according to critics, a 'luminous sexuality,' suffered multiple losses within months when both parents died and her husband left her. Her memoir of redemptive healing mixes chronological narrative with flashbacks, fantasy, and free-flowing associations in a densely written, complexly textured, and sensual account. She writes of her imaginary male self, 'Mel,' based on actor Mel Gibson, a male symbol for her strength and bravery even though she is happy in her female body. As she scrutinizes her inner feelings, passions, and intuitions, Frueh nourishes her senses and is finally able to celebrate the mourning process, which inspires her to build a parallel to her lifetime love of chocolate with all of its sensuous pleasure. To swoon, according to Webster's, means to lose consciousness or enter a state of rapture. The author does both in this demanding work." —Whitney Scott, Booklist
 
"...a luscious delicacy...this memoir is a treat to savour slowly or quickly, according to your pleasure." - Atlantis