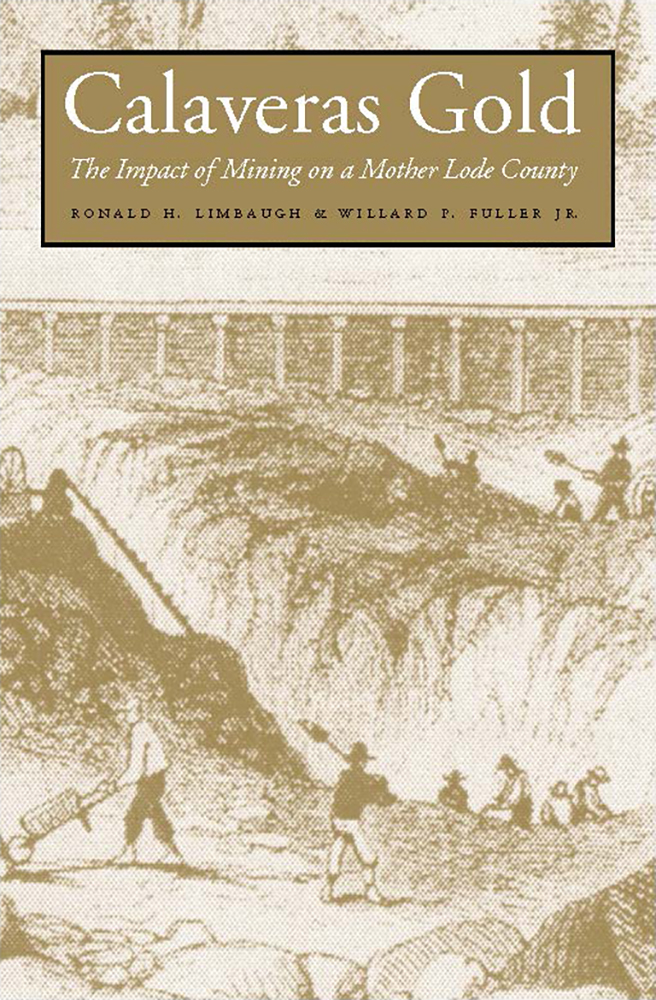 Calaveras GoldThe Impact Of Mining On A Mother Lode County$39.95
Author:
Ronald H. Limbaugh
Author:
Willard P. Fuller
Format: Cloth
Pages: 416
ISBN: 9780874175462
Published Date: 2003
California's Calaveras County—made famous by Mark Twain and his celebrated Jumping Frog—is the focus of this comprehensive study of Mother Lode mining. Most histories of the California Mother Lode have focused on the mines around the American and Yuba Rivers. However, the "Southern Mines"—those centered around Calaveras County in the central Sierra—were also important in the development of California's mineral wealth. Calaveras Gold offers a detailed and meticulously researched history of mining and its economic impact in this region from the first discoveries in the 1840s until the present. Mining in Calaveras County covered the full spectrum of technology from the earliest placer efforts through drift and hydraulic mining to advanced hard-rock industrial mining. Subsidiary industries such as agriculture, transportation, lumbering, and water supply, as well as a complex social and political structure, developed around the mines. The authors examine the roles of race, gender, and class in this frontier society; the generation and distribution of capital; and the impact of the mines on the development of political and cultural institutions. They also look at the impact of mining on the Native American population, the realities of day-to-day life in the mining camps, the development of agriculture and commerce, the occurrence of crime and violence, and the cosmopolitan nature of the population. Calaveras County mining continued well into the twentieth century, and the authors examine the ways that mining practices changed as the ores were depleted and how the communities evolved from mining camps into permanent towns with new economic foundations and directions. Mining is no longer the basis of Calaveras's economy, but memories of the great days of the Mother Lode still attract tourists who bring a new form of wealth to the region.
Author Bio
Ronald H. Limbaugh is an Idaho native and graduate of the University of Idaho (Ph.D. 1967). He retired in 2000 after thirty-four years teaching American history at the University of the Pacific. A western regional specialist, he has written a number of books and articles on a variety of topics, including territorial politics, mining, John Muir, and family history.
Willard Fuller is a former mining engineer and geologist.
Reviews
"In examining these oft-ignored southern mines of California's Mother Lode, Limbaugh and Fuller straddle two sides of the literature, detailing positive capital flows brought by mining and simultaneously recognizing its exploitation of human and natural resources." —Kathleen A. Brosnan, New Mexico Historical Review 80.3, Summer 2005
 

"This case study of a county in the 'southern mines' is a model combination of lively narrative, historical interpretation, and data analysis." —David Walker, Journal of the West, April 2005
 
"Calaveras Gold would be a fine addition to any library of western mining literature." —Brian Shovers, Oregon Historical Quarterly, Spring 2005

 
"This is an admirable example of the case study done well. The histories of local individuals and properties are treated comprehensively. Limbaugh and Fuller also examine ways in which Calaveras County's experiences matched those of the rest of the mining West, as well as the ways in which they did not. Contests over finite resources; struggles to overcome the technological problems of ore processing and transportation; vulnerability to boom and bust cycles arising from market prices, wars, or government edicts; an aggravating—sometimes crippling—dependence upon outside capital and expertise: all of these will be familiar to students of western mining. In contrast, the authors ascribe the failure of nineteenth-century miners' unions to gain a foothold in Calaveras County largely to local circumstances." —Eric L. Clements, Western Historical Quarterly, Spring 2005

 
"If Mark Twain made Calaveras famous with the story of his fabulous jumping frog, this new book fills in the detail of daily life and work in the camps. 'We will be satisfied,' say the authors, 'if we help put Calaveras on the mining map, explore its mining life and lore, and in the process tell a good story.' That is exactly what they do in one of the very best overviews I've read of gold mining in California and the West." —Dave Remley, Southwest Book Reviews, Spring 2004
 
"Ronald H. Limbaugh, a retired historian, and Willard P. Fuller, Jr., an ex-mining engineer, have written a text that is precise in its technology, yet readable and interesting in its human history." —Richard H. Dillon, True West, June 2004