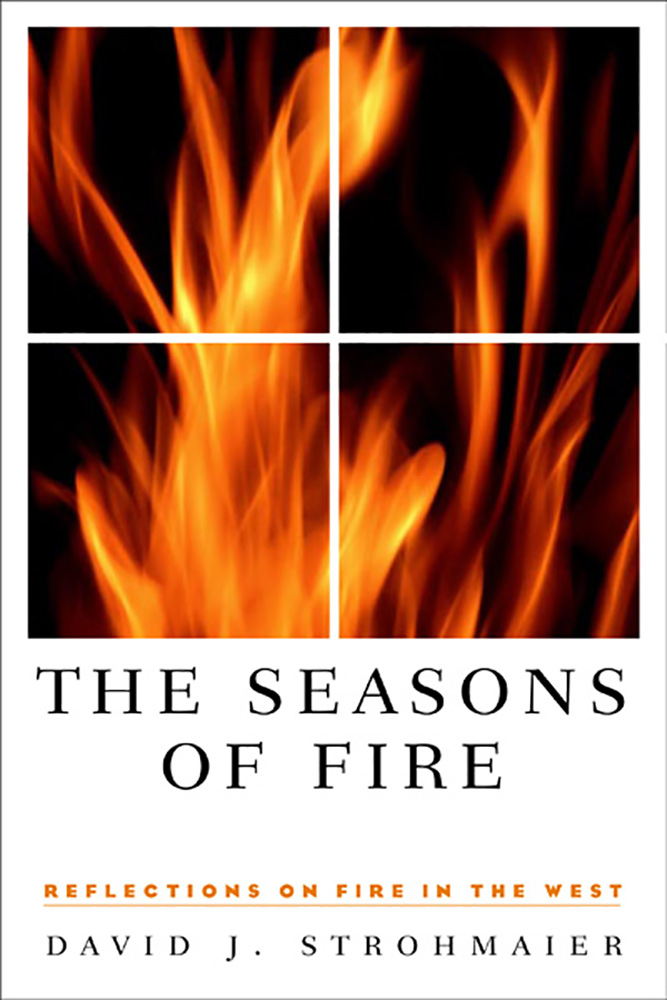 Seasons Of FireReflections On Fire In The West$21.95
Author:
David J. Strohmaier
Format: Paper
Pages: 192
ISBN: 9780874174830
Published Date: 2001

Fire is a fearsome constant in the America West. As the author David J. Strohmaier notes, "Whether we have tended a campfire along Oregon's Deschutes River in March, engaged the advancing front of a Great Basin wildfire in the torrid heat of August, or watched fire settle into the subdued, smoldering leaf piles of October, all of our lives, to one degree or another, are bracketed by fire." In The Seasons of Fire, Strohmaier effectively blends nature writing, personal essay, and philosophical analysis as he deliberately crosses disciplinary boundaries. He discusses the "moral" dimensions of fire—not only whether fires are good, bad, or indifferent phenomena, but also how fire, more generally understood, shapes meaning for human life. The consequences of discussing the moral side of fire speak directly to the contours of the human soul, and to our sense of our place on the land. Strohmaier, a long-term firefighter himself, includes accurate and sometimes gut-wrenching descriptions of the firefighter's experience.
Author Bio
David J. Strohmaier is currently serving as a Missoula County Commissioner and formerly worked as a historian with Historical Research Associates in Missoula, Montana. He was previously a City Councilman in Missoula. Strohmaier worked for fifteen seasons as a wildland firefighter for the Bureau of Land Management and U.S. Forest Service.
Reviews
"Like Aldo Leopold in his fierce, elegiac love for all that is wild, David Strohmaier celebrates fire—wildfires in desert junipers, cookfires in snowbound hunting camps, the dying fire in his father's heart. This is a rich and satisfying book, fueled by history, ritual, memory, science, philosophical reflection, but most of all, by Strohmaier's honest, on-the-ground, hair-raising experience as a wildland firefighter in the West." —Kathleen Dean Moore, author of Holdfast: At Home in the Natural World
"Firefighters can hardly avoid philosophical moments, but here is a philosopher of fire par excellence, a quite penetrating and literary stream of consciousness in ongoing analysis and encounter. Strohmaier discovers fire to be 'an entry point into understanding who we are, what sort of world we live in, and how we come to know what is inherently valuable about each.' Fire promotes life as it destroys it, becomes a perennial sacrament of life persisting in the midst of its perpetual perishing. This is provocative reading for all who wonder about the wonders of fire." Holmes Rolston, III, University Distinguished Professor and Professor of Philosophy, Colorado State University