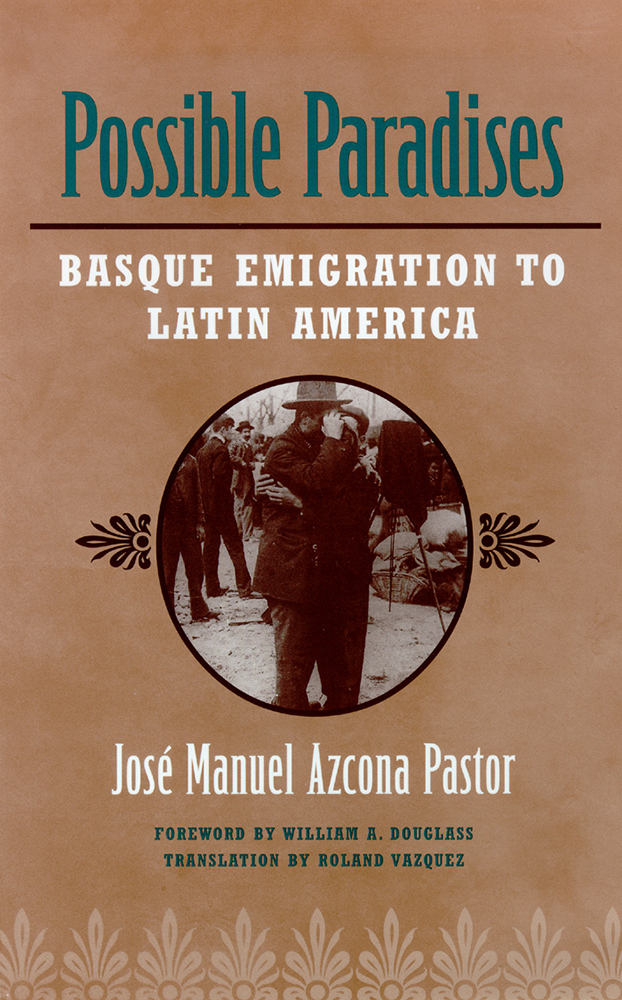 Possible ParadisesBasque Emigration to Latin America$60.00
Author:
Azcona Pastor
Format: Cloth
Pages: 600
ISBN: 9780874174441
Published Date: 2003
From Columbus's first voyage to "the Indies" in 1492, Basques participated in Spain's American enterprise. Supported by centuries of experience as mariners, shipbuilders, traders, miners, and ironworkers; encouraged toward emigration by restrictive inheritance laws and a land-poor territory; and conditioned by a culture that prized hard work and social solidarity, the Basques were poised to play a significant role in the exploration and development of the New World. The first Basques arrived with Columbus, and well into the twentieth century they continued to arrive seeking livelihood and refuge. 

Possible Paradises, José Manuel Azcona Pastor's engaging and meticulously researched study of Basque emigration to the Americas, is a path breaking work of monumental importance. Ranging over the entire former Spanish American empire from Tierra del Fuego to the U.S. Southwest and covering over five centuries of history, Azcona examines the roles and fates of the Basques who came to the New World. He also studies the impact of the New World on the Basque Country, from the importance in the modern Basque diet of such American foodstuffs as corn and beans to the encouragement given to traditional Basque industries by the colonizers' demand for ships and iron tools. He considers the role of Basques in the Spanish imperial expeditions of exploration and conquest; their participation in transatlantic commerce and communication.

The Basque diaspora, although worldwide in dimension, has had its greatest presence and importance in the Americas. Azcona's pioneering study views the Basque presence in the New World through the broadest possible lens, linking Basque communities and activities from Argentina to the North American West.

Foreword by William A. Douglass. Translation by Roland Vazquez.
Author Bio
José Manuel Azcona Pastor, professor of contemporary history at Rey Juan Carlos University since 1987, has published numerous books about Basque emigration and Spanish history. Possible Paradisesis his first book in English.
Reviews
"Azcona Pastor gives an excellent—and anecdotally detailed—description of the activities of Basque individuals in the colonization period of Latin America....This publication will be especially useful to students of history and a must-read for beginning specialists in Basque involvement in Latin America." —Journal of Contemporary European Studies
"Azcona Pastor's use of archival and contemporary published materials lends fascinating detail to the narrative." —The International History Review