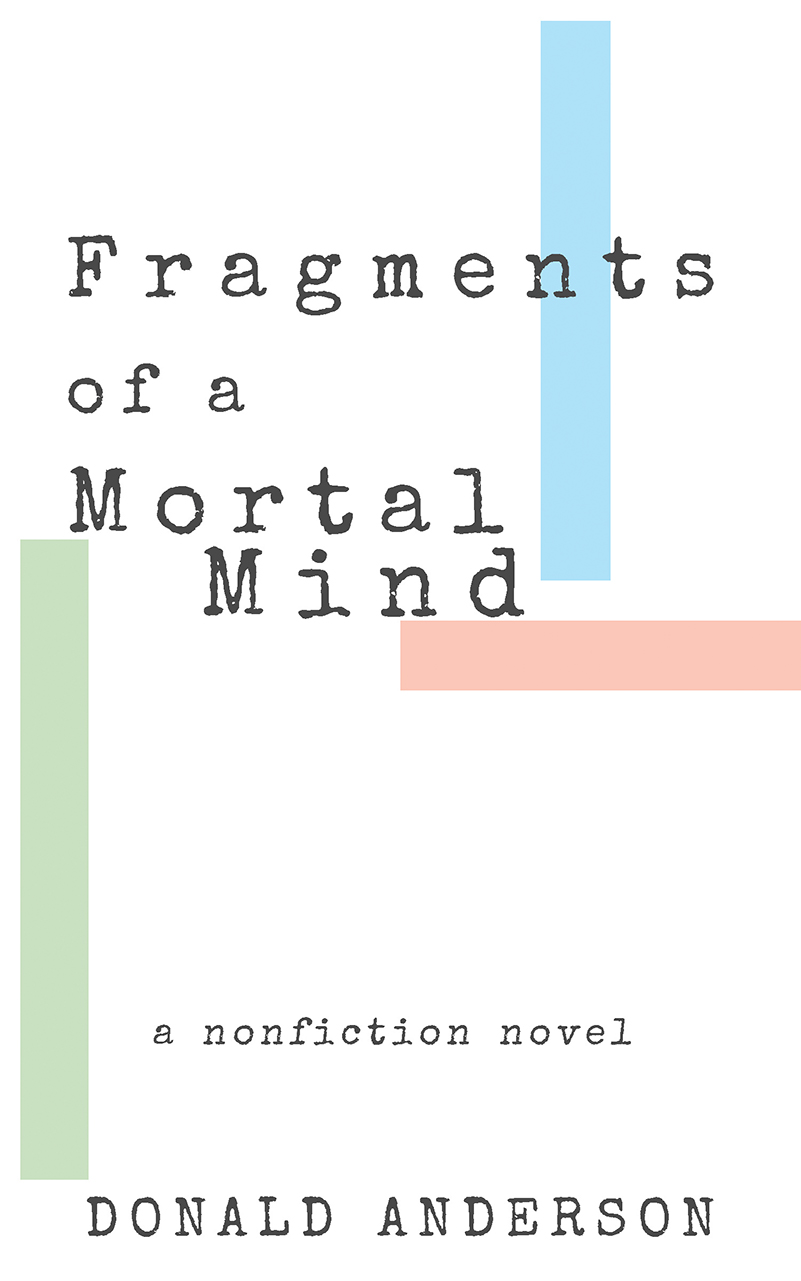 Fragments of a Mortal MindA Nonfiction Novel$25.00
Author:
Donald Anderson
Format: Cloth
Pages: 312
ISBN: 9781948908788
Published Date: 2021
We are where we've been and what we've read, aren't we? Where else do we get the experience we need to evocatively live? In Fragments of a Mortal Mind, Donald Anderson confronts language and employs language to try to make sense, as we all do, of life.

In this contemporary commonplace book, readers are also faced with some of the larger issues of human existence: war, memory, trauma, family, mortality, religion, fear, joy, ugliness, and occasional beauty.  At once a memoir, a reading journal, and a nonfiction novel, Fragments of a Mortal Mind is a pertinent and timely conversation. Collage on this scale, charting the interior construction of thought over a lifetime, boggles the mind in its artistry and shows us how stream-of-consciousness and the art of fragmentation have evolved and merged into one another in ways that renew them both.Although this work is comprised of fragments, this is, in fact, long-form thinking—a way of thinking and perceiving the world that is desperately needed in our time.
 
Author Bio
Donald Anderson is the author of Gathering Noise from My Life: A Camouflaged Memoir, named by the Christian Science Monitor as one of "12 Electrifying Memoirs" appearing in 2012 and Below Freezing: Elegy for the Melting Planet, listed among "The Best Books About Climate Change of 2018" by the Chicago Review of Books. His fiction and essays have appeared in The North American Review, Fiction International, Epoch, PRISM international, Western Humanities Review, Columbia, Michigan Quarterly Review, Connecticut Review, and elsewhere. Since 1989, he's been editor of War, Literature & the Arts. A former Air Force officer, he now lives in Colorado, where he directs creative writing at the United States Air Force Academy.
Reviews
"It is a daring and well-conceived book—one that shows us how the disparate elements of our lives gather into the construction of our deepest selves." —Brian Turner, author of My Life as a Foreign Country: A Memoir

"The Commonplace Book is at turns incisive, funny, and tender, a welcome glimpse inside the mind of a talented writer. Throughout the book Anderson reminds us that as slippery as memory can be, that unwieldiness never diminishes its power." —Sara Novíc, author of Girl at War