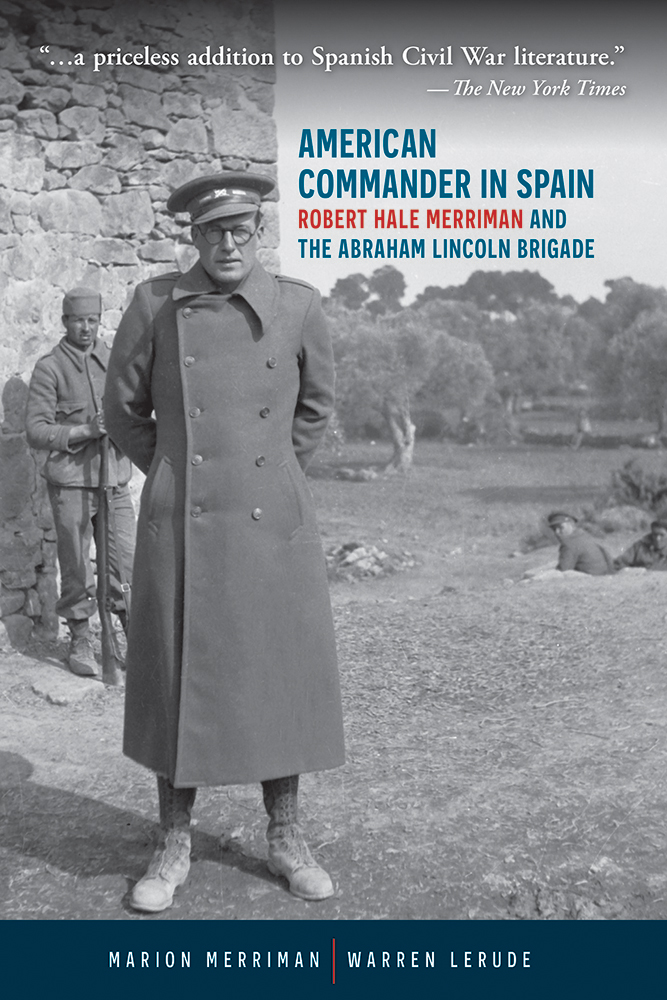 American Commander in SpainRobert Hale Merriman and the Abraham Lincoln Brigade$30.00
Author:
Marion Merriman
Author:
Warren Lerude
Format: Paper
Pages: 328
ISBN: 9781948908740
Published Date: 2020
The Spanish Civil War (1936—1939) was a confrontation between supporters of Spain's democratically elected Republic—including peasants, communists, union workers, and anarchists—and an alliance of nationalist Army rebels and upper-class forces, including the Catholic Church and landlords, led by General Francisco Franco. In the political climate of the time, this civil war became the focus of foreign interests advocating conflicting ideas of democracy and fascism. Spain became a training ground where Nazi Germany and Fascist Italy tested military techniques intended for use in a yet to be declared wider world war. Although most Western nations embraced a neutrality pact, individual volunteers from around the world, including the United States, made their way to Spain to support the Republican cause.

Among the Americans was Robert Hale Merriman, a scholar who had been studying international economics in Europe. He and his wife, Marion, joined volunteers from fifty-four countries in International Brigades. Merriman became the first commander of the Americans; Abraham Lincoln Battalion and a leader among the International Brigades. Now available in a new paperback edition, American Commander in Spain is based on Merriman and Marion's diaries and personal correspondence, Marion's own service at his side in Spain, as well as Warren Lerude's extensive research and interviews with people who knew Merriman and Marion, government records, and contemporary news reports. This critically acclaimed work is both the biography of a remarkable man who combined his idealism with life-risking action to fight fascism threatening Europe and Marion's vivid first-hand account of life in Spain during the civil war that became a prologue to the Second World War.
 
Author Bio
Marion Stone Merriman Wachtel was born in Santa Barbara, California in 1909 and died in Palo Alto, California in 1991. Marion married Robert Hale Merriman on their graduation day in 1932 from the University of Nevada, Reno, and served with him in the Abraham Lincoln Battalion as he commanded American volunteers in the Spanish Civil War. Following Bob's presumed death, (reported lost in battle in 1938), Marion, in 1939, married Emil Wachtel, a San Francisco attorney who shared her life-long dedication as an advocate for freedom. They are survived by three sons, Joseph, Jeffrey, and William Wachtel. She remained active in the Abraham Lincoln Brigade whose members had served in Spain and was employed as an administrative assistant at Stanford University near their home in Palo Alto, California.

Warren Lerude is a 1961 journalism graduate of the University of Nevada in Reno. In l977, he won a Pulitzer Prize in Journalism for editorial writing as editor of the Reno Evening Gazette and the Nevada State Journal where he also served as the publisher. He is emeritus professor at the Reynolds School of Journalism and author of Robert Laxalt: The Story of a Storyteller and the text of Robert Cameron's Above Tahoe and Reno. He lives in Reno and San Francisco with this wife Janet and their calico cat Gracie.
 
Reviews
"An important, inspiring, and riveting story of a brave man furiously fighting in every sense for his ideals, it reveals much about memory and loss." 
—Katherine Stafford, The Volunteer

"As a firsthand account of the confusion and fear and hope of the Spanish battles, it is unsurpassed…it also reveals a poignant awareness of the impact of…war; …the book  is a priceless addition to Spanish Civil War literature." 
—The New York Times
 
"…a poignant love story." 
—Los Angeles Times
 
"It is a striking portrait of an intellectual who displayed in dangerous action not only exemplary courage but a talent for command."
—The Washington Post Book World
 
"Told…with great economy and skill …as dramatically constructed as a novel or film.  Agonizingly personal, it also clearly sets forth the political and military issues, while thrusting readers into the conflict with frontline immediacy." 
—Chicago Tribune

"…a dazzling story of love, courage, and idealism." 
—The Associated Press
 
"…an important account to the historic literature of modern times."
—Senator Diane Feinstein