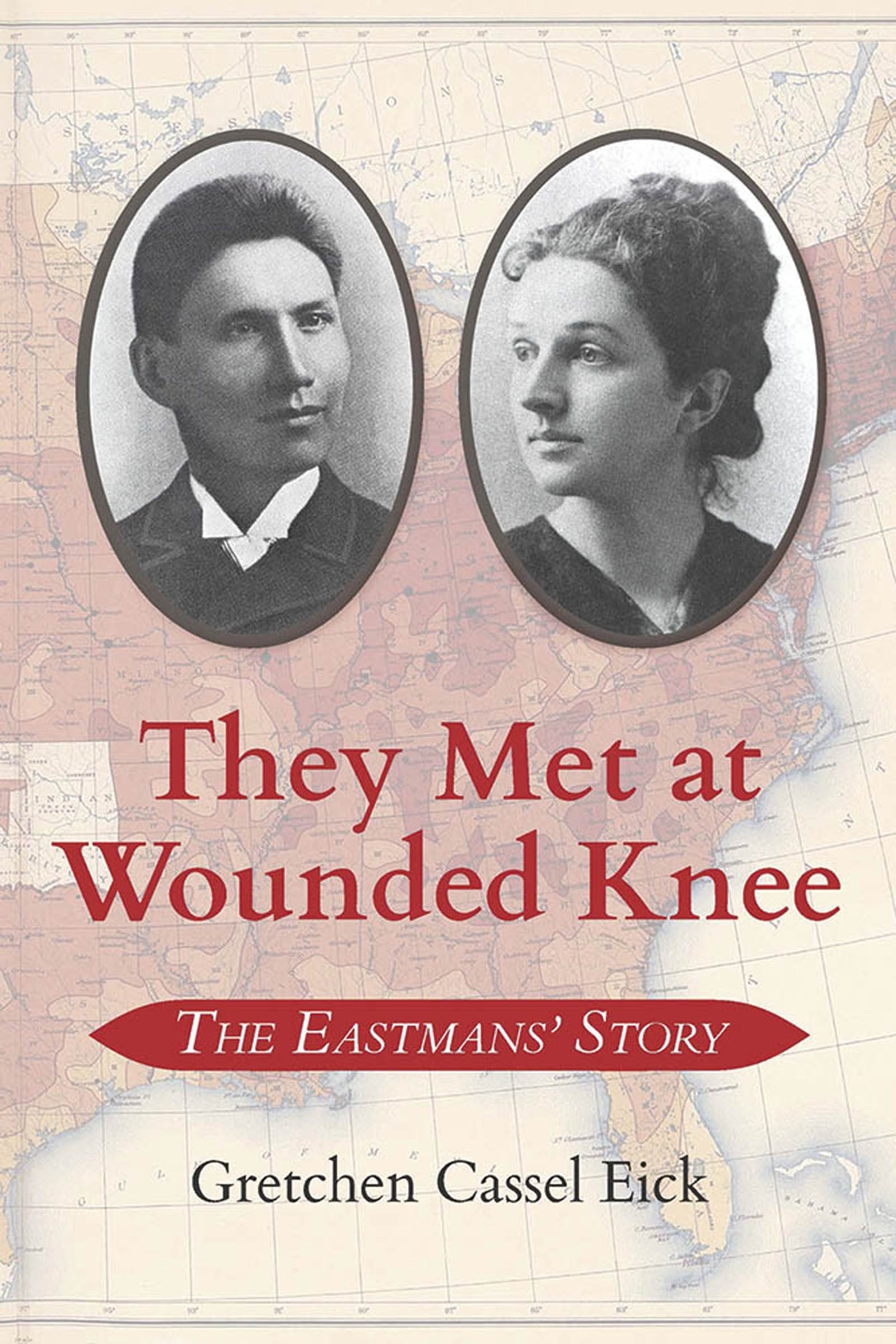 They Met at Wounded KneeThe Eastmans' Story$45.00
Author:
Gretchen Cassel Eick
Format: Cloth
Pages: 372
ISBN: 9781948908726
Published Date: 2020
When Charles Ohiyesa Eastman, a degreed Dakota physician with an East Coast university education, met Elaine Goodale, a teacher and supervisor of education among the Sioux, they were about to witness one of the worst massacres in U.S. history: the 1890 Wounded Knee Massacre. As Charles and Elaine witnessed the horror, they formed a bond that would carry them across the United States as they become advocates for Native Americans, whistle-blowing the corruption and racism of the nation's Native American policies.

They used their lives to fight for citizenship and equal rights for indigenous people. Charles built a national organization of and for Native Americans that paralleled the NAACP. He brought Indian ways into the popular scouting movement. They each wrote eleven books, lobbied Congress, made speeches, wrote articles, and protested the steady erosion of indigenous rights and resources.

In this double biography, social and political history combine to paint vivid pictures of the time. Gretchen Cassel Eick deftly connects the experiences and responses of Native Americans with those of African Americans and white progressives during the period from the Civil War to World War II. In addition, tensions between the Eastmans mirror the dilemmas of gender, cultural pluralism, and the ethnic differences that Charles and Elaine faced as they worked to make a nation care about Native American impoverishment.

The Eastmans' story is a national story, but it is also intensely personal. It reveals the price American reformers paid for their activism and the cost exacted for American citizenship. This thoughtful book brings a bleak chapter in American history alive and will cause readers to think about the connections between Charles and Elaine's time and ours.

 
Author Bio
Gretchen Cassel Eick is an award winning author and professor of history at Friends University in Wichita, Kansas. She and her husband divide their year between Wichita, KS, and Mostar, Bosnia and Herzegovina(BiH), where they teach in the English Department of the Dzemal Bijedic University in Mostar, BiH.
Reviews
"Historian Gretchen Eick has employed biography to write a brilliant history of the US genocidal policy of elimination or assimilation as the choice presented to Indigenous Peoples of the United States. The Dakota physician, author, and activist, Charles Eastman, used his own assimilation to promote self-determination, while his 'friend of the Indians' Euroamerican wife and writing partner of three decades chose assimilation, destroying their marriage. This is a gripping text exploring the nadir of Native American nations' existence from the late 19th century to the mid-20th century."
—Roxanne Dunbar-Ortiz, author of An Indigenous Peoples' History of the United States
 
"With rich social and political context and a sympathetic biographical flair, They Met at Wounded Knee brilliantly tells the story of one of the most intriguing couples in American history.  Gretchen Eick sure-handedly demonstrates the ways that individual lives reveal the structural dilemmas of settler colonialism, representational politics, and the painful entanglements of race, class, and gender."
—Philip J. Deloria, professor of Native American and Indigenous Studies, Harvard University