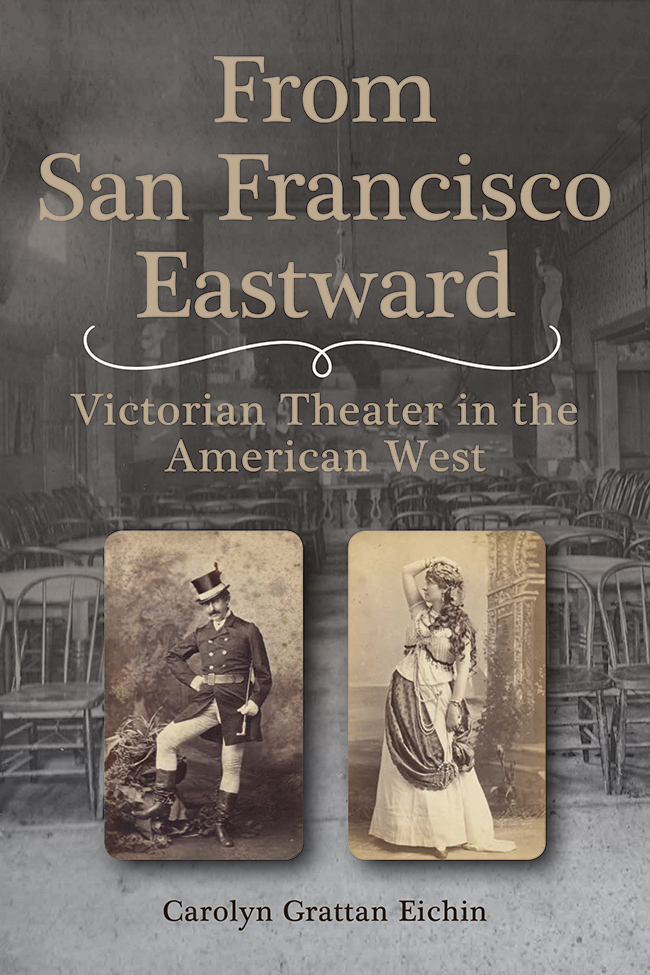 From San Francisco EastwardVictorian Theater in the American West$60.00
Author:
Carolyn Grattan Eichin
Format: Cloth
Pages: 304
ISBN: 9781948908382
Published Date: 2020
Carolyn Grattan Eichin's From San Francisco Eastward explores the dynamics and influence of theater in the West during the Victorian era. San Francisco, Eichin argues, served as the nucleus of the western theatrical world, having attained prominence behind only New York and Boston as the nation's most important theatrical center by 1870. By focusing on the West's hinterland communities, theater as a capitalist venture driven by the sale of cultural forms is illuminated against the backdrop of urbanization.

Using the vagaries of the West's notorious boom-bust economic cycles, Eichin traces the fiscal, demographic, and geographic influences that shaped western theater. With an emphasis on the 1860s and 70s, this thoroughly researched work uses distinct notions of ethnicity, class, and gender to examine a cultural institution driven by a market economy. From San Francisco Eastward is a thorough analysis of the ever-changing theatrical personalities and strategies that shaped Victorian theater in the West, and the ways in which theater as a business transformed the values of a region.

 
Author Bio
Carolyn Grattan Eichin has contributed numerous articles to western journals and has worked as an archaeologist and historian. She lives in California.

 
Reviews
To date, most large-scale studies of theatrical performance in the nineteenth-century U.S. West have taken the form of chronicles as opposed to analyses, and have tended to be limited in geographical scope. From San Francisco Eastward is a refreshing departure from this tradition on both counts.
Andrew Gibb, associate professor of Theater and Dance, Texas A & M University