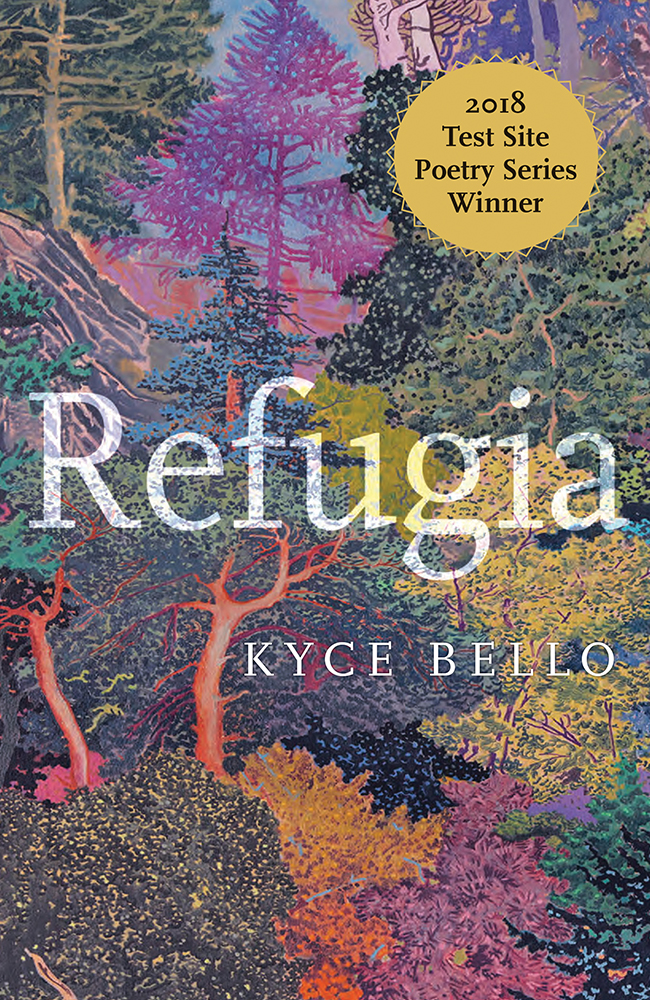 RefugiaPoems$14.95
Author:
Kyce Bello
Format: Paper
Pages: 96
ISBN: 9781948908344
Published Date: 2019
Winner of the 2020 New Mexico-Arizona Book Awards 
Winner of the inaugural Interim 2018 Test Site Poetry Series Prize

Refugia is a bright and hopeful voice in the current conversation about climate change. Kyce Bello's stunning debut ponders what it means to inhabit a particular place at a time of enormous disruption, witnessing a beloved landscape as it gives way to, as Bello writes, "something other and unknown, growing beyond us." Ultimately an exploration of resilience, Refugia brings to life the author's home ground in Northern New Mexico and carefully observes the seasons in parallel with personal cycles of renewal and loss. These vivid poems touch upon history, inheritance, drought, and most of all, trees—be they Western conifers succumbing to warming temperatures, ramshackle orchards along the Rio Grande, or family trees reaching simultaneously into the past and future.

Like any wilderness, Refugia creates a terrain that is grounded in image and yet many-layered and complex. These poems write us back into an ecological language of place crucial to our survival in this time of environmental crisis.
Author Bio
Kyce Bello's poems have appeared in The Kenyon Review, Boston Review, About Place Journal, Anomaly Literary Journal, The Raven Chronicles, Taos Journal of Poetry, and Sonora Review. She lives in Santa Fe, New Mexico.
 
Reviews
Kyce Bello elegantly braids together a focus on daily concerns—with an emphasis on family dynamics, particularly motherhood—with environmental concerns, as she grapples with the gifts and burdens of living in the Anthropocene… Bello's ability to hold joy and despair in the heart at once is remarkable; her concern for drought, for lost conifers, for the world her children will inhabit and inherit shines in these poems.
Amie Whittemore, author of Glass Harvest
Kyce Bello's haunting Refugia is both homage and lament for the Earth we share.  Kinder than Robinson Jeffers, Bello extends her sympathy also to the transience of human existence wherein we are all, ultimately, refugees. The equanimity of Bello's vision is direly needed in the ongoing environmental crises of our world. I'm thankful to find a poet in the 21st century with such compassion.
Claudia Keelan, Barrick Distinguished Scholar at UNLV
"Strange how hard it is to speak to the future, to leave a/ paper trail." But this is what Kyce Bello's Refugia does. These are poems of blooming and burning, poems of growth and decay, poems that still see beauty in a broken world—"like seams of gold/ mending a cracked kintsugi, / the bowl rendered precious/ by its breaking." Bello is a poet to watch, and Refugia is a book we need in this moment.
Maggie Smith, author of Good Bones
The poems of Refugia confer upon its readers the injunction to join with inquiry time and time again, as in the lines: "If we perish — I meant to say persist — / do we arise and turn / with the wind?" and its readers must. Bello's poetics do not coddle. There's no time for such. What is left of the world we are given. What Refugia makes of it we must pass on to our children, and survive all else to survive for.
Joan Naviyuk Kane, 2018 Guggenheim Fellow, 2019 Bunting Fellow
Quietly political... Loving, unsparing visions of Bello's native and family environments make Refugia both a lament and a song of praise. The poems are arranged in a direct way and are rife with detail, their lines both visceral and accessible.
Foreword Reviews
In Bello's tender debut, mothers and children tend to a resilient Earth, even as anxiety about climate change overwhelms the landscape.
Publishers Weekly
Refugia captures the losses, the quiet rage, and the constant, near-overwhelming wonder of life on this very particular planet in this very particular moment, somehow also managing to make amends with the arriving of our almost certainly unfamiliar future.
World Literature Today