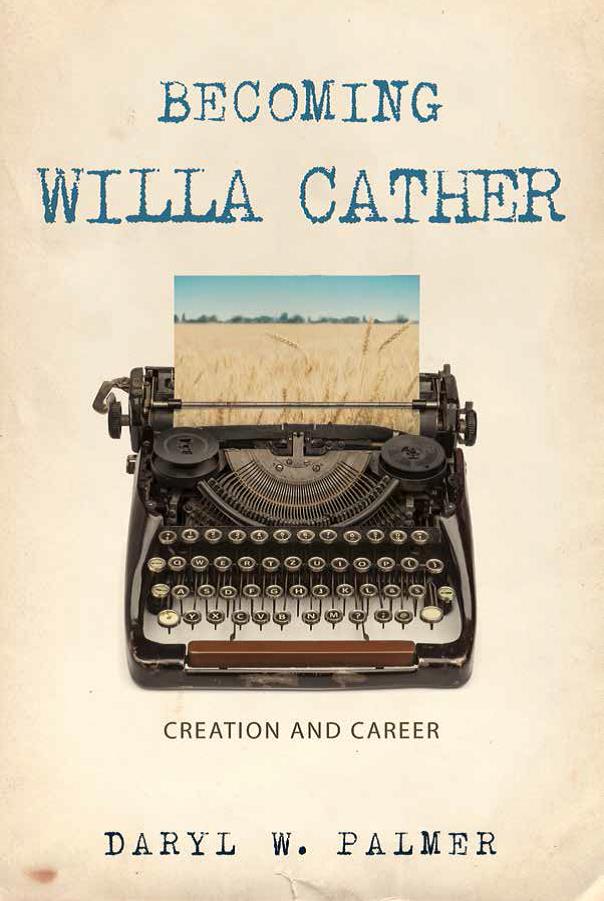 Becoming Willa CatherCreation and Career$39.95
Author:
Daryl W. Palmer
Format: Cloth
Pages: 264
ISBN: 9781948908276
Published Date: 2019
From the girl in Red Cloud who oversaw the construction of a miniature town called Sandy Point in her backyard, to the New Woman on a bicycle, celebrating art and castigating political abuse in Lincoln newspapers, to the aspiring novelist in New York City, committed to creation and career, Daryl W. Palmer's groundbreaking literary biography offers a provocative new look at Willa Cather's evolution as a writer.

Willa Cather has long been admired for O Pioneers! (1913), Song of the Lark (1915), and My Ántonia (1918)—the "prairie novels" about the lives of early Nebraska pioneers that launched her career. Thanks in part to these masterpieces, she is often viewed as a representative of pioneer life on the Great Plains, a controversial innovator in American modernism, and a compelling figure in the literary history of LGBTQ America. A century later, scholars acknowledge Cather's place in the canon of American literature and continue to explore her relationship with the West.

Drawing on original archival research and paying unprecedented attention to Cather's early short stories, Palmer demonstrates that the relationship with Nebraska in the years leading up to O Pioneers! is more dynamic than critics and scholars thought. Readers will encounter a sur­prisingly bold young author whose youth in Nebraska served as a kind of laboratory for her future writing career. Becoming Willa Cather changes the way we think about Cather, a brilliant and ambitious author who embraced experimentation in life and art, intent on reimagining the American West.
 
Author Bio
Daryl W. Palmer is an author and professor of English at Regis University in Denver, Colorado.
 
Reviews
I cannot think of any Cather volume quite like this one. It is a welcome and innovative contribution to the existing literature. This book will appeal to the broad cross-section of committed lay readers as well as to practicing scholars.
Timothy W. Bintrim, Professor of English, Saint Francis University
Becoming Willa Cather sets out to account for Willa Cather's emergence as a major figure in American writing in the first half of the twentieth century—in recent years it has become clear that she is arguably the preeminent novelist of the 1920s and 1930s, and perhaps the first half of the twentieth century. Only Faulkner contends with her. Throughout, the book demonstrates that the West generally, and Nebraska particularly, was crucial to Cather's emergence as the significant writer she became. Particularly prominent in Becoming Willa Cather are analyses of Cather's early short stories and also some of her poetry, work that has been either unevenly considered (the stories) or almost completely neglected (the poetry) by critics.
Robert Thacker, Dana Professor of Canadian Studies & English Emeritus, St. Lawrence University
A masterpiece of meticulous scholarship, exhaustive research, insightful analysis, and featuring a ten page listing of Works Cited, along with a six page Index, Becoming Willa Cather: Creation and Career is an extraordinary and unreservedly recommended addition to community, college, and university library 20th Century American Literary Biography collections in general, and Willa Cather supplemental studies reading lists in particular.
Midwest Book Review
Palmer solidifies throughlines with Cather's work, focusing on how Cather explores gender fluidity; recasts and reimagines the identities of people and places; and blends memory, history, and imagination.
 
Kansa History
In this rigorous consideration of Cather's early short fiction through the prism of her letters and contemporary newspapers, we gain new perspective on Cather's artistic emergence from the stuff of Nebraska. In addition, Palmer's prose is refreshingly lively and engaging, the study further enlivened by a skillful index, illustrations of Red Cloud newspaper layouts, and photos of Cather, her family, friends, and Red Cloud. This book is an important and welcome contribution to Cather scholarship.
Tulsa Studies in Women's Literature