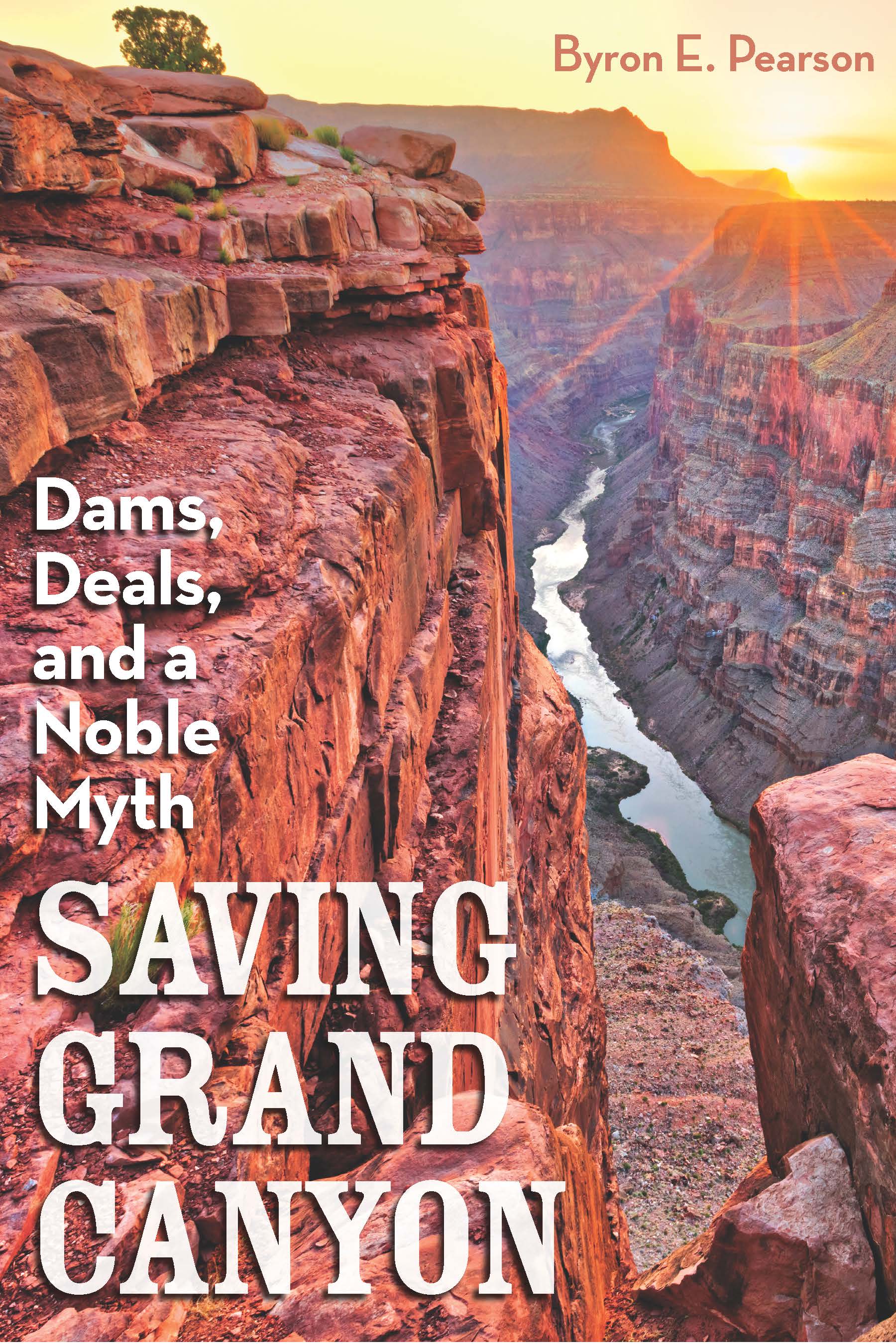 Saving Grand CanyonDams, Deals, and a Noble Myth$39.95
Author:
Byron E Pearson
Format: Cloth
Pages: 368
ISBN: 9781948908214
Published Date: 2019
2020 Winner of the Southwest Book Awards
2020 Spur Awards Finalist Contemporary Nonfiction, Western Writers of America 

The Grand Canyon has been saved from dams three times in the last century. Unthinkable as it may seem today, many people promoted damming the Colorado River in the canyon during the early twentieth century as the most feasible solution to the water and power needs of the Pacific Southwest. These efforts reached their climax during the 1960s when the federal government tried to build two massive hydroelectric dams in the Grand Canyon. Although not located within the Grand Canyon National Park or Monument, they would have flooded lengthy, unprotected reaches of the canyon and along thirteen miles of the park boundary.

Saving Grand Canyon tells the remarkable true story of the attempts to build dams in one of America's most spectacular natural wonders. Based on twenty-five years of research, this fascinating ride through history chronicles a hundred years of Colorado River water development, demonstrates how the National Environmental Policy Act came to be, and challenges the myth that the Sierra Club saved the Grand Canyon. It also shows how the Sierra Club parlayed public perception as the canyon's savior into the leadership of the modern environmental movement after the National Environmental Policy Act became law.

The tale of the Sierra Club stopping the dams has become so entrenched—and so embellished—that many historians, popular writers, and filmmakers have ignored the documented historical record. This epic story puts the events from 1963–1968 into the broader context of Colorado River water development and debunks fifty years of Colorado River and Grand Canyon myths.
Author Bio
Byron E. Pearson is an Arizona native, author, and environmental historian of the American West. He is a professor of history at West Texas A&M University and has published numerous articles and scholarly reviews in venues such as Forest History Today,The Western Historical Quarterly, and Pacific Historical Review.
 
Reviews
This book is a very important corrective to the literature on the history of the Grand Canyon and for twentieth-century U.S. environmental history that for so long now has not told the complete story (and truth) on exactly how dams were kept out of the greater Grand Canyon area. Along the way, he [Pearson] tells a compelling story on so many levels of this controversy.
Sterling Evans, Louise Welsh Chair in Southern Plains and Borderlands History at the University of Oklahoma, University of Oklahoma
A fresh, bold new case for who should get the credit for preserving the Grand Canyon.
Bob Wyss, Professor of Journalism, University of Connecticut
Nature-loving readers will find value in his [Pearson's] insights both into a specific conservation milestone and into the broader sweep of the environmentalist movement's history.
Publishers Weekly