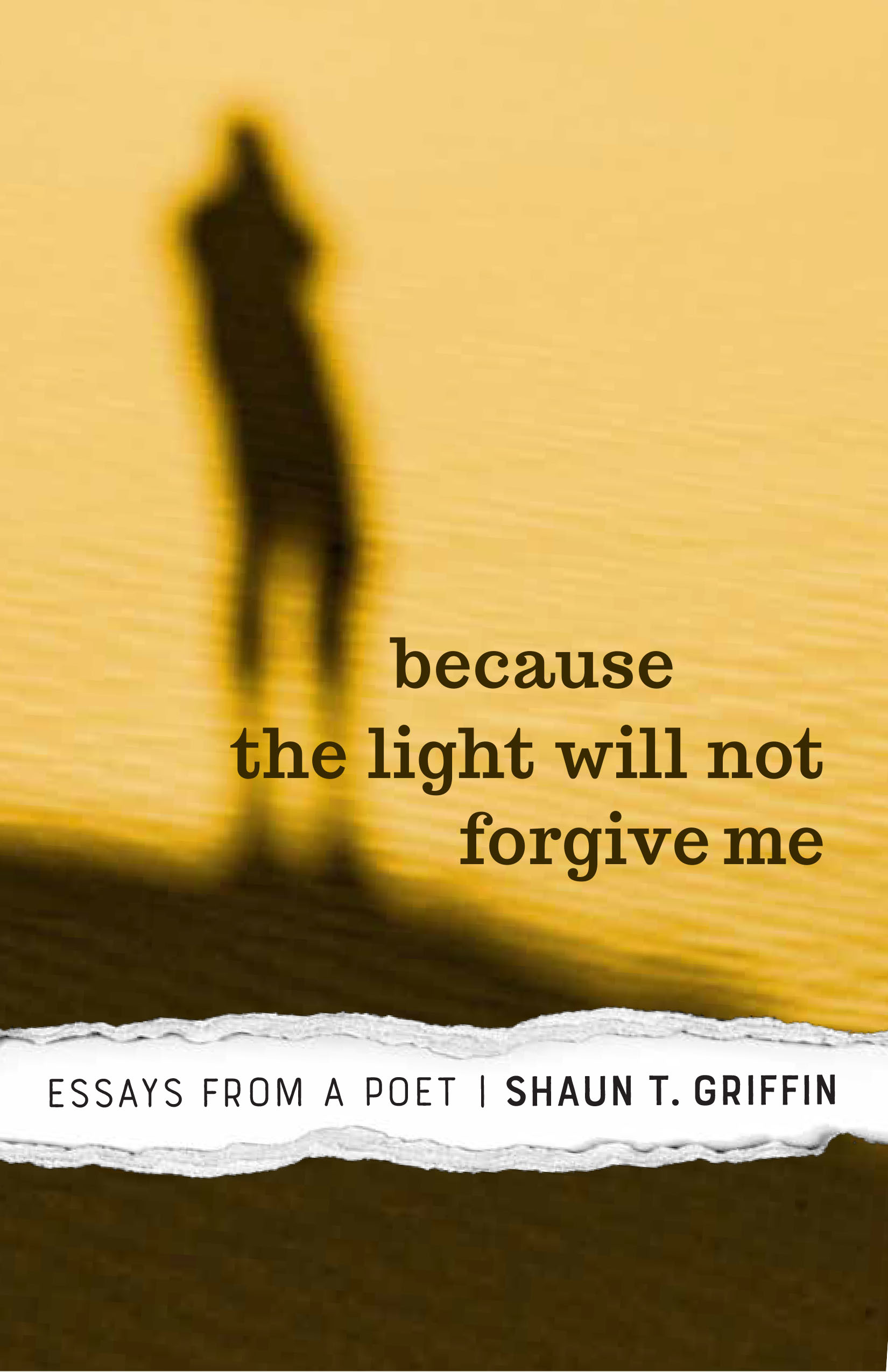 Because the Light Will Not Forgive MeEssays from a Poet$27.95
Author:
Shaun T. Griffin
Format: Cloth
Pages: 264
ISBN: 9781948908122
Published Date: 2019
"Think of a man walking in the desert," writes Griffin, "looking for the path to its summit, looking for the observatory that may, at last, shed light on what's below."
In this luminous and moving book of essays, award-winning author Shaun Griffin weaves together a poetic meditation on living meaningfully in this world. Anchored in the American West but reaching well beyond, he recounts his discoveries as a poet and devoted reader of poetry, a teacher of the disadvantaged, a friend of poets and artists, and a responsible member of the human family.
Always grounded in place, be it Nevada, South Africa, North Dakota, Spain, Zimbabwe, or Mexico, Griffin confronts the world with an openness that allows him to learn and grow from the people he meets. This is a meditation on how all of us can confront our own influences to achieve wholeness in our lives. Along with Griffin, readers will reflect on how they might respond to a homeless man walking through central Nevada, viewing the open desert as Thoreau might have viewed
Walden
, seeing the US-Mexico border as a region of lost identity, reconciling how poets who live west of the Hudson River find anonymity to be their laurel, and experiencing how writing poetry in prison becomes lifesaving.
Whether poets or places in the West or beyond, experiences with other cultures, or an acute awareness that poetry is the refuge of redress—all have influenced Griffin's writing and thinking as a poet and activist in the Great Basin. The mindfulness of
Because the Light Will Not Forgive Me
demonstrates that even though the light does not forgive, it still reveals.
Author Bio
Shaun Griffin is poet, writer, teacher and activist. He is the co-founder of Community Chest, a non-profit agency which has served children and families in northwestern Nevada since 1991, and has taught a poetry workshop at Northern Nevada Correctional Center for over two decades. Griffin has received numerous awards for his work, including the Governor's Award for Excellence in the Arts in 1995, the Mike O'Callaghan Humanitarian Award in 2004, and the Rosemary McMillan Award for Lifetime Achievement in Art from Sierra Arts Foundation in 2006. In 2014, he was inducted into the Nevada Writers Hall of Fame.  He lives in Virginia City, Nevada.
 
Reviews
"Shaun Griffin commingles his heart and his intellect in singular and moving ways. Each essay has its own integrity, yes, but each is also an artery opened by Mr. Griffin's pen, out of which flows profound and powerful feeling."
Richard Wiley, author of Bob Stevenson
"These wonderfully adroit essays speak to and for the poetry of the earth and the poetry that emanates from the hands of men and women. Why such poetry matters and how we all need such poetry are the well-springs of much deliberation and much lucid feeling. This book is a testament in the truest sense of the word."
Baron Wormser, author of The Road Washes Out in Spring: A Poet's Memoir of Living Off the Grid
"Shaun Griffin's Because the Light Will Not Forgive Me visits not just the world of poetry, but the American West—especially his beloved desert—plus Ireland, Spain, Africa, and Mexico, as well. He writes of all of these worlds and the people in them with love and intensity…That's the most compelling thing about this book to me, the author's voice—a voice so clear, so honest, and so deeply felt, that readers will never know a person better, nor a better person."
John H. Irsfeld, author of Rat's Alley
Griffin's lyrical essays reveal the complexities and spirit of poets and poems. 
Publishers Weekly
Griffin emerges from these pages as an unpretentious ambassador for the art of poetry, generous in service to other poets, to the inmates who attend his workshops, and to his northern Nevada neighbors.
Western American Literature