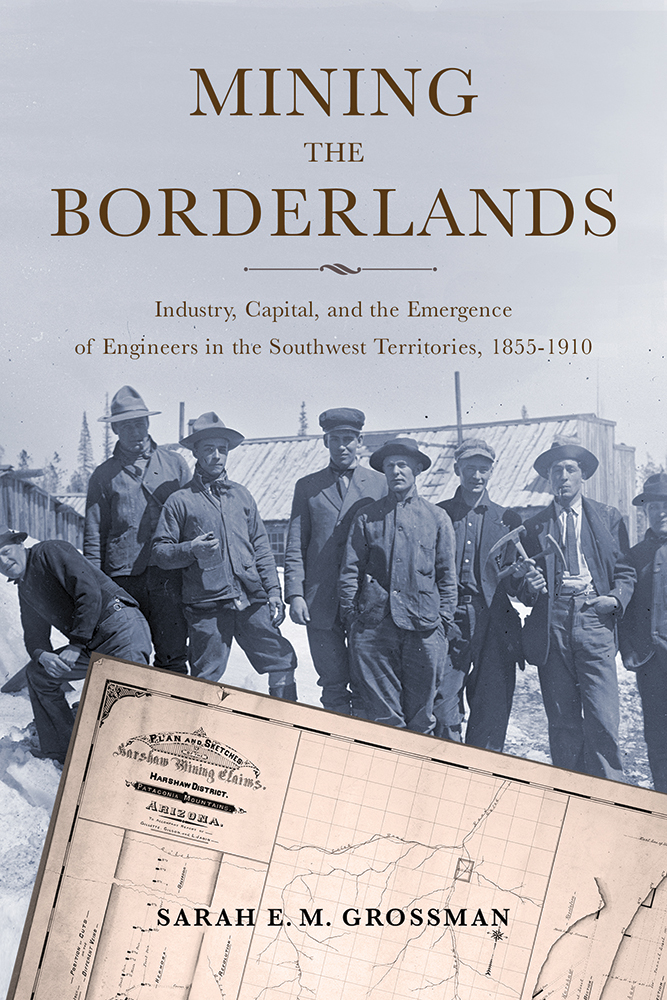 Mining the BorderlandsIndustry, Capital, and the Emergence of Engineers in the Southwest Territories, 1855-1910$44.95
Author:
Sarah E. M. Grossman
Format: Cloth
Pages: 184
ISBN: 9781943859832
Published Date: 2018
At the dawn of the twentieth century, the US-Mexico border was home to some of the largest and most technologically advanced industrial copper mines. This despite being geographically, culturally, and financially far-removed from traditional urban centers of power. Mining the Borderlands argues that this was only possible because of the emergence of mining engineers—a distinct technocratic class of professionals who connected capital, labor, and expertise. 
Mining engineers moved easily between remote mining camps and the upscale parlors of east coast investors. Working as labor managers and technical experts, they were involved in the daily negotiations, which brought private US capital to the southwestern border. The success of the massive capital-intensive mining ventures in the region depended on their ability to construct different networks, serving as intermediaries to groups that rarely coincided. 

Grossman argues that this didn't just lead to bigger and more efficient mines, but served as part of the ongoing project of American territorial and economic expansion. By integrating the history of technical expertise into the history of the transnational mining industry, this in-depth look at borderlands mining explains how American economic hegemony was established in a border region peripheral to the federal governments of both Washington, D.C. and Mexico City.
Author Bio
Sarah Grossman is the editor of the Southeast Asia Program Publications imprint at Cornell University Press in Ithaca, NY. She received her Ph.D. in US history from the University of New Mexico.
Reviews
"Grossman's account of the professionalization of the mining engineer is a fascinating addition to the existing literature on the professionalization of work cultures in late 19th Century America…The book is well-researched and well-written and will be a worthy addition to the history of mining, the history of the American West, and the history of economic enterprise, and especially as the latter pertains to risk assessment.
Carlos Schwantes, University of Missouri-St. Louis, coauthor of The West the Railroads Made
"Grossman's engaging study is thoroughly researched and stands as a fine contribution to the limited amount of modern literature available on mining in the west… a new glimpse into life in the southwest borderlands."
The Tombstone Epitaph
Mining the Borderlands usefully explores the role of mining engineers in the expansion of US economic and political power in the late nineteenth and early twentieth centuries. […] describes the role of mining engineers in the development of the Southwest borderlands and helps to explain the unique elements of the mining industry in that region and the ways the industry changed over time.
H-Net Reviews