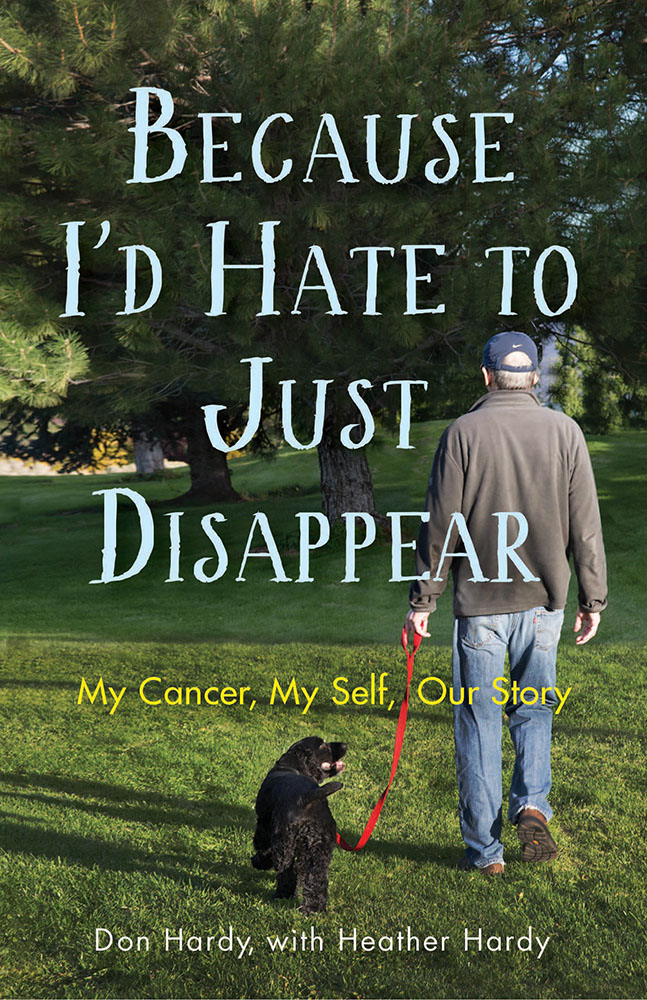 Because I'd Hate to Just DisappearMy Cancer, My Self, Our Story$17.95
Author:
Don Hardy
Format: Paper
Pages: 280
ISBN: 9781943859733
Published Date: 2018
"Illness, in the larger sense of mortality," Don Hardy writes, "is an inescapable shared trait among all living creatures, and we humans know about it, whether or not we want to talk about it."

Because I'd Hate to Just Disappear is a portrait of a husband and wife, Don and Heather Hardy, thrown into the physical and emotional machinery of Don being diagnosed with leukemia and going through chemotherapy and treatment over a period of close to two years.

In this thoughtful and exquisite account, Don and Heather narrate Don's struggle in real-time. Disarmingly honest, they recount each intimate stage of a couple living through cancer together, the mental and physical struggles, the humor and visceral emotion to reveal how two very different personalities shape—and are shaped by—the experience of cancer and its treatment. Through these moments emerge a constant flow of human kindness and discovery that lifts them each day.
Author Bio
Donald E. Hardy received a Ph.D. in linguistics from Rice University. He taught linguistics at University of North Texas, Northern Illinois University, Colorado State University, and University of Nevada, Reno, where he is now professor emeritus. In his retirement, he writes, reads, and gives mostly unsolicited advice to his younger friends.
 
Heather Kay Hardy received her Ph.D. in linguistics from UCLA. She taught linguistics at a number of universities, served as dean of the College of Liberal Arts at Colorado State University and University of Nevada, Reno where she also served as interim executive vice president and provost. She is happily retired and living in Reno with her husband, two cats, and dog.
Reviews
 "Brave, wise, surprisingly funny, this memoir, alive with intellectual and spiritual questing, is an inspiring response of a husband and wife to mortality." 
Joe Bonomo, author-Field Recordings from the Inside
"This is a witty, wise, and disarmingly honest account of coping with cancer, depression, and the mysteries of modern marriage. Imagine a friend telling you his most intimate life-and-death story while his wife corrects the record in real time. Along the way, you also learn about the perils of online self-diagnosis, the myriad ways our minds protect us from bad news, and nurse crushes. It doesn't get more human than this." 
Peter Richardson, Humanities and American Studies Professor, San Francisco State University