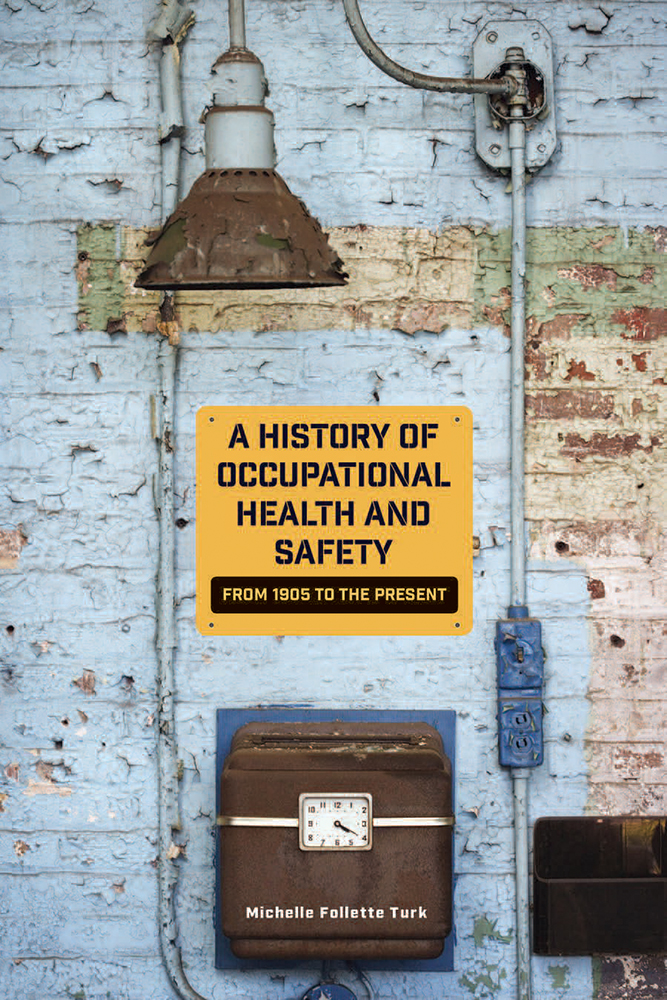 History of Occupational Health and SafetyFrom 1905 to the Present$44.95
Author:
Michelle Follette Turk
Format: Cloth
Pages: 416
ISBN: 9781943859702
Published Date: 2018
The United States has a long and unfortunate history of exposing employees, the public, and the environment to dangerous work. But in April 2009, the spotlight was on Las Vegas when the Pulitzer committee awarded its public service prize to the Las Vegas Sun for its coverage of the high fatalities on Las Vegas Strip construction sites. The newspaper attributed failures in safety policy to the recent "exponential growth in the Las Vegas market." In fact, since Las Vegas' founding in 1905, rapid development has always strained occupational health and safety standards.

A History of Occupational Health and Safety examines the work, hazards, and health and safety programs from the early building of the railroad through the construction of the Hoover Dam, chemical manufacturing during World War II, nuclear testing, and dense megaresort construction on the Las Vegas Strip. In doing so, this comprehensive chronicle reveals the long and unfortunate history of exposing workers, residents, tourists, and the environment to dangerous work—all while exposing the present and future to crises in the region. Complex interactions and beliefs among the actors involved are emphasized, as well as how the medical community interpreted and responded to the risks posed. 

Few places in the United States contain this mixture of industrial and postindustrial sites, the Las Vegas area offers unique opportunities to evaluate American occupational health during the twentieth century, and reminds us all about the relevancy of protecting our workers.
Author Bio
Michelle Follette Turk is a historian of occupational health and Nevada. She has authored scholarly articles on medicine and labor at Hoover Dam and is a lecturer on using Hoover Dam to teach history and Las Vegas medical history. She currently teaches history at University of Nevada, Las Vegas.
Reviews
"This well-documented and knowledgeable work spans an entire century of occupational safety and health in one fascinating and revealing corner of the American West: the greater Las Vegas area. No other work in the history of American industrial or occupational health does quite what it does. Following a particular place over this long a time span, it shows how far we've come in grappling with workplace dangers, but also how little progress we've made."
Christopher Sellers, director of the Center for the Study of Inequality and Social Justice at Stony Brook University
Turk does an excellent job of providing the political, economic, and social background of the various industries she examines. The book also furnishes excellent analyses of how occupational health issues in Nevada relate to general issues of public health and health care in that state, and to more general trends in occupational health in the United States. She also demonstrates that in addition to private industry, state and federal governments often did not protect workers, but instead cooperated with hazardous industries both to promote economic development and, in the case of the Nevada Nuclear Test Site, to promote national security.
Bulletin of the History of Medicine
Turk effectively makes the case that centering place in studies of occupational health and safety adds richness and depth to the story. This is a worthwhile study with which future scholars of the subject will need to reckon.
Environmental History
The book's final chapter is likely to be the most interesting for contemporary business and medical historians. Not only is it a fascinating overview of the dangers of the postindustrial service sector workplace, including exposure to secondhand cigarette smoke and the perils of irregular work hours on workers' physical health and social relationships, but she also includes factors unique to Las Vegas, such as increased access to alcohol and gambling leading to addictive behavior and animal attacks from live stage shows… the book more than accomplishes what it sets out to do by providing a study that examines more than a century of occupational health in a specific locale and makes a significant new contribution to the history of occupational health and the business history of medicine.
Business History Review
A History of Occupational Health and Safety is a significant addition to the scholarship of hazards and health in the American West. Turk offers an engaging interdisciplinary study that is useful to academic and practitioner readers alike. 
Western Historical Quarterly