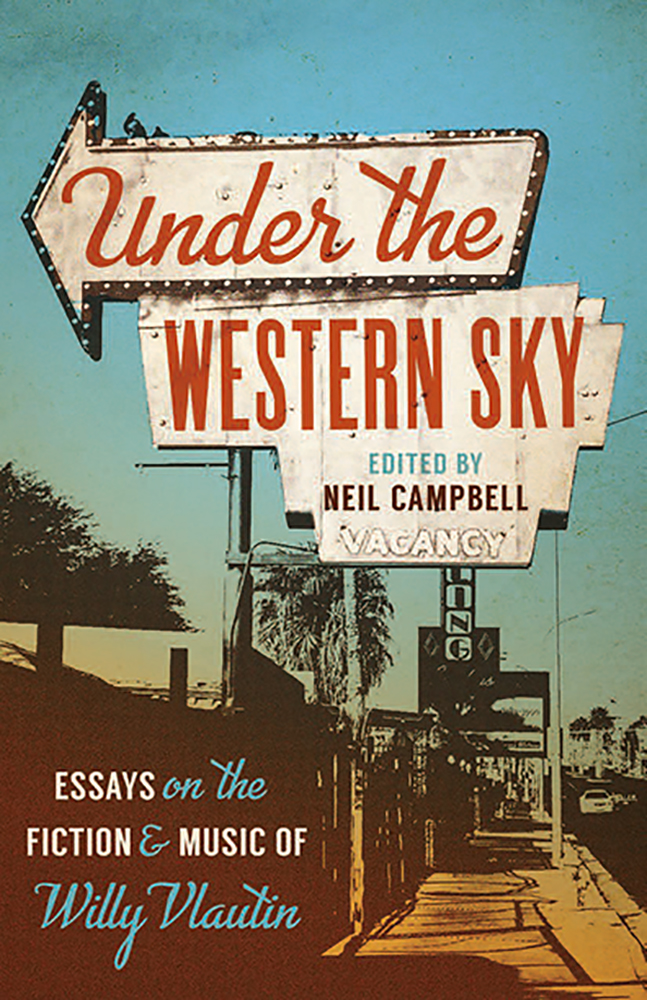 Under the Western SkyEssays on the Fiction and Music of Willy Vlautin$34.95
Editor:
Neil Campbell
Format: Paper
Pages: 248
ISBN: 9781943859580
Published Date: 2018
This original collection of essays by experts in the field weave together the first comprehensive examination of Nevada-born Willy Vlautin's novels and songs, as well as featuring 11 works of art that accompany his albums and books.

Brutally honest, raw, gritty, down to earth, compassionate and affecting, Willy Vlautin's writing evokes a power in not only theme, but in methodology. Vlautin's novels, The Motel Life, Northline, Lean on Pete and The Free (2006-2014) chart the dispossessed lives of young people struggling to survive in difficult economic times and in regions of the U.S. West and Pacific Northwest traditionally viewed as affluent and abundant. Yet as his work shows, are actually highly stratified and deprived.

Likewise, Vlauntin's songs, penned as lead singer of the Americana band Richmond Fontaine chart a related territory of blue-collar landscapes of the American West and Northwest with a strong emphasis on narrative and affective soundscapes evocative of the similar worlds defined in his novels.

Featuring an interview with Vlautin himself, this edited collection aims to develop the first serious, critical consideration of the important novels and songs of Willy Vlautin by exploring relations between region, music, and writing through the lens of critical regionality and other interdisciplinary, cultural, and theoretical methodologies. In so doing, it will situate his work within its regional frame of the American New West, and particularly the city of Reno, Nevada and the Pacific Northwest, whilst showing how he addresses wider cultural and global issues such as economic change, immigration shifts, gender inequality, and the loss of traditional mythic identities.

The essays take different positions in relation to considerations of both novels and music, looking for links and relations across genres, always mindful of their specificity. Under the Western Sky shows how although apparently rooted in place, Vlautin's work traces diverse lines of contemporary cultural enquiry, engaging in an effective and troubling examination of regional haunting.
Author Bio
Neil Campbell is emeritus professor of American Studies at the University of Derby, United Kingdom. He has published several books on American Studies and much of his well-known work covers the New West.
Reviews
"Bringing a sophisticated set of contemporary lenses to bear upon the musical and novel-writing career of Willy Vlautin, Under the Western Sky makes a strong case for Vlautin as a resonant voice in a new kind of West a considerable distance from earlier regional mythologies. In fact, Vlautin emerges as not only a representative, but a central figure whose fictions and songs evoke a series of landscapes—urban, rural, desert—characterized by marginalization, failure, and transience in many forms. Vlautin emerges as a literary son of Raymond Carver, but one who writes in his own voice and for whom music forms a profound and intimate complement to the fiction."
O. Alan Weltzien, University of Montana Western
A welcome overview of Vlautin's output to date. … If good criticism serves to elevate a reader's appreciation of the subject at hand, then Under the Western Sky certainly succeeds, underscoring Vlautin's position as an important voice in postwestern American literature.
Western American Literature