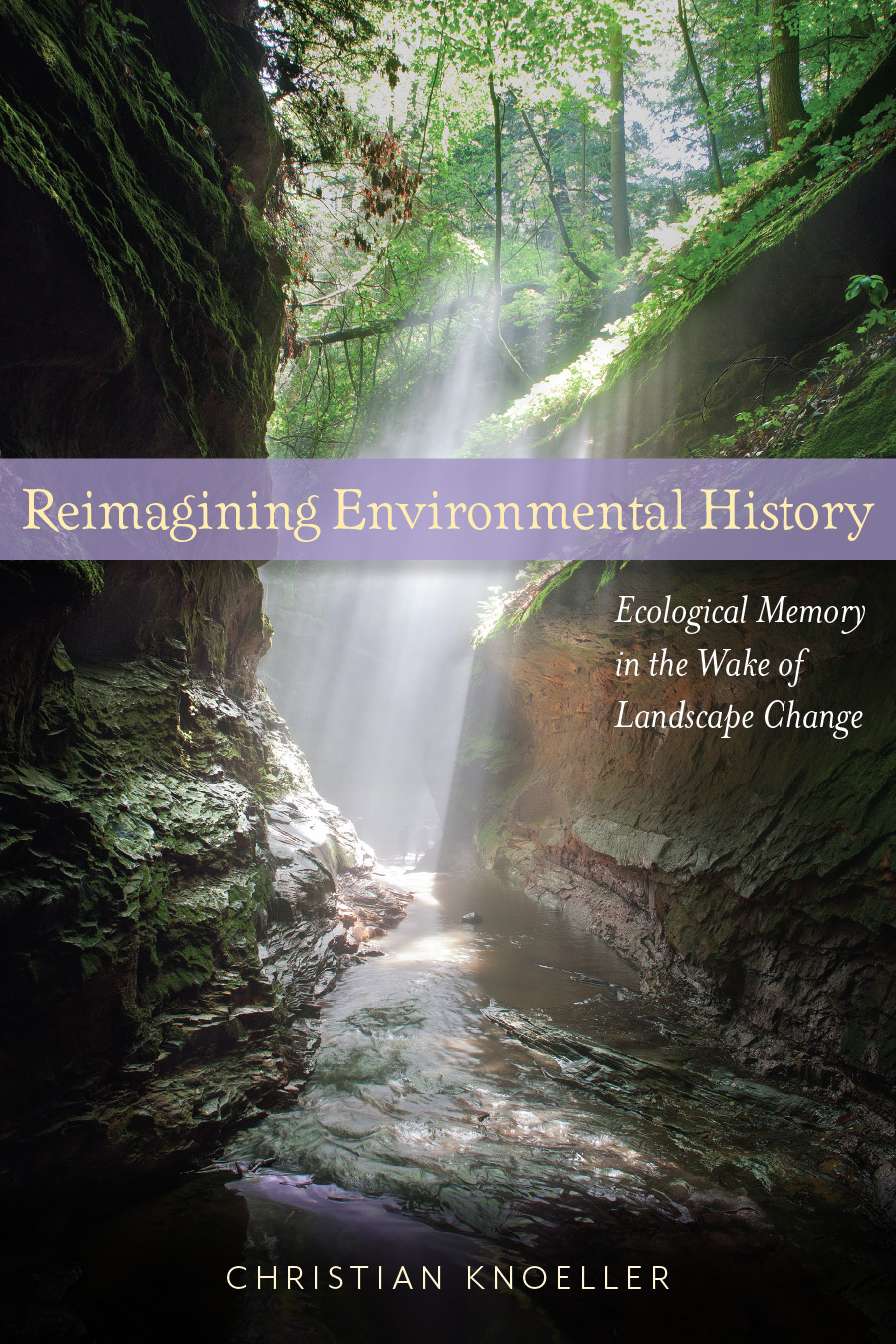 Reimagining Environmental HistoryEcological Memory in the Wake of Landscape Change$89.95
Author:
Christian Knoeller
Format: Cloth
Pages: 352
ISBN: 9781943859528
Published Date: 2017
Christian Knoeller presents a radical reinterpretation of environmental history set in the heartland of America. In an excellent model of narrative-based scholarship, this book dynamically reimagines American environmentalism across generations of writers, artists, and scientists. Knoeller starts out with Audubon, and cites Thoreau's journals in the 1850s as he assesses an early 17th century account of New England's natural resources by William Wood, showing the epic decline in game and bird populations in Concord. This reading of environmental history is replicated throughout with a gallery of novelists, poets, essayists, and other commentators as they explore ecological memory and environmental destruction. In apt discussions of Matthiessen, Lopez, Wendell Berry, William Stafford and many others, Knoeller offers vibrant insights into literary history. He also cites his own memoir of perpetual development on his family's farm in Indiana, enriching the scholarship and making an urgent plea for the healing aesthetics of the imagination.
 
Reading across centuries and genres, Knoeller gives us a vibrant new appraisal of Midwestern/North American interior literary traditions and makes clear how vital environmental writing is to this region. To date, no one has written such an eloquent and comprehensive cross-genre analysis of Midwestern environmental literature.
Author Bio
Christian Knoeller is associate professor of English at Purdue University. He has published numerous articles and book chapters in ecocriticism and environmental history.
Reviews
"Christian Knoeller brings an impressive command of his subject grounded in an exhaustive job of research to give us a comprehensive and insightful survey of Midwestern nature writing in Reimagining Environmental History...Overall, though, one of the book's chief strengths is its breadth of coverage; which makes it appealing to a number of audiences: Midwesternists, biologists, environmentalists, ecologists, historians of science, naturalists, and others. Moreover, it would be an extremely useful course text for classes in nature writing, environmental history, ecological theory, Midwestern history and literature, and possibly even a creative nonfiction course focused on nature writing."
Marcia Noe
Through the plowing of grasslands, draining of wetlands, leveling of forests, and damming of rivers, the Midwest has suffered severe ecological losses. In prose charged with a passion for wildness, Christian Knoeller shows how writers who grew up in this battered region have been haunted by the loss, how they have turned to Native American cultures for wisdom about the human place in nature, and how they have sought to imagine ways of healing the land. This is a sobering and rewarding book.
Scott Russell Sanders
"Knoeller's book is an important addition to ongoing scholarship on environmental history in literature, eco criticism, and the intersection of landscape and imaginative vision in literature. It is extremely well written in a voice that will reach scholarly communities and the general public pursuing insights and solutions to dealing with climate change. The research is meticulously careful and thorough. The approach is a close reading of texts leading to new insights on literary history, an urgent plea for the healing aesthetics of the imagination, and an exquisitely clear memoir on the author's experiences which enrich the scholarship." 
Ronald Primeau
"In Reimagining Environmental History, Christian Knoeller has made a major contribution to helping us understand the role of ecological memory in our relationship with nature. From the introduction's invocation of Thoreau to the closing chapter's brilliant exploration of the work of regional writer Paul Gruchow, Knoeller has broken new ground in the literature of environmental history. A work both scholarly and personal, Reimagining Environmental History, could not be more timely. Through it we are asked to consider the voice of ten American artists, poets, fiction writers, and essayists—some well known, some not—in relation to landscape change and our current ecological crisis. It is a book that Paul Gruchow would have championed, one that should be considered indispensable reading in the environmental literature canon."
Louis Martinelli
"Reimagining Environmental History provides a chronological and cross genre analysis of the environmental history of the Midwest. Knoeller provides a fresh and compelling perspective on many landscapes of the Midwest that include the Ohio River Valley, the Boundary Waters of Minnesota and lands of the Great Lakes, to stretches of tallgrass prairie and the High Plains of North America. The book is well-supported through careful reading of primary texts and parsing of secondary literature." 
Susan Naramore Maher
"Reimagining Environmental History: Ecological Memory in the Wake of Landscape Change is an ambitious project that merits additional reads and should appeal to multiple audiences. Those new to ecological discourse will find Knoeller's literature review in the preface particularly helpful. Readers will appreciate Knoeller's interdisciplinary approach to the Midwest and its environmental literature canon. Given his emphasis on different literary forms and media, perhaps environmental historians and literary critics will perceive these authors—and the many cited theorists, naturalists, and ecologists—as constituting an ecology of writers rather than a canon."
Archivation Exploration
"In a mixture of history and literary analysis, Christian Knoeller, in his work, Reimagining Environmental History, argues for the importance of ecological memory in understanding landscape change in the midwestern United States... Historians and environmental studiens scholars would be hard pressed to find a better book with unique examples of environmental writing."
The Western Historical Quarterly