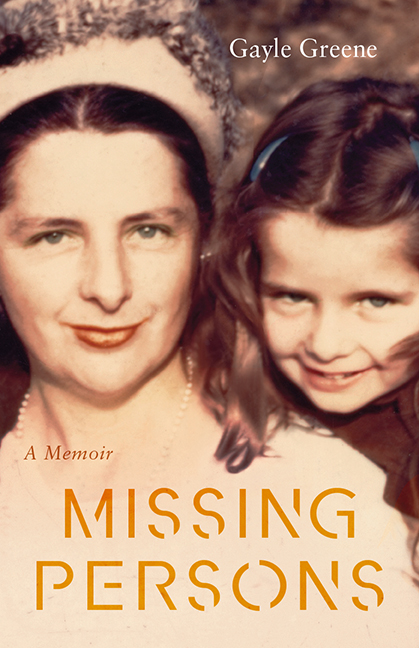 Missing PersonsA Memoir$22.95
Author:
Gayle Greene
Format: Paper
Pages: 244
ISBN: 9781943859467
Published Date: 2017
Missing Persons is a memoir about dealing with death in a culture that gives no help. As the last of her family, Greene's losses are stark, first her aunt, then her mother, in quick succession. She is as ill-equipped for the challenges of caring for a dying person at home as she is for the other losses, long repressed, that rise to confront her at this time: the suicide of her younger brother, the death of her father. As the professional identity on which she's based her selfhood comes to feel brittle and trivial, she is catapulted into questions of "who am I?" and "what have I done with my life?"

The memoir is structured as an account of her mother's and aunt's final days and the year that follows, a year in which she reconstructs her life. This is a powerful story about family, what it means to have one, to lose one, never to have made one, and what, if anything, might take its place. It's the story of a vexed mother-daughter relationship that mellows with age. It is also a search for home, as the very landscape shifts around her and the vast orchards are dug up and paved over for tract housing, strip malls, freeways, and the Santa Clara Valley, once known as the Valley of Heart's Delight, is transformed to "Silicon."
Author Bio
Gayle Greene is professor emerita at Scripps College in Claremont, California and is the author of several books.
Reviews
"...a stunner."

 
Women Studies
"...elegant, poetical…emotionally affecting…  and despite the gravity of the subject, punctuated with lighthearted humor."  

 
Kirkus Review
"...fascinating foray into loss, grief, and self-identity…real and raw, reminiscent of Joan Didion's Year of Magical Thinking."

 
Story Circle Book Reviews
"When Gayle Greene suddenly becomes the last living member of her family, she finds herself yearning for a fuller understanding of the people she has lost—her complicated mother, her father who left the family decades earlier, and her brother who took his own life. In Missing Persons, Greene's attempt to untangle her knotty family history (while dealing with a house crammed with its detritus) becomes a remarkable act of exorcism, reconstruction, and epiphany. Missing Persons's mix of candor, humor, and wisdom will speak to anyone who has ever lost a loved one—as well as anyone who has a loved one to lose."

 
Jean Hegland
"Gayle Greene's Missing Persons is a compelling work. A powerful memoir of growing up in a California that we've lost, as technology has replaced orchards with internet servers, the book introduces us to a lively core family: two closely bonded sisters  and the author herself, along with a charismatic but feckless father and a sweet but eventually depressive younger brother. Focusing in particular on the deaths of her mother and her aunt, Greene also recalls the best moments in her childhood, her parents' divorce, her father's adventures, and her brother's sorrowful suicide. Another theme is the writer's own evolution as a woman and an intellectual. The writing is vivid, passionate and yet disciplined, in many ways a tour de force. Hard to put down!"

 
Sandra M. Gilbert
"Missing Persons is a lyrical, deeply moving, fast-paced and emotionally powerful memoir. It speaks to many possible readers: to the recently bereaved, to daughters who have lost their mothers, to the generation of feminists who strove to forge new lives and identities out of the strictly prescribed roles for women in the 1950s, and to the ways we all struggle to re-ground ourselves and forge enduring bonds of friendship and family in the midst of loss. As a reader, I felt gripped throughout." 

 
Madelon Sprengnether