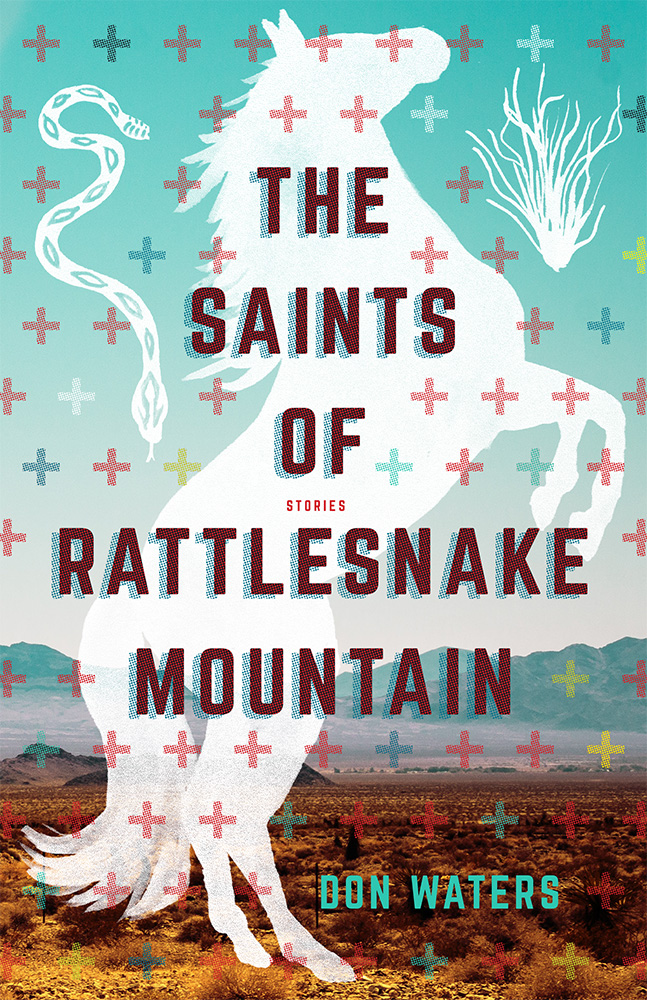 Saints of Rattlesnake MountainStories$25.95
Author:
Don Waters
Format: Cloth
Pages: 216
ISBN: 9781943859290
Published Date: 2017
Master storyteller Don Waters returns to the desert in his third book set in the American Southwest. With the gothic sensibility of Flannery O'Connor and emotional delicacy of Raymond Carver, these nine contemporary stories deftly explore the lives of characters losing or clinging to a fleeting faith and struggling to find something meaningful to believe in beneath overpowering desert skies.

Soldiers, seekers, priests, prisoners, and surfers pursue their fate amid bizarre, sometimes overwhelming circumstances. In "La Luz de Jesús," a gutless Los Angeles screenwriter, a believer in nothing but the god of Hollywood, must reorient after he encounters a group of penitents in New Mexico's Sangre de Cristo Mountains. The decorated soldier in "Española" faces more chaos back home than he did during his tour in Iraq. And "The Saints of Rattlesnake Mountain" pairs a "trustee" prison inmate and a wild mustang horse, both wards of the state of Nevada, as they fumble toward a spiritual truth.

These stories capture the spirit of a region and its people. Once again Waters assembles an unconventional cast of characters, capturing their foibles and imperfections, and always rendering them with compassion as these modern-day martyrs and spiritually haunted survivors strive for some kind of redemption.

Ingenious, sometimes forbidding, often absurd, and altogether original, The Saints of Rattlesnake Mountain is a stirring tribute to the lives, loves, and hopes of the faithful and the dispossessed.
Author Bio
Don Waters is the author of Sunland and Desert Gothic, winner of the Iowa Short Fiction Award. His fiction has been widely published and anthologized in the Pushcart Prize, Best of the West, and New Stories from the Southwest. His journalism has appeared in the New York Times, the San Francisco Chronicle, and Outside. Born and raised in Reno, Nevada, he lives in Portland, Oregon.
 
Reviews
"Questions of faith and absolution fuel this evocative collection of meticulously crafted stories, all set in the contemporary American Southwest. In the title story, an inmate working on a cattle ranch struggles to resolve the spiritual limitations of his imprisonment with the geographical vastness that surrounds him. Two altar boys try to medicate their way through the godless adult playground of Reno in "Last Rites," while a bodybuilding veteran tracks down a younger sister pawned by his father for drugs in "Espanola." The collection only grows more impressive as it progresses, shrinking its scope while expanding the possibilities of its language. In the brief, excellent "Deborah," for instance, a self-destructive widower rescues dogs from abuse, while "Two Kinds of Temples" juxtaposes a brief affair at a natural spring retreat with the life of a hotel worker. "Full of Days" stands as the collection's high point, following one man's quest to erect an antiabortion billboard along a Las Vegas freeway. Waters (Sunland) offers a diversity of thought and feeling worthy of his complex setting."
—Publishers Weekly, starred review
"A collection of nine superbly crafted short stories, this third book by Waters set in the Southwest (Sunland; Desert Gothic) reminds us that this is not the old Southwest of pioneers and gunfighters but an updated view of broken neighborhoods and rundown lives. …Tough but vulnerable, all of Waters's characters have been short-changed by life but still cling to something meaningful while coexisting with the intense landscape of the Southwest. Verdict: This Iowa Short Fiction Award winner offers original, overpowering pieces; a sure-to-please collection of both beauty and sadness."
—Library Journal
"Don Waters's third short-story collection, The Saints of Rattlesnake Mountain, is a literary exploration of what survives in the shadow of the Valley of Death. These nine stories take place in locations throughout the Southwest and explore the wasted, sometimes austere emotions of people who are trying to survive inner landscapes as harsh as those without. Throughout this collection, Waters captures the story's protagonist just after the fulcrum of his life has shifted toward the dire and follows them as they're brutally tested. What's revealed in these stories, as so often in life, is that 'the only thing separating well-being from danger [is] a line in the sand'."
—Foreword Reviews
"It is a moving and stunning volume… He may just be the Flannery O'Connor of the Southwest."​ 
—Southwestern American Literature

"With The Saints of Rattlesnake Mountain, Don Waters once again shows us why he's one of the most original and exciting voices to come out of the West."
―Willy Vlautin, author of The Motel Life and The Free
"In Don Waters' new short story collection, The Saints of Rattlesnake Mountain, he casts his characters into demanding emotional situations—a convict working to win early release; a woman traumatized by her husband's death at the hands of terrorists; a 30-something given a terminal diagnosis—and then doubles down by placing them in unforgiving desert settings. His nine protagonists fumble as best as they can toward finding meaning in their lives; faith, or their lack of it, is also a central theme."
—The Oregonian
"In this marvelous collection, the institutions of (American) western civilization are interrogated and unveiled, be it military, religious, familial, corporate, or correctional. Waters' characters inhabit the challenge of the essential conflicts: man vs. nature, man vs. man, man vs. self, and usually simultaneously. The simmering pain and anger of these people is balanced by their humor, humiliations, temporary successes, heart-breaking failures, and mostly, by the clear affection with which they're rendered. These stories capture not only the inhabitants of the desert west, but the landscape's harsh and stately beauty, its expanse and solitude, and the ever-present sense that a person within it is always at its mercy—merciless and merciful by equal measure."
―Antonya Nelson, author of Funny Once and Bound