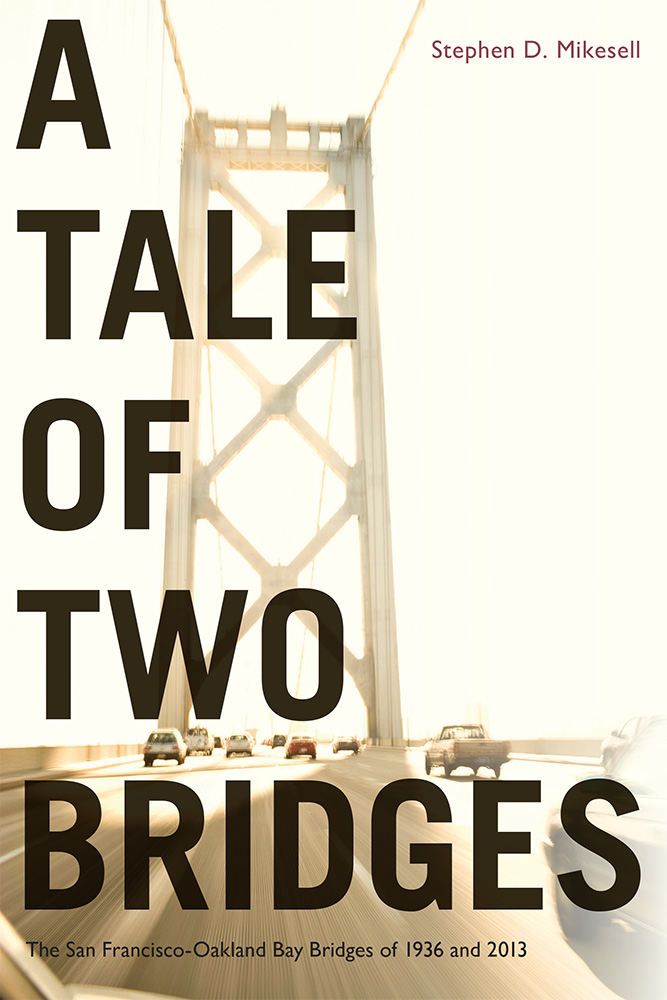 Tale of Two BridgesThe San Francisco–Oakland Bay Bridges of 1936 and 2013$39.95
Author:
Stephen Mikesell
Format: Cloth
Pages: 216
ISBN: 9781943859269
Published Date: 2017
A Tale of Two Bridges is a history of two versions of the San Francisco—Oakland Bay Bridge: the original bridge built in 1936 and a replacement for the eastern half of the bridge finished in 2013. The 1936 bridge revolutionized transportation in the Bay Area and profoundly influenced settlement patterns in the region. It was also a remarkable feat of engineering. In the 1950s the American Society of Civil Engineers adopted a list of the "Seven Engineering Wonders" of the United States. The 1936 structure was the only bridge on the list, besting even the more famous Golden Gate Bridge. One of its greatest achievements was that it was built on time (in less than three years) and came in under budget. Mikesell explores in fascinating detail how the bridge was designed by a collection of the best-known engineers in the country as well as the heroic story of its construction by largely unskilled laborers from California, joined by highly skilled steel workers.

By contrast, the East Span replacement, which was planned between 1989 and 1998, and built between 1998 and 2013, fell victim to cost overruns in the billions of dollars, was a decade behind schedule, and suffered from structural problems that has made it a perpetual maintenance nightmare.

This is narrative history in its purest form. Mikesell excels at explaining highly technical engineering issues in language that can be understood and appreciated by general readers. Here is the story of two very important bridges, which provides a fair but uncompromising analysis of why one bridge succeeded and the other did not.
Author Bio
Stephen Mikesell is an historic preservation specialist and public historian living in Davis, CA. He is the former Deputy State Historic Preservation Officer for California. He is the author most recently of The Sierra Railway.
Reviews
"To some extent, this book is a political, managerial, and engineering history of the two San Fransisco-Oakland Bay Bridges, built in 1936 and 2013. The original 1936 bridge was a great success, an engineering landmark, and a model project that arrived on time and under budget. However, the 2013 East Span replacement bridge was declared to be an overpriced, badly managed, and a poorly designed and constructed failure. This book seeks to answer the question as to why the 1936 bridge was so successful, while the 2013 bridge was so unsuccessful. The book also provides information into the planning and management of large civil engineering projects. A major strength of the book is Mikesell's insights into planning and executing megaprojects. The 2013 East Span replacement bridge was estimated to cost $1 billion dollars, but its ultimate cost was $6.4 billion—perhaps the record for the percentage of a cost overrun of a megaproject. Mikesell, a historic preservation specialist and public historian, draws a number of conclusions from his study of the two contrasting bridges, including how to properly conduct a megaproject in terms of politics, planning, engineering, and cost estimation. The work is recommended to individuals interested in bridges, project management, megaprojects, and civil engineering in general." —Choice

"Mikesell richly details topics including the Bay area's transportation network before the creation of the bridge, the debates that occurred over its planning and construction, and its design, engineering, and constructions processes...an engaging discussion on how the Bay Bridge transformed the Bay Area's transportation infrastructure...Mikesell's meticulously detailed text demonstrates his expertise in bridges and infrastructure creation in twentieth-century U.S. cities." —The Western Historical Quarterly
"Stephen Mikesell is one of the most prominent professional historians working in the state of California today. During his long and distinguished career, Mikesell has developed a special expertise in the history of bridge design, engineering, and construction. Today he is widely recognized as the leading authority on the history of bridges in California. Consequently, there is no one better qualified to write a history of the spectacular and controversial San Francisco–Oakland Bay Bridges." ―Michael Magliari, Professor of History, California State University, Chico
 
 
"This is an engaging and well-written account of the design and construction of two radically different bridges. Stephen Mikesell is excellent at telling a hugely complex and technical story in an approachable and engaging way. The propulsive narrative is unfailingly entertaining and takes us behind the scenes of two defining and contrasting projects in the history of California." —Luis G. Hoyos RA, Professor of Architecture, California State Polytechnic University, Pomona