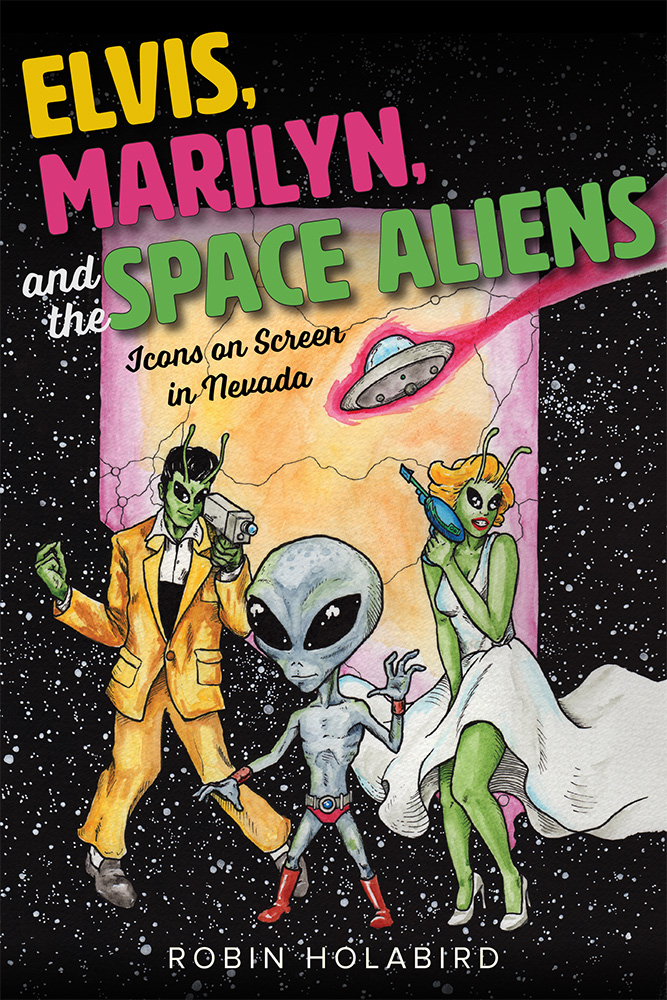 Elvis, Marilyn, and the Space AliensIcons on Screen in Nevada$24.95
Author:
Robin Holabird
Format: Paper
Pages: 256
ISBN: 9781943859245
Published Date: 2017
Elvis Presley, Marilyn Monroe, and space aliens like the Transformers share a surprising connection along with James Bond, Indiana Jones, and Rocky Balboa. These beloved icons played active roles in movie and television projects set in the state of Nevada. Long time state film commissioner and movie reviewer Holabird explores the blending of icons and Nevada, along with her personal experiences of watching movies, talking with famous people, and showing off a diverse range of stunning and iconic locations like Las Vegas, Reno, Lake Tahoe, and Area 51.
Holabird shows how Nevada's flash, flair, and fostering of the forbidden provided magic for singers, sexpots, and strange creatures from other worlds. She also gives readers an insider's look into moviemaking in Nevada by drawing on her extensive experience as a film commissioner. This is a unique take on film history and culture, and Holabird explores eighteen film genres populated by one-of-a-kind characters with ties to Nevada. Along with being a film history of the state of Nevada written by a consummate insider, the book is a fun mixture of research, personal experiences, and analysis about how Nevada became the location of choice for a broad spectrum of well-known films and characters.
Author Bio
Robin Holabird is former deputy director of the Nevada Film Office and a regular film reviewer on KUNR 88.7 FM, Reno Public Radio. She has traveled the state extensively scouting locations for films. A former board member of the Association of Film Commissioners International (AFCI), she is former editor of the organization's magazine Locations.
 
Reviews
"Elvis, Marilyn and the Space Aliens by Robin Holabird provides a detailed, personal look at the film industry in Nevada. The author's experience in the Nevada Film Office gives her a unique perspective on an interesting topic, one that is likely to be of significant interest not only to movie buffs but also those eager to learn more about Nevada history." —Steve Blust, Former Deputy Editor, Las Vegas Review-Journal
"An enjoyable introduction to Nevada cinema written in an authoritative but approachable style by Robin Holabird … Holabird's book is a welcome―arguably much-needed―addition to the literature. Holabird is an unquestioned authority on the material presented in the book. As a film commissioner, she was actively involved in bringing many of the projects she references to Nevada." ―Forrest Hartman, Former Arts Editor, Reno Gazette Journal and Lecturer in Journalism at University of California, Chico