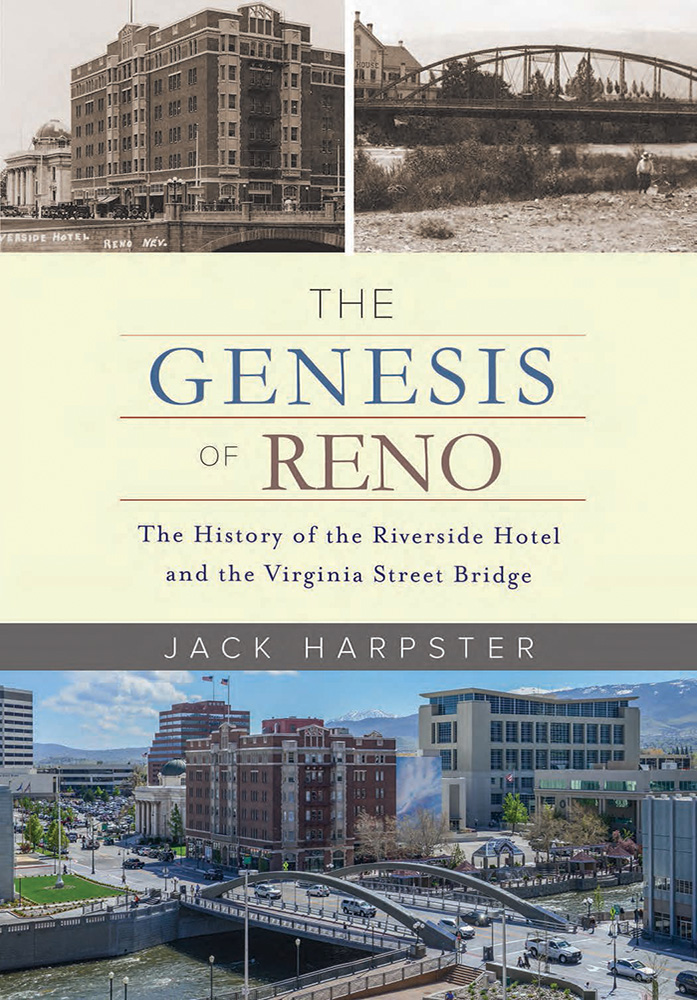 Genesis of RenoThe History of the Riverside Hotel and the Virginia Street Bridge$34.95
Author:
Jack Harpster
Format: Cloth
Pages: 272
ISBN: 9781943859238
Published Date: 2016
Over 157 years ago—before there was a Reno, Nevada; before there was a state of Nevada; and even before there was a Nevada Territory—there was a bridge over the Truckee River at a narrow, deeply rutted cattle and wagon trail that would one day become Virginia Street. There was also a small rustic inn and tavern occupying a plot of ground at the southern end of the log-and-timber bridge, catering to thirsty cowboys, drovers, and miners. The inn and the bridge were the first two structures in what would one day be a bustling metropolitan area, and to this day they still form the nucleus of the city. The Genesis of Reno traces their history up to the present day. The 111 year-old concrete bridge that was replaced in 2016 by a magnificent new structure was honored for its longevity and unique character with placement on the National Register of Historic Places in 1980.
 
Author Bio
Jack Harpster graduated from the University of Wisconsin with a BS in journalism. He spent forty-three years working in the newspaper industry in both Southern California and Southern Nevada. Before retiring in 2002, Jack was the Executive Director of Advertising for the Las Vegas Review Journal and the Las Vegas Sun, and Director of New Media for the Stephens Newspaper group. He has published eight other books, along with dozens of essays and articles on history and biography in national and local journals and magazines. He lives in Reno, Nevada.
 
Reviews
"This is a fascinating, well-told story, with an unforgettable cast of characters. It reminds us of what made Reno so unique and nationally prominent." —Eric Moody, Editor of Nevada in the West
Nevada in the West
"The book offers an invitation to the curious and the nostalgic to discover Reno's past, which swirls about these two important and enduring places and structures." -- William Rowley, Professor Emeritus of History, University of Nevada, Reno