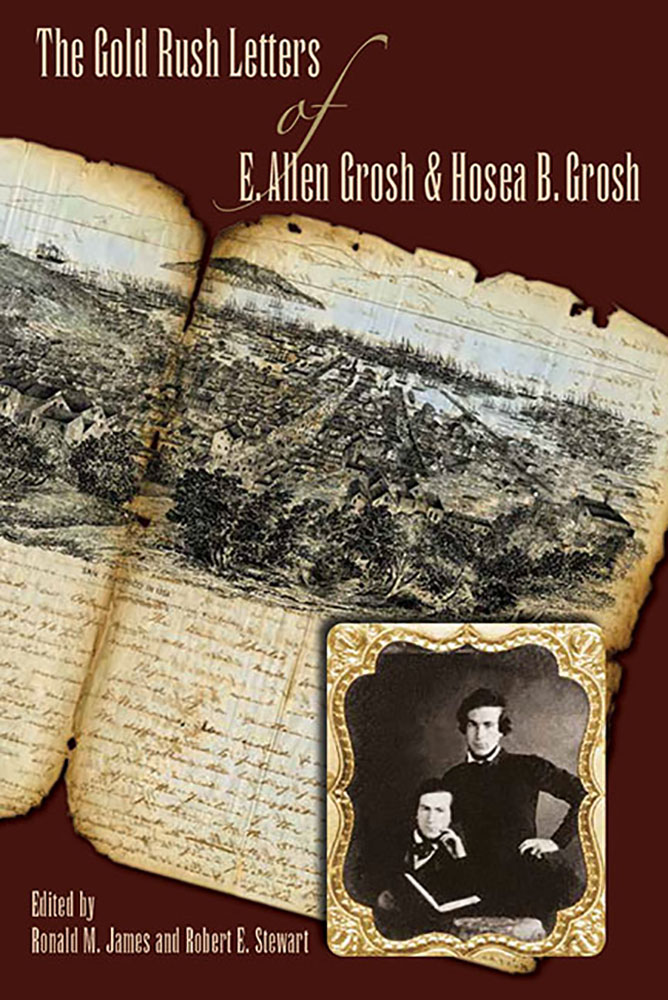 Gold Rush Letters of E. Allen Grosh and Hosea B. Grosh$24.95
Editor:
Ronald M. James
Editor:
Robert E. Stewart
Format: Paper
Pages: 264
ISBN: 9781943859016
Published Date: 2016
When brothers Ethan and Hosea Grosh left Pennsylvania in 1849, they joined throngs of men from all over the world intent on finding a fortune in the California Gold Rush. Their search for wealth took them from San Francisco into the gold country and then over the Sierra into Nevada's Gold Canyon, where they placer-mined for gold and discovered a deposit of silver. The letters they sent back to their family offer vivid commentaries on the turbulent western frontier, the diverse society of the Gold Rush camps, and the heartbreaking labor and frustration of mining. Their lively descriptions of Gold Canyon provide one of the earliest accounts of life in what would soon become the fabulously wealthy Comstock Mining District.

The Groshes' letters are rich in color and important historical details. Generously annotated and with an introduction that provides a context for the brothers' career and the setting in which they tried to make their fortune, these documents powerfully depict the often harsh realities of Gold Rush life and society.
Author Bio
Ronald M. James is the Nevada state historic preservation officer and the chairman of the National Historic Landmark Committee. He is the author or coauthor of ten books, including The Roar and the Silence: A History of Virginia City and the Comstock Lode (University of Nevada Press).

Robert E. Stewart is now an independent historian who was chief of public affairs for the Bureau of Land Management. He served on the staff of Governor Mike O'Callaghan for eight years. He is the author of Aurora: Nevada's Ghost City of the Dawn.
Reviews
"We are fortunate that James and Stewart have brought them (the letters) back to us in their own colorful and emotional words. This valuable book is high recommended"—Sally Zanjani, Nevada in the West
 
Nevada in the West