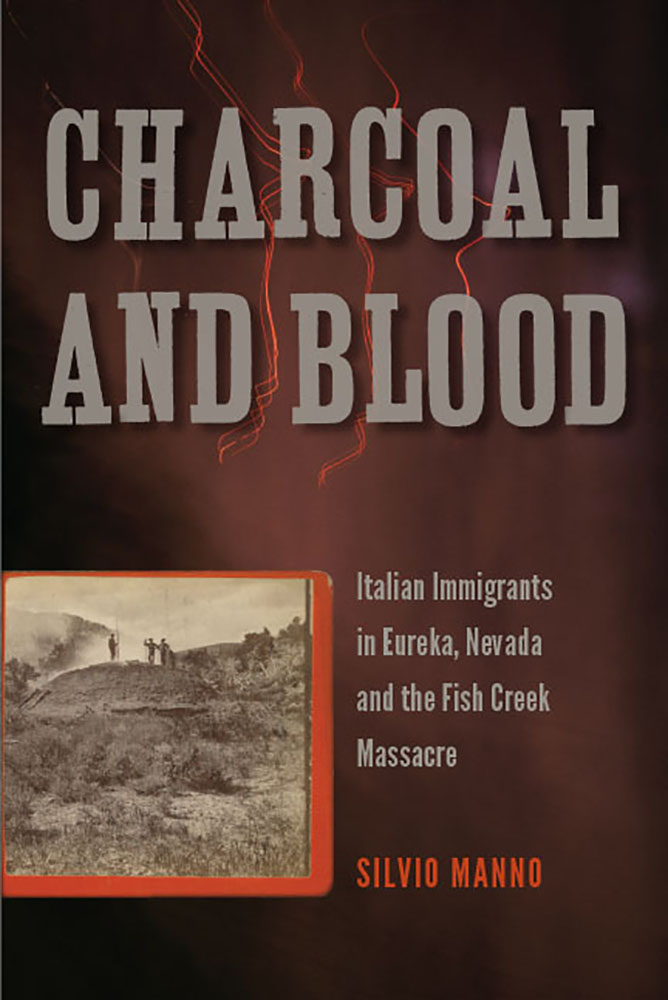 Charcoal and BloodItalian Immigrants in Eureka, Nevada, and the Fish Creek Massacre$29.95
Author:
Silvio Manno
Format: Paper
Pages: 296
ISBN: 9781943859009
Published Date: 2016
Charcoal and Blood is a detailed account of a heinous crime perpetrated on Italian immigrants engaged in the production of charcoal on Nevada's mining frontier at the close of the nineteenth century. On August 18, 1879, in a canyon near Fish Creek, outside Eureka, Nevada, five Italian charcoal burners were slain and six more were wounded, while fourteen were taken prisoner by a sheriff's posse.

Through meticulous research on the event, relying on such primary sources as newspaper articles, author Silvio Manno provides the only comprehensive account of Eureka's charcoal crisis and what came to be known as the Fish Creek Massacre. This is a well-documented narrative history of an important instance of class and ethnic conflict in the West. Readers interested in Nevada history, Italian American history, frontier trade unionism, and mining in the West will find this book a unique examination of an incident that occurred almost a century and a half ago and that has, until now, been largely overlooked.
Author Bio
Silvio Manno was born in Calabria, Italy, and emigrated to the United States in 1976. Manno earned an MA in linguistics at California State University, Fresno, and was an elementary school teacher for many years. He is now retired and pursuing his interest in Italian immigration history. Manno is the author of The Forestiere Underground Garden.
Reviews
"Silvio Manno examines immigration dynamics, labor unrest, and a violent clash that laid bare a heated socioeconomic battle on Nevada's mining frontier ... Manno's book is a worthy contribution to historical literature on Nevada."
—Western Historical Quarterly

"What a gem of a book this is. Silvio Manno's Charcoal and Blood, Italian Immigrants in Eureka, Nevada, and the Fish Creek Massacre, is as much a narrative account about a forgotten chapter of Nevada history, as it is a reflective memoir, enriched by a new immigrant's quest to understand his people's past in a frontier land.... It is a difficult task to balance scholarly objectivity with the tricks of memoir and reflective writing, yet Manno does it with aplomb. This work deserves a prime spot on bookshelves of the American West."
—Pacific Historical Review

Manno is the essence of the Italian immigrant story of resilience."
—Ambassador Magazine

"Charcoal and Blood is a compelling, impressive work of history that all Italian Americans should read. The book is another reminder of the harrowing struggles and sacrifices our ancestors made, sometimes getting killed in the process, so that we may all have a better life."
—Primo Magazine​

"Today we meet Silvo Manno, and we thank him for being here with us: he did research and wrote a book on what was called the 'Fish Creek massacre', and happened in Nevada. The different thing from other tragic situations is that in this case the problems arose between two factions within the Italian community. It is important to understand what happened, to learn from their stories"
—We the Italians​

"Manno's book should be of great interest to a broad range of potential audiences: anyone interestd in life and death in a small mining community in the West durung its heyday; anyone interested in the history of immigration, particularly of Italians to the West; anyone interested in the development of the labor movement; anyone interested in inter- and intra-thnic conflicts in the West; anyone interested in law enforcement and violence in the West ... Charcoal and Blood is very well researched, very well documented, and very well written."
—Mining History Journal

"A sober and serious-minded account, Charcoal and Blood is highly recommended for public and college library American History collections."
—The Midwest Book Review
"The book contributes our clearest account yet of this important episode in Nevada history, in which mining history, immigration and social history, political economy, and frontier violence are all intertwined. It also helps shed more light on the history of Eureka, which has been understudied in Nevada historiography."
—Eric Nystrom, author of Seeing Underground: Maps, Models, and Mining Engineering in America
"This is an extremely significant topic covered with passion and relying on excellent research. Silvio Manno has crafted a portrait of the immigration story by revealing a tragic episode that deserves to be remembered and understood."
—Ronald M. James, author of A Short History of Virginia City
"Manno is to be congratulated for resuscitating this story from its place in the still little-known history of the West." —Italian American Studies Association