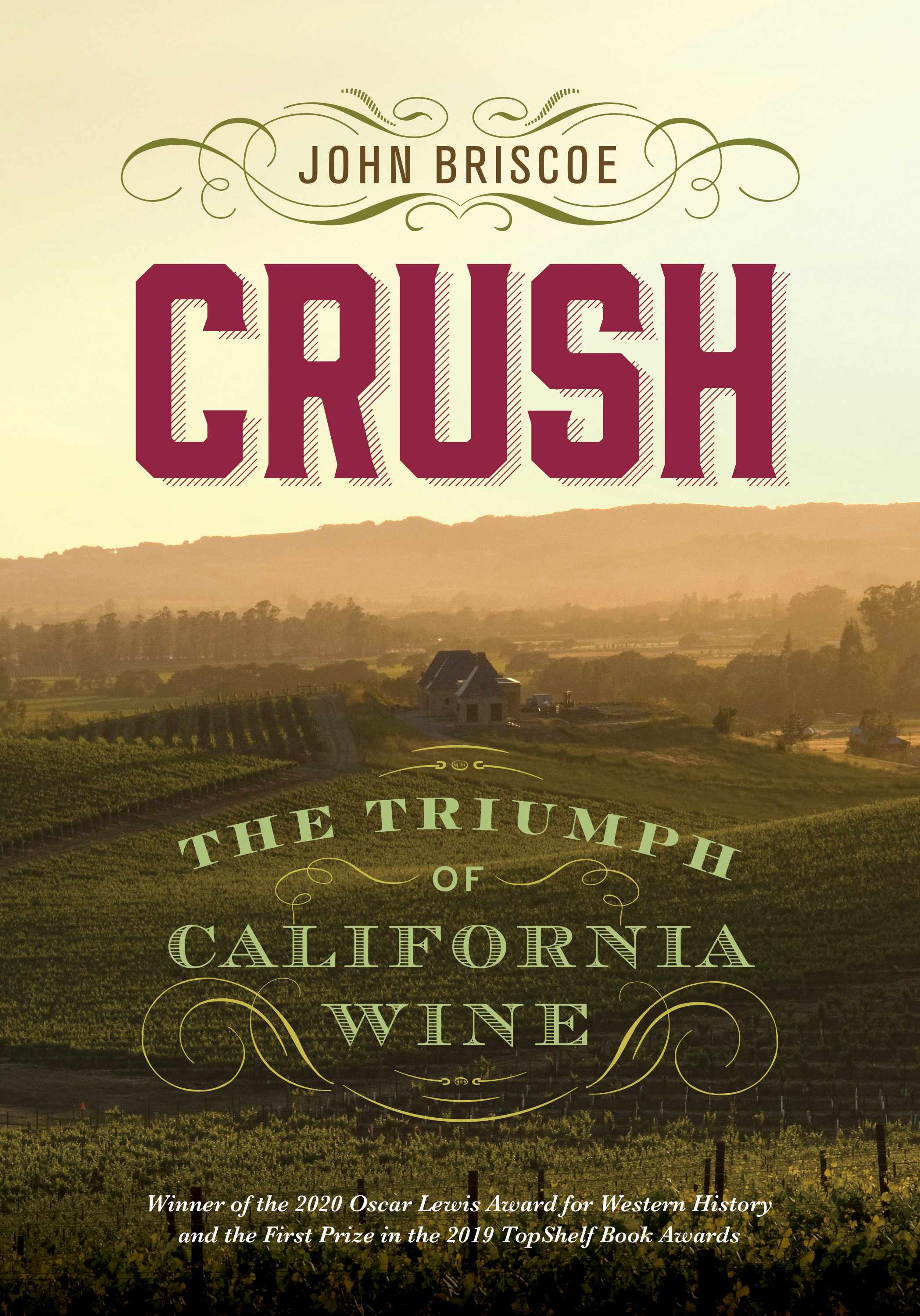 CrushThe Triumph of California Wine$24.95
Author:
John Briscoe
Format: Paper
Pages: 368
ISBN: 9781647790684
Published Date: 2022
Winner, TopShelf Magazine Book Awards Historical Non-fiction 

Finalist, Northern California Book Awards General Non-Fiction

Look. Smell. Taste. Judge. Crush is the 200-year story of the heady dream that wines as good as the greatest of France could be made in California. A dream dashed four times in merciless succession until it was ultimately realized in a stunning blind tasting in Paris. In that tasting, in the year of America's bicentennial, California wines took their place as the leading wines of the world.

For the first time, Briscoe tells the complete and dramatic story of the ascendancy of California wine in vivid detail. He also profiles the larger story of California itself by looking at it from an entirely innovative perspective, the state seen through its singular wine history.

With dramatic flair and verve, Briscoe not only recounts the history of wine and winemaking in California, he encompasses a multidimensional approach that takes into account an array of social, political, cultural, legal, and winemaking sources. Elements of this history have plot lines that seem scripted by a Sophocles, or Shakespeare. It is a fusion of wine, personal histories, cultural, and socioeconomic aspects.

Crush is the story of how wine from California finally gained its global due. Briscoe recounts wine's often fickle affair with California, now several centuries old, from the first harvest and vintage, through the four overwhelming catastrophes, to its amazing triumph in Paris.
Author Bio
John Briscoe is a San Francisco poet, award-winning author, and lawyer. A noted wine and food writer, he is the author of Tadich Grill: The Story of San Francisco's Oldest Restaurant.
Reviews
"Crush is a hopeful saga, with the forces of oenophilia winning out in the end as California wines enter the pantheon of the world's fine wines. It's a tale written with panache and wry opinions, and is a smooth introduction to five centuries of California history, as seen through the curved lens of a wine glass."
Foreword Reviews
"Delivers a comprehensive history and fascinating read; it is a true celebration of the persistence of the California vignerons throughout the ages, their battles with adversity to make the region's wines some of the best in the world today. Highly recommended!"
The Columbia Review
"The history in this book pops right off the page...For those who are passionate about food culture in America or the history of California, the character and detail in this book is something that can't be missed."
The US Review of Books
"In a tour de force of scholarship, fine writing, and multifaceted format, Crushdescribes the process of how California introduced wine to America and how wine helped to create contemporary California. With verve and amplitude, Briscoe evokes the alchemy through which wine—as agriculture, as vintners' art, as connoisseurship in dialogue with advanced and popular taste alike—helped define California as a regional civilization."
Kevin Starr, former professor of history and California State Librarian
​​"Crush is simply superb—both as history and story-telling. The Paris tasting and its aftermath was a transformative moment in California's cultural history. This immensely readable book captures the excitement, the fun, and the astonishment of the event."
Dana Gioia, Poet Laureate of California
​​"An insightful work on the history and development of the California wine industry, its struggles and achievements, until reaching the heights of quality and prestige we have today. Recommended Reading!"
Marimar Torres, Founder & Proprietor of Marimar Estate Wines, California
​​"An entertaining and insightful story of California seen through the state's wine history, Crush is an essential addition to any California bookshelf. Readers may never look at their glass of California wine in the same way."
Christopher O'Sullivan, University of San Francisco
"...vivid and passionate..."
The Literary West
"...an impressive compendium of research..."
Santa Fe New Mexican
"essential history for wine aficionados."
Kirkus
...this book is a compelling read fashioned with a skilled writer's ability to weave facts and colorful tales into an epic story.
Wine Spectator