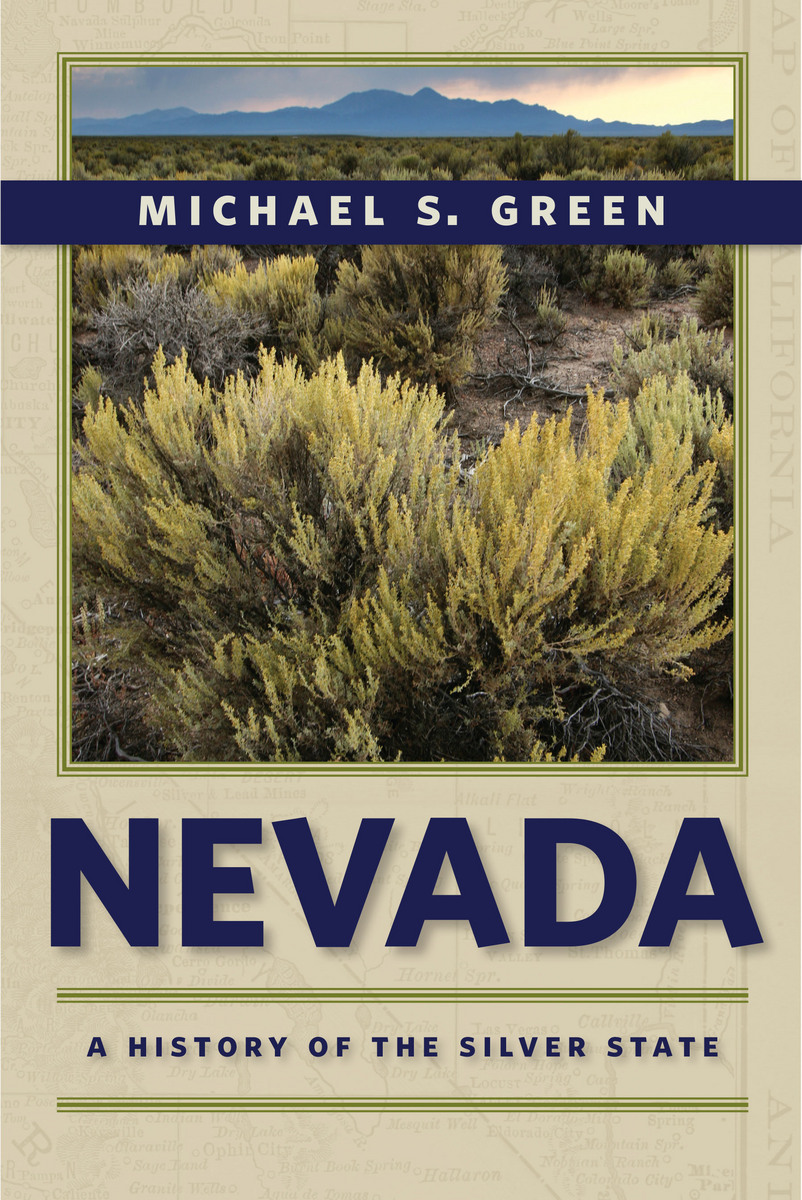 NevadaA History of the Silver State, 2nd edition$39.95
Author:
Michael S. Green
Format: Paper
Pages: 528
ISBN: 9781647790486
Published Date: 2024
Nevada: A History of the Silver State has been named a CHOICE Outstanding Title.

Michael S. Green, a leading Nevada historian, provides a detailed survey of the Silver State's past, from the arrival of the early European explorers, to the predominance of mining in the 1800s, to the rise of world-class tourism in the twentieth century, and to more recent attempts to diversify the economy.

Of the numerous themes central to Green's analysis of Nevada's history, luck plays a significant role in the state's growth. The miners and gamblers who first visited the state all bet on luck. Today, the biggest contributor to Nevada's tourist economy, gaming, still relies on that same belief in luck. Nevada's financial system has generally been based on a "one industry" economy, first mining and, more recently, gaming. Green delves deeply into the limitations of this structure, while also exploring the theme of exploitation of the land and the overuse of the state's natural resources. Green covers many more aspects of the Silver State's narrative, including the dominance of one region of the state over another, political forces and corruption, and the citizens' often tumultuous relationship with the federal government. The book will appeal to scholars, students, and other readers interested in Nevada history.
Author Bio
Michael S. Green is an associate professor of history at the University of Nevada, Las Vegas, specializing in nineteenth-century politics and the American West. He is the author of several books on these subjects, including Las Vegas: A Centennial History.
Reviews
"Michael Green has given us a new, refreshing overview of Nevada's colorful history. This long awaited book will be welcomed as a comprehensive and candid update of the state's history. It offers us a kaleidoscope of information, especially on recent developments in Las Vegas." —James W. Hulse, author of The Silver State: Nevada's Heritage Reinterpreted
"This is an excellent book. It is authoritative, well researched, and well written." —Eugene Moehring, author of Reno, Las Vegas, and the Strip: A Tale of Three Cities
"This is a major contribution to the historiography of Nevada and, I might add, to the history of the American West." —Richard O. Davies, author of The Main Event: Boxing in Nevada from the Mining Camps to the Las Vegas Strip
"Green offers a wonderfully readable survey of the Silver State . . . this is a rich historical narrative that will introduce the uninitiated to the state's history and serve as a valuable guide for historians already working with Nevada's dynamic past." —Choice