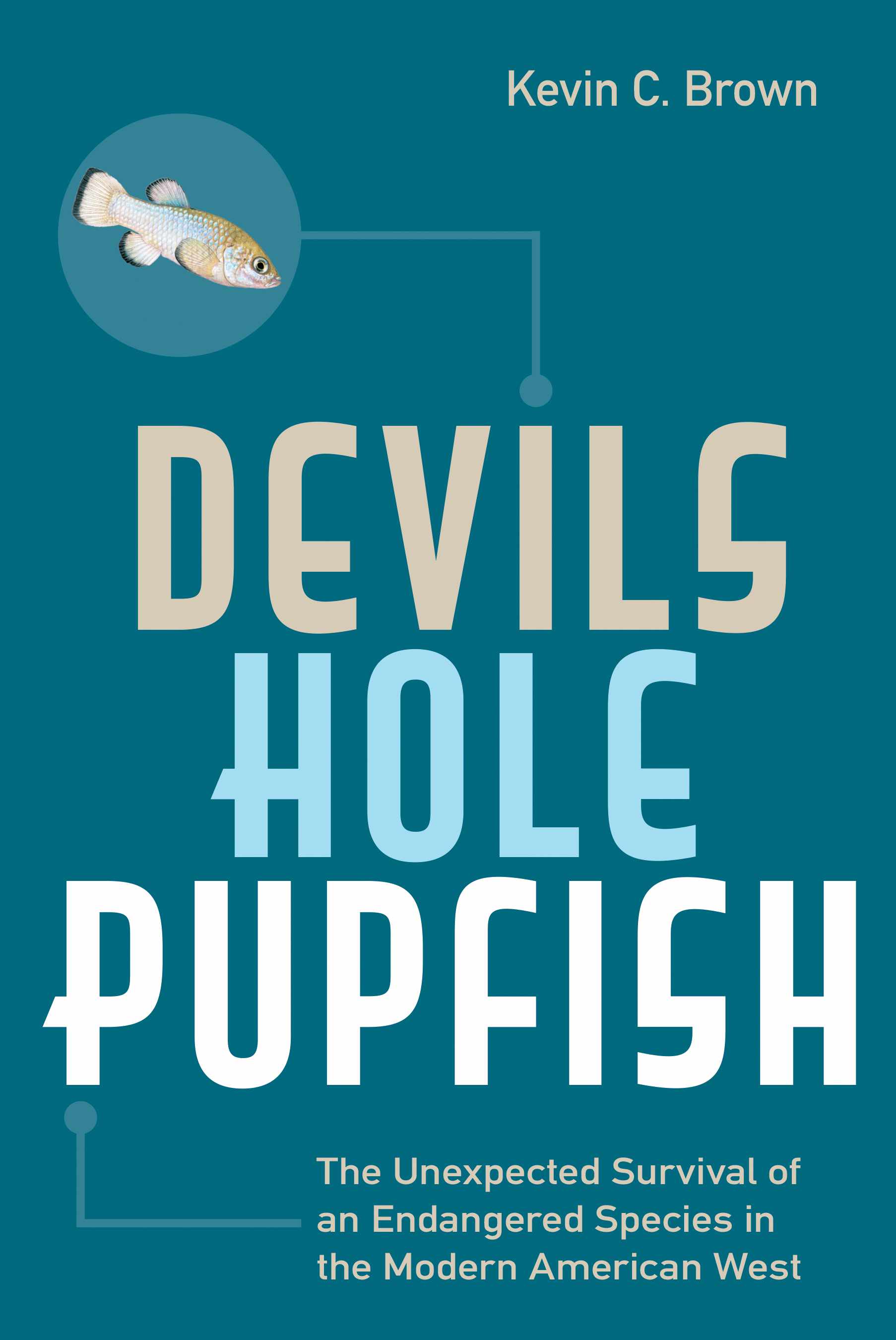 Devils Hole PupfishThe Unexpected Survival of an Endangered Species in the Modern American West $30.00
Author:
Kevin C. Brown
Format: Paper
Pages: 336
ISBN: 9781647790103
Published Date: 2021
The Devils Hole pupfish is one of the rarest vertebrate animals on the planet; its only natural habitat is a ten-by-sixty-foot pool near Death Valley, on the Nevada—California border. Isolation in Devils Hole made the fish different from its close genetic relatives, but as Devils Hole Pupfish explores, what has made the species a survivor is its many surprising connections to the people who have studied, ignored, protested or protected it.
Author Bio
Kevin C. Brown works with his head and his hands on the East Side of California's Sierra Nevada Mountains. He is a research associate in the University of California, Santa Barbara Environmental Studies Program, and has also worked as a journalist and as a researcher for the National Park Service and the American Society for Environmental History.
Reviews
"In this fine book, Kevin Brown shows convincingly why a tiny fish matters in a big way. By tracking its rich history and the political entanglements it has engendered, he raises essential questions – ones specific to the pupfish, but extensible to other endangered species: Who gets to decide their fate? What survival tactics work best, and how long should those efforts continue? Ultimately, Brown illustrates one of the most important lessons of all: that life can be simultaneously persistent, adaptable, and fragile."
—Daniel Lewis, author of Belonging on an Island: Birds, Extinction, and Evolution in Hawaii

"This crystalline gem of a book considers the improbable survival of a small, obscure, and critically endangered aquatic animal, the Devils Hole pupfish, that has the most restricted habitat of any known vertebrate species. Deeply researched, engagingly presented, and convincingly argued, this is a remarkable story, one that is important and exceptionally well told."
—Mark V. Barrow Jr, professor of history, Virginia Tech, and author of Nature's Ghost: Confronting Extinction from the Age of Jefferson to the Age of Ecology

"A delightful and thought-provoking yarn, rich in good humor--and deep environmental meaning--in the best traditions of the new American west."
—Joshua P. Howe, professor of history and environmental studies, Reed College, and author of Behind the Curve: Science and the Politics of Global Warming and Making Climate Change History

"You have probably never heard of the Devils Hole pupfish.  In his fine and widely ranging book, Kevin Brown reveals that this "one inch long, twitchy blue fish" is a microcosm of the contentious histories of wilderness, science, water, and policy in the modern American West. This tiny fish contains multitudes."
—Anita Guerrini, Oregon State University