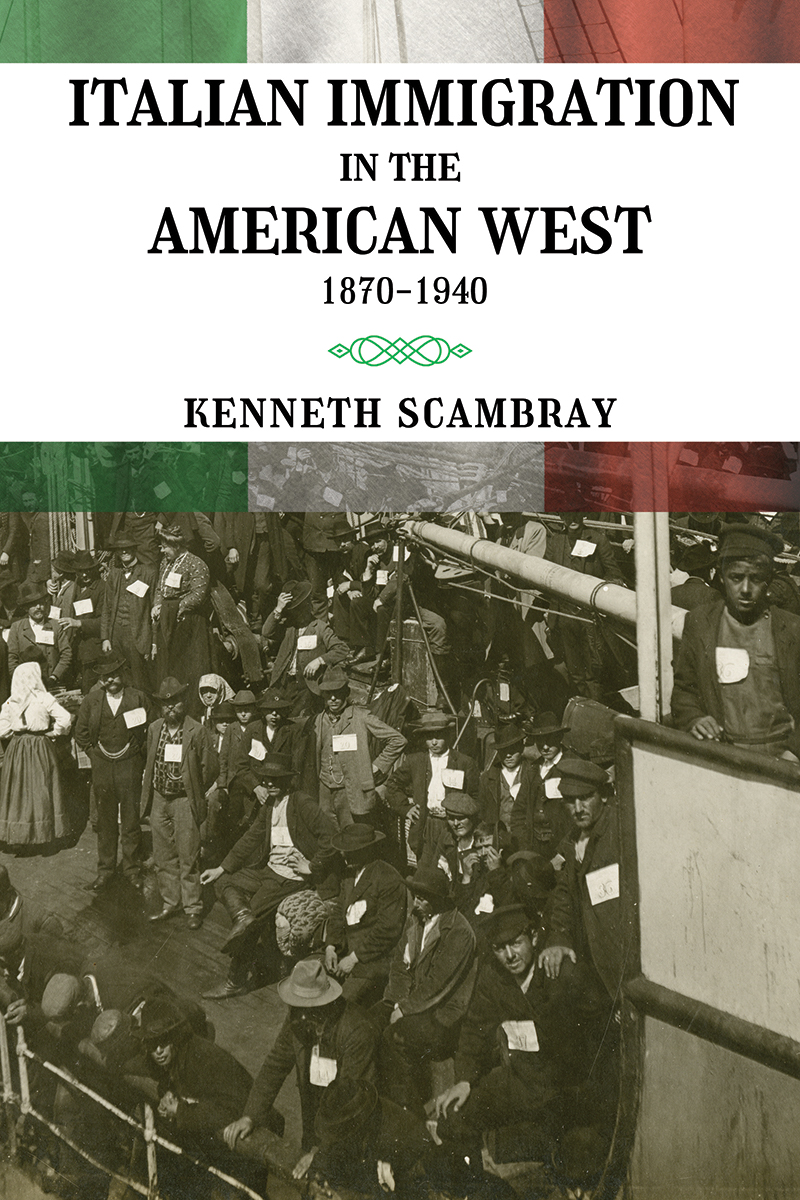 Italian Immigration in the American West1870-1940$45.00
Author:
Kenneth Scambray
Format: Paper
Pages: 368
ISBN: 9781647790028
Published Date: 2021
In this carefully researched and engaging book, Kenneth Scambray surveys the lives and contributions of Italian immigrants in thirteen western states. He covers a variety of topics, including the role of the Roman Catholic Church in attracting and facilitating Italian settlement; the economic, political, and cultural contributions made by Italians; and the efforts to preserve Italian culture and to restore connections to their ancestral identity.

The lives of immigrants in the West differed greatly from those of their counterparts on the East Coast in many ways. The development of the West—with its cheap land and mining, forestry, and agriculture industries\--created a demand for labor that enabled newcomers to achieve stability and success. Moreover, female immigrants had many more opportunities to contribute materially to their family's well-being, either by overseeing new revenue streams for their farms and small businesses, or as paid workers outside the home.

Despite this success, Italian immigrants in the West could not escape the era's xenophobia. Scambray also discusses the ways that Italians, perceived by many as non-White, interacted with other Euro-Americans, other immigrant groups, and Native Americans and African Americans.

By placing the Italian immigrant experience within the context of other immigrant narratives, Italian Immigration in the American West provides rich insights into the lives and contributions of individuals and families who sought to build new lives in the West. This unique study reveals the impact of Italian immigration and the immense diversity of the immigrant experience outside the East's urban centers.
Author Bio
Kenneth Scambray is the author of A Varied Harvest: The Life and Works of Henry Blake Fuller (1987), The North American Italian Renaissance: Italian Writing in America and Canada (2000), Surface Roots: Short Stories (2003), and Queen Calafia's Paradise: California and the Italian American Novel (2007). Since 1978 he has served as the book and film critic for L'Italo-Americano. He is professor emeritus of English at the University of La Verne in California.
Reviews
"With its breadth of coverage and exhaustive reference to the most current literature, Italian Immigration in the American West is likely to become the standard work on Italian immigration to the West. It promises to become the reference work that no one who is interested in how Italians populated the West—or in Italian immigration in general—can afford to be without."
—Lawrence DiStasi, author of Branded: How Italian Immigrants Became 'Enemies' During World War II

"Kenneth Scambray's Italian Immigration in the American West is a fine work of scholarship. . . .  Anyone who enjoys history will find this book to be a major contribution to chipping away the block of ignorance about the Italians who chose to make America their homes. I predict that this book will be a standard sourcebook on Italians in the American West for years to come."
—Valentine J. Belfiglio, Cornaro Professor Emeritus, Texas Woman's University