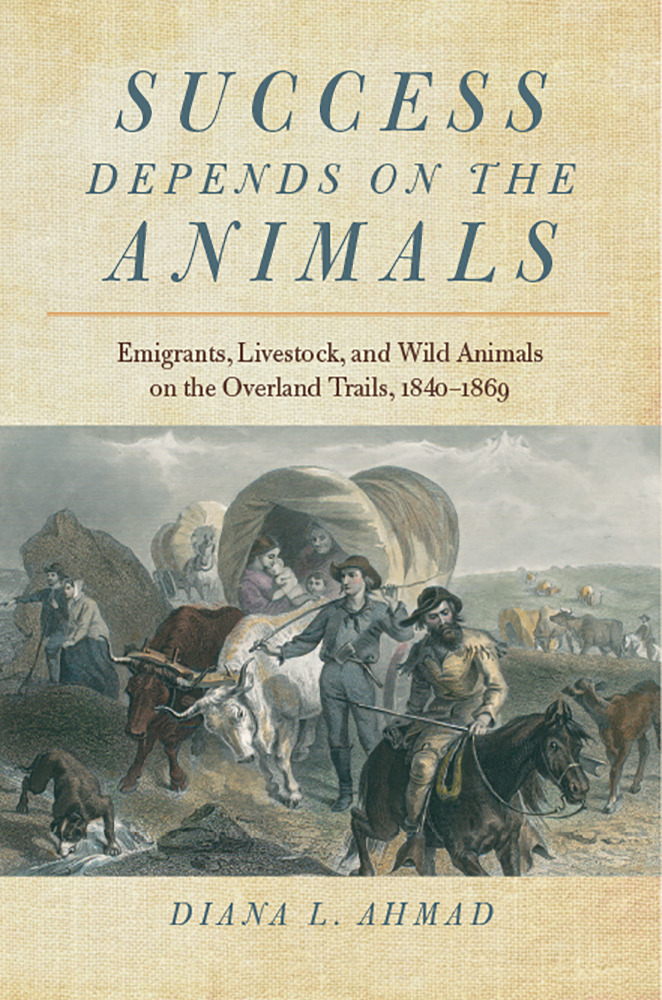 Success Depends on the AnimalsEmigrants, Livestock, and Wild Animals on the Overland Trails, 1840–1869$31.95
Author:
Diana L. Ahmad
Format: Cloth
Pages: 144
ISBN: 9780874179972
Published Date: 2016
Between 1840 and 1869, thousands of people crossed the American continent looking for a new life in the West. Success Depends on the Animals explores the relationships and encounters that these emigrants had with animals, both wild and domestic, as they traveled the Overland Trail. In the longest migration of people in history, the overlanders were accompanied by thousands of work animals such as horses, oxen, mules, and cattle. These travelers also brought dogs and other companion animals, and along the way confronted unknown wild animals.

Ahmad's study is the first to explore how these emigrants became dependent upon the animals that traveled with them, and how, for some, this dependence influenced a new way of thinking about the human-animal bond. The pioneers learned how to work with the animals and take care of them while on the move. Many had never ridden a horse before, let alone hitched oxen to a wagon. Due to the close working relationship that the emigrants were forced to have with these animals, many befriended the domestic beasts of burden, even attributing human characteristics to them.

Drawing on primary sources such as journals, diaries, and newspaper accounts, Ahmad explores how these new experiences influenced fresh ideas about the role of animals in pioneer life. Scholars and students of western history and animal studies will find this a fascinating and distinctive analysis of an understudied topic.
Author Bio
Diana L. Ahmad received her PhD at the University of Missouri-Columbia. She is a University of Missouri Curators' Teaching professor of history at the Missouri University of Science and Technology, where she specializes in the history of the American West, the Pacific, and Modern East Asia. She is the author of The Opium Debate and Chinese Exclusion Laws in the Nineteenth-Century American West.
Reviews
"Diana Ahmad has written the definitive history, told largely from the point of view of the animals, of the great pre-1869 overland wagon migrations." —John H. Monnett, author of Where a Hundred Soldiers Were Killed: The Struggle for the Powder River Country in 1866 and the Making of the Fetterman Myth
"Success Depends on the Animals is a valuable addition to overland history. Ahmad presents an interesting idea—that the journey transformed emigrants into overlanders—and that 'Like the emigrants, the domestic animals became overlanders.' " —Missouri Historical Review
"Success Depends on the Animals will be a welcome addition to the bookshelves of Overland Trail devotees looking to understand the significant role that animals played in making that journey happen." —Oregon Historical Quarterly
 
"Success Depends on the Animals is a remarkable monograph that is of interest to general readers and to general readers and to historians of the United States West. Her study advances the historiography of the overland trails and suggests new ways of thinking about human-animal relationships."—Western Historical Quarterly
"With all of the volumes written about the experiences of Overland Trail emigrants, it is somewhat surprising that seldom has the story of the four-legged emigrants been addressed. Diana Ahmad has attempted to correct that shortcoming in what is billed as the first book of its kind ... This entertaining, highly readable [book] will be a great addition to your bookshelf. You will finish it with a greater appreciation for the animals who walked the same trails as the emigrants did, but did it in harness and pullling heavy loads."—Overland Journal
"Ahmad draws on dozens of trial diaries and journals, as well as guidebooks, to make a persuasive case for the centrality of animals to the overland experience. This book could be a valuable adjunct to western and environmental history courses."—Utah Historical Quarterly