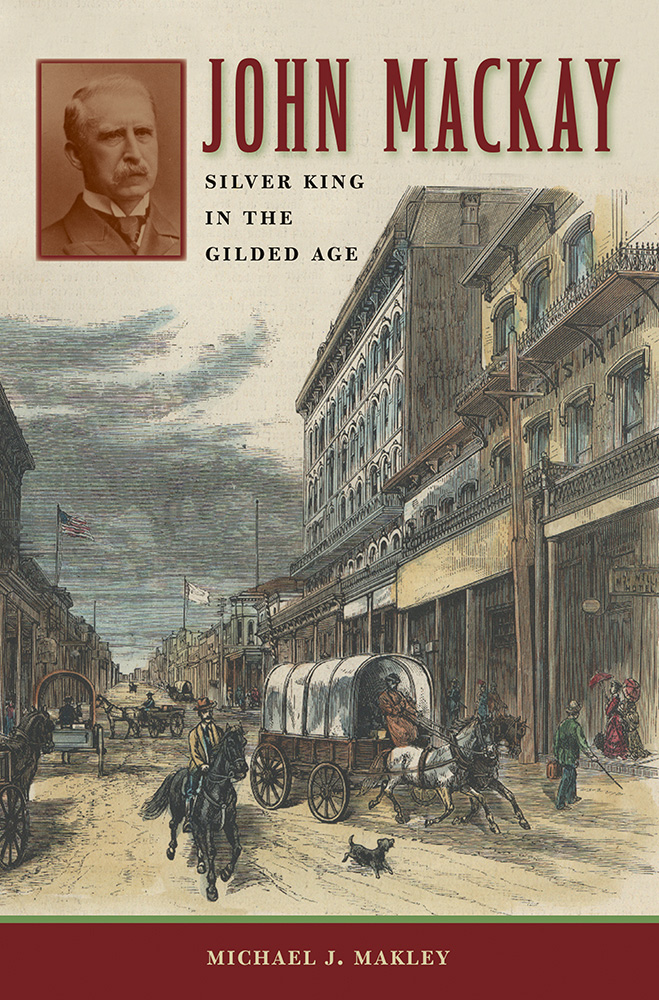 John MackaySilver King in the Gilded Age$26.95
Author:
Michael J. Makley
Format: Paper
Pages: 296
ISBN: 9780874179941
Published Date: 2015
From the early 1870s until his death in 1902, John Mackay was among the richest men in the world and was without a doubt the wealthiest man to emerge from Nevada's fabulous Comstock Lode. Author Michael J. Makley explores how, from his beginnings as a poor Irish immigrant, John Mackay developed a strong work ethic that distinguished him for the rest of his life. He came west to seek his fortune in the California Gold Rush and then moved on to Virginia City, Nevada, where he dealt in mining stocks and operated silver mines. After making a fortune in mining, he transferred his energies to banking and communications.
 
John Mackay offers new insight into the life and achievements of this remarkable man. It also places Mackay in the broader context of his time, an era of robber barons and rampant corruption, rapidly advancing technology, national and international capitalism, and flagrant displays of newfound wealth. Even in this context, he stood out, not only for his contributions to Nevada and mining history, but also for his reputation as an important business leader fighting the consolidation and venality of corporate power in the Gilded Age. His actions freed the Comstock from a financial monopoly, resulting in moderated rates for the milling, timber, shipping, transportation, and water that made mining possible and precipitated the discovery and development of the ore field known as the "Big Bonanza."

Makley's book recounts the life and career of one of the most successful men of his age, a capitalist of immense wealth who generously helped those around him and worked diligently in the public interest. This engaging biography will appeal to readers interested in the Comstock Lode and mining in the West during the latter part of the nineteenth century as well as general western history enthusiasts.
Author Bio
Michael J. Makley is the author of seven books on western history, and his biography William Sharon: The Infamous King of the Comstock won Foreword Magazine's 2008 Silver Award for Biography. His other publications include Saving Lake Tahoe: An Environmental History of a National Treasure and Cave Rock: Climbers, Courts, and a Washoe Indian Sacred Place. Makley divides his time between the eastern Sierra Nevada and Denver, Colorado.
Reviews
"Makley once again exhibits exhaustive research, a pleasing writing style, and an insightful sense of the person he is portraying." —Nevada in the West
"...this is an excellent book for those interested in a number of the industrial aspects of the Gilded Age." —Western Historical Quarterly
"The author has done a good job of capturing the color of the times and the more romantic image of the man. The book is well worth the read for those interested in the gold rush, the Comstock Lode, and the mining regime in Nevada and northern California during the second half of the nineteenth century." —Southwestern Historical Quarterly