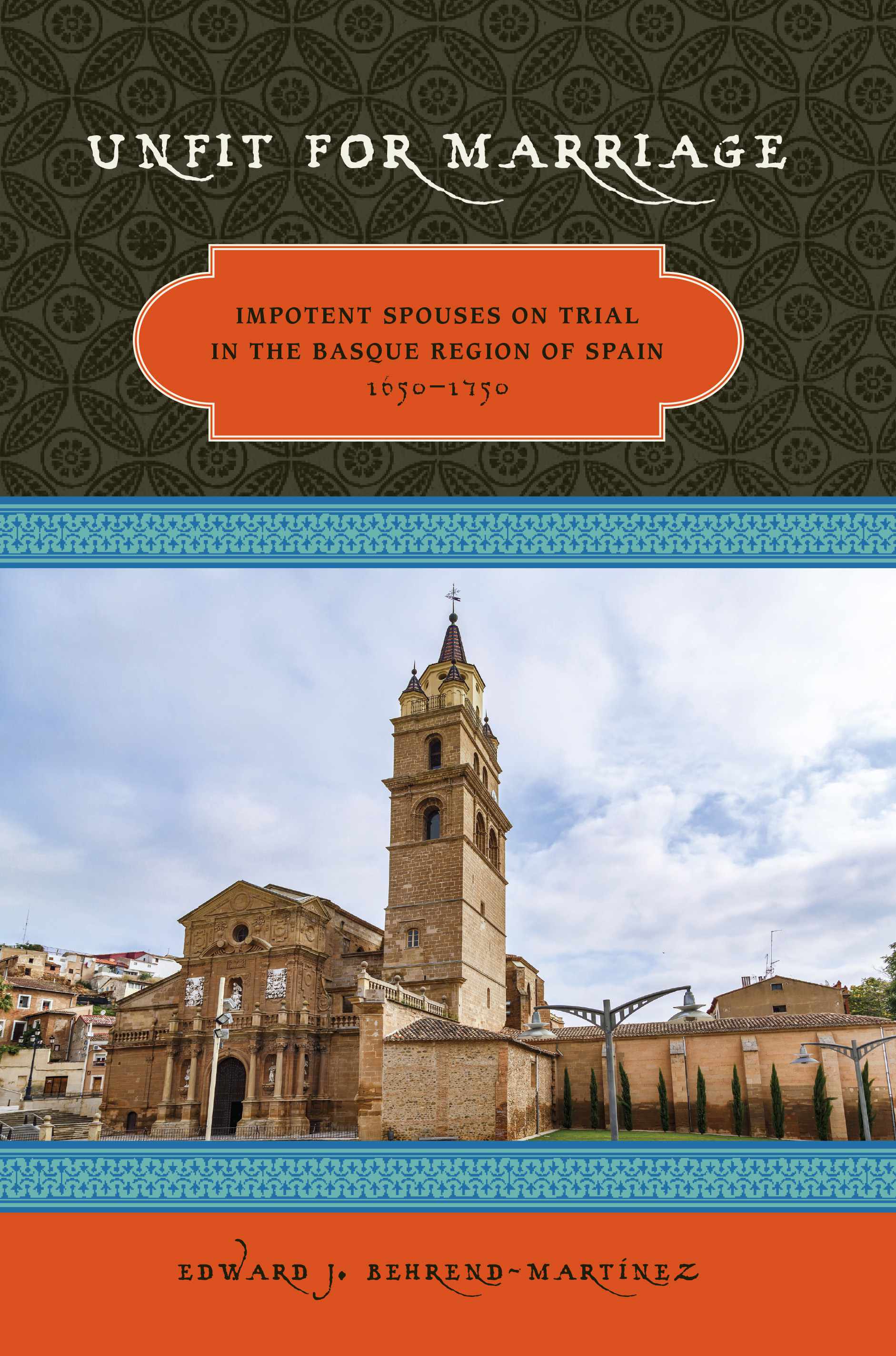 Unfit For MarriageImpotent Spouses On Trial In The Basque Region Of Spain, 1650-1750$29.95
Author:
Edward J. Behrend-Martinez
Format: Paper
Pages: 224
ISBN: 9780874179576
Published Date: 2014
The Catholic Church of early modern Europe intended the sacrament of matrimony to represent a lifelong commitment, and it allowed few grounds for the dissolution of an unhappy marriage. One was nonconsummation owing to the sexual impotency of one of the partners. Even then, an annulment was granted only after a church court had conducted a lengthy investigation of the case, soliciting testimony from numerous witnesses as well as from the aggrieved couple, and had subjected the allegedly impotent spouse (and sometimes both spouses) to an intimate physical examination.

Edward J. Behrend-Martinez has studied the transcripts of eighty-three impotency trials conducted by the ecclesiastical court of Calahorra (La Rioja), a Spanish diocese with urban and rural parishes, both Basque and Castilian. From these records, he draws a detailed, fascinating portrait of private life and public sexuality in early modern Europe. These trials were far more than a salacious inquiry into the intimate details of other people's lives. The church valued marital sex as a cornerstone of stable society, intended not only for procreation but also for maintaining domestic harmony. Every couple's sex life, however private in practice or intention, was a matter of public and ecclesiastical concern.

Unfit for Marriage offers vivid accounts of marital sex and the role that property, gender, and personal preference played in marriage in early modern Europe. It is essential reading for anyone interested in social history, sexuality, gender studies, canon law, legal history, and the history of divorce in western Europe.
Author Bio
Edward J. Behrend-Martínez is an assistant professor of history at Appalachian State University. He has published several articles on gender and the social history of early modern Spain. He received his PhD in History from the University of Illinois at Chicago. He was a Fulbright Scholar in Spain in 2000-2001.
Reviews
"For an early modern European history, this book is surprisingly sexy, while at the same time maintaining a dignified and tasteful level of discourse. The author is scholarly, measured, and trustworthy."—Stanley H. Brandes, Professor of anthropology, University of California, Berkeley, and author of Skulls to the Living, Bread for the Dead: Celebrations of Death in Mexico and Beyond