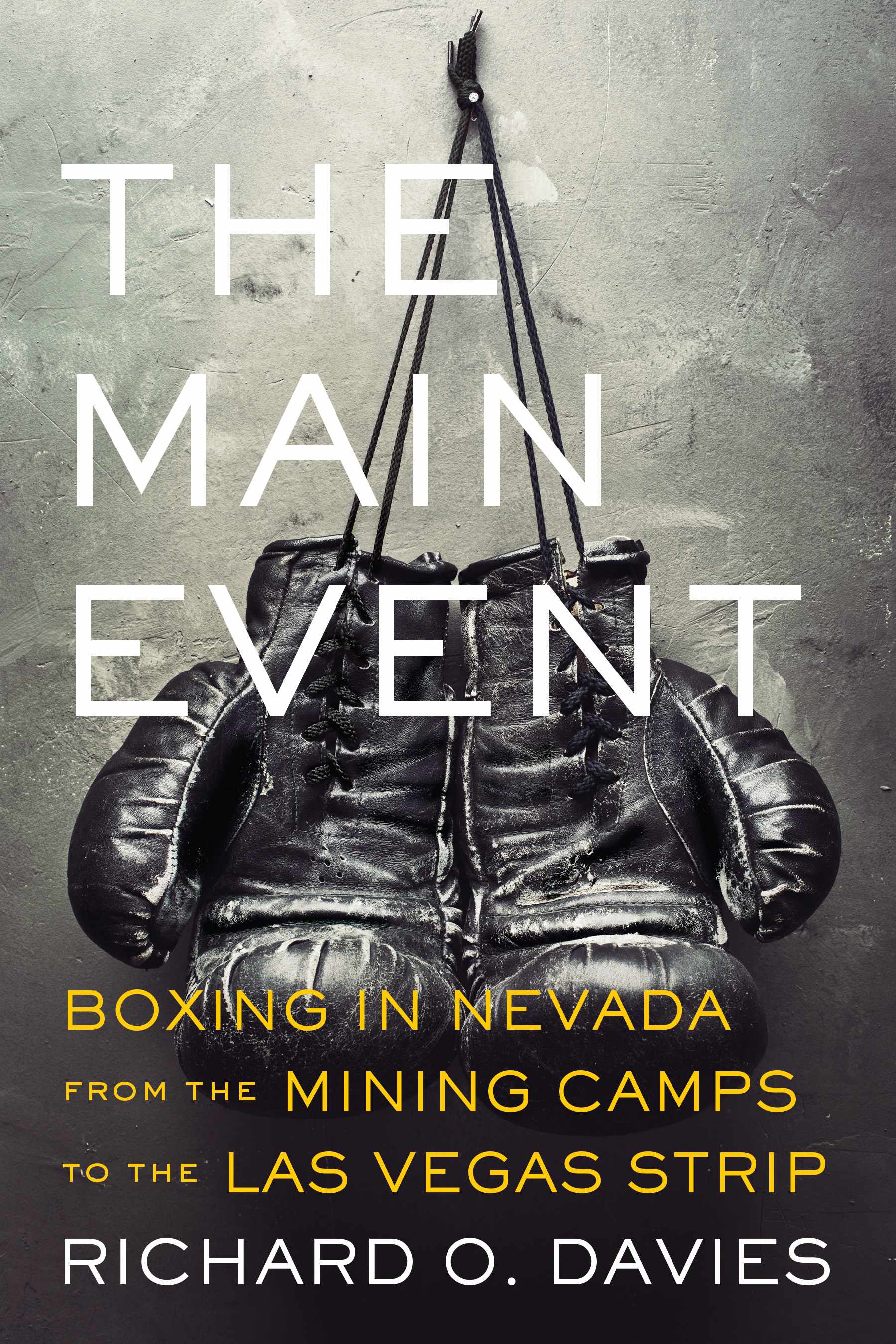 Main EventBoxing in Nevada from the Mining Camps to the Las Vegas Strip$29.95
Author:
Richard O. Davies
Format: Cloth
Pages: 320
ISBN: 9780874179286
Published Date: 2014
Richard O. Davies won Foreword Reviews' INDIEFAB Book of the Year Bronze Medal in Sports for The Main Event: Boxing in Nevada from the Mining Camps to the Las Vegas Strip. Davies' book was chosen as one of the best indie books of 2014. 

As the twentieth century dawned, bare-knuckle prizefighting was transforming into the popular sport of boxing, yet simultaneously it was banned as immoral in many locales. Nevada was the first state to legalize it, in 1897, solely to stage the Corbett-Fitzsimmons world heavyweight championship in Carson City. Davies shows that the history of boxing in Nevada is integral to the growth of the sport in America. Promoters such as Tex Rickard brought in fighters like Jack Dempsey to the mining towns of Goldfield and Tonopah and presented the Johnson-Jeffries "Fight of the Century" in Reno in 1910. Prizefights sold tickets, hotel rooms, drinks, meals, and bets on the outcomes. It was boxing\--before gambling, prostitution, and easy divorce\--that first got Nevada called "America's Disgrace" and the "Sin State." The Main Event explores how boxing's growth in Nevada relates to the state's role as a social and cultural outlier. Starting in the Rat Pack era, organized gambling's moguls built arenas outside the Vegas casinos to stage championships\--more than two hundred from 1960 to the present. Tourists and players came to see and bet on historic bouts featuring Sonny Liston, Muhammad Ali, George Foreman, Sugar Ray Leonard, Mike Tyson, and other legends of the ring.

From the celebrated referee Mills Lane to the challenge posed by mixed martial arts in contemporary Las Vegas, the story of boxing in Nevada is a prism for viewing the sport. Davies utilizes primary and secondary sources to analyze how boxing in the Silver State intersects with its tourist economy and libertarian values, paying special attention to issues of race, class, and gender. Written in an engaging style that shifts easily between narrative and analysis, The Main Event will be essential reading for sports fans and historians everywhere.
Author Bio
Richard O. Davies is distinguished professor of history, emeritus, at the University of Nevada, Reno. His most recent book is Rivals! The Ten Greatest American Sports Rivalries of the 20th Century; other works include Sports in American Life: A History and The Maverick Spirit: Building the New Nevada. In 2013 he was inducted into the Nevada Writers Hall of Fame.
Reviews
"This is an excellent introduction to the history and role of boxing in the state of Nevada. Not only does it examine how the sport started, declined, and then reemerged, it also sheds light on its ties to the political, social, and business history of the Silver State. This is an excellent volume of scholarship that should find wide acceptance among historians who study sport and the wider issues of history of the American West." —Western Historical Quarterly
 
Western Historical Quarterly
"His [Davies] ability to shift between the national and the state scenes and his mastery of the literature adds immeasurably to The Main Event, as does his blending of political, social, and economic forces." —Nevada Historical Society Quarterly 
Nevada Historical Society Quarterly