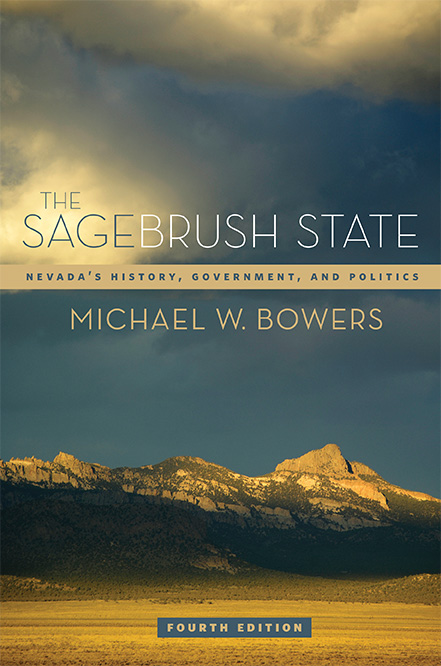 Sagebrush State, 4th EdNevada's History, Government, and Politics$29.95
Author:
Michael W. Bowers
Format: Paper
Pages: 312
ISBN: 9780874179231
Published Date: 2013
Nevada's politics have been formed in large measure by its turbulent history and harsh environment. Bowers' concise volume explains the dynamics of this process, which is strikingly unique among the fifty states. This is a readable and insightful explanation of how Nevada's history has formed its political culture, and how its government works today. The Sagebrush State includes the full text of the state constitution, with extensive annotations of all amendments to the original 1864 document. The Sagebrush State serves as a text for the study of Nevada's history and constitution, which is a graduation requirement at the state's colleges and universities. The fourth edition of this work is updated through 2012 to include information on the elections of 2010 and 2012 and recent controversial sessions of the Legislature.
Author Bio
Michael W. Bowers is professor of political science and public law, and former Senior Vice Provost for Academic Affairs and Executive Vice President and Provost, at the University of Nevada, Las Vegas. He is the author of The Nevada Constitution: A Reference Guide and numerous academic articles on politics and law. 
Reviews
"This is a volume that would be a worthwhile addition to the bookshelf of anyone looking for a reliable reference work on Nevada government and politics." —Western Historical Quarterly  
"This concise work explains how Nevada government actually works and how the area's history has shaped its political culture." —Journal of the West  
"A 312 page compendium providing an analytical overview of the state from its inception down to the present day. A seminal work of impressively detailed and documented scholarship, The Sagebrush State: Nevada's History, Government, and Politics is very highly recommended and instructive reading for students of Nevadan history and would make an important contribution to academic library American History and Political Science reference collections." —The Midwest Book Review