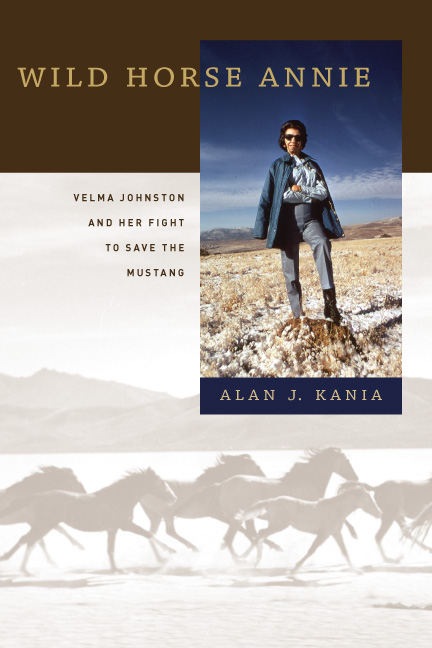 Wild Horse AnnieVelma Johnston and Her Fight to Save the Mustang$21.95
Author:
Alan J. Kania
Format: Paper
Pages: 240
ISBN: 9780874179170
Published Date: 2013
In 1950 Velma Johnston, a shy Nevada ranch wife, came upon a horse trailer leaking blood. When she discovered the destination of the trailer and its occupants—a trio of terrified and badly injured wild horses—she launched a crusade that eventually reached the halls of Congress and changed the way westerners regard and treat the bands of mustangs and burros that roam their region.

Wild horses have been a subject of bitter controversy in the West for decades. To some, they are symbols of the West's wild, free heritage. To others, they are rapacious grazers that destroy habitat and compete with domestic livestock and indigenous wildlife for scanty food and water. For years, free-ranging horses and burros were rounded up and shipped to slaughterhouses to be killed and turned into pet food. This practice provided an income for the "mustangers" who trapped and sold them, but it also involved horrendous cruelty and abuse of the animals.

Velma Johnston, who became known as "Wild Horse Annie," undertook to stop the removal of wild horses and burros from US public lands and protect them from the worst aspects of mustanging. Her campaign attracted nationwide attention, as it led her from her rural Nevada County to state offices and finally to Washington, DC. Author Alan J. Kania worked closely with Johnston for seven years, and his biography provides unique insight into Wild Horse Annie's life and her efforts to save the West's wild horse herds through the passage of protective legislation.
Author Bio
Alan J. Kania is a journalist who has worked in nonprofit administration and as an adjunct professor of journalism in Denver.
Reviews
"Kania has written a fascinating biography about a major figure in the environmental history of the West. Wild Horse Annie is her story and it is engagingly and affectionately told."—Southwestern Historical Quarterly
Southwestern Historical Quarterly
"Author Alan J. Kania provides a ward, candid, and revealing look into the public and private life of Velma B. Jonston (a.k.a. Wild Horse Annie), his mentor, collaborator, and friend, who sacrificed so greatly in her quest to save wild, free-roaming horses and burros of the American West."—Oregon Historical Quarterly
Oregon Historical Quarterly
"The book is well written and will be a fascinating read for those whose lives are affected by wild horses and burros."—Library Journal
 
Library Journal