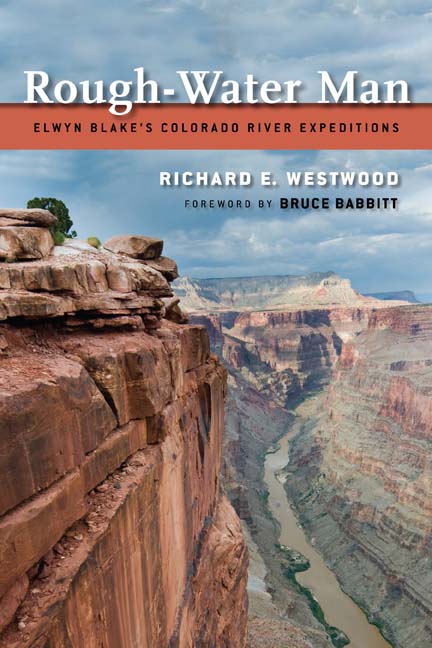 Rough-Water ManElwyn Blake'S Colorado River Expeditions$24.95
Author:
Richard E. Westwood
Foreword:
Bruce Babbitt
Format: Paper
Pages: 282
ISBN: 9780874179149
Published Date: 2013
The passage of the 1902 Reclamation Act created a mandate for the federal government to build dams on the Colorado River and its powerful tributaries. By 1920 the US Geological Survey had surveyed the river's main courses, but still needed accurate charts of the last stretches of deep canyons and white-water rapids, accessible only by boat.Rough-Water Man is the first detailed account of these mapping expeditions by the USGS—the San Juan Canyon in 1921, the upper Green River in 1922, and the Grand Canyon in 1923. Illustrated throughout with period photographs, it is also the personal story of twenty-four-year-old Henry Elwyn Blake Jr., the only boatman to crew on each of the three trips, evolving from novice waterman to expert rapids runner. Drawing on Blake's diaries, as well as the writings of other USGS surveyors, Rough-Water Man conveys the danger and hardships of navigating these waters with heavy wooden boats and oars. Even today, in rubber pontoons, traversing these canyons is an awesome and exhilarating experience. When Blake and his companions surveyed it, the Colorado ran free and wild from Wyoming to the Sea of Cortez. Westwood gives us mile-by-mile and day-by-day accounts of running these rapids before their canyons were flooded and waters tamed, before the rivers had ever been charted.
Author Bio
Richard Westwood is the nephew of Henry Elwyn Blake. He is the coauthor of Neil Westwood: A Biography and author of Chompin' at the Bit, a story about growing up in Moab, Utah. An avid river runner and environmentalist, he lives in Scottsdatle, AZ.
Reviews
"A necessary purchase for any Western history collection."
--Library Journal
"An appealing book for anyone who has explored the powerful river, or is on a waiting list to do so."
--Arizona Republic
"Westwood . . . uses Blake's knowledge and his own to allow the reader to appreciate the canyons and the sweat, danger, exhilaration, and satisfaction of running them."
--Nevada Historical Society Quarterly
"A valuable addition to the chronicles of river history." — W.L. Rusho, Western Historical Quarterly, May 1993
"Not only did I thoroughly enjoy reading Rough-Water Man, but I expect others will find the book just as fascinating. Westwood has put together a combination of memoirs, notes, interviews, and research in a way that draws the reader into the action." -- Ann Ronald, author of Friendly Fallout 1953