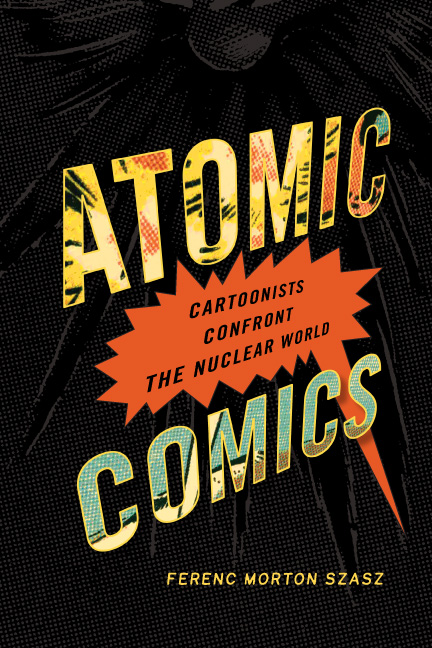 Atomic ComicsCartoonists Confront the Nuclear World$34.95
Author:
Ferenc Morton Szasz
Format: Cloth
Pages: 200
ISBN: 9780874178746
Published Date: 2012
The advent of the Atomic Age challenged purveyors of popular culture to explain to the general public the complex scientific and social issues of atomic power. Atomic Comics examines how comic books, comic strips, and other cartoon media represented the Atomic Age from the early 1920s to the present. Through the exploits of superhero figures such as Atomic Man and Spiderman, as well as an array of nuclear adversaries and atomic-themed adventures, the public acquired a new scientific vocabulary and discovered the major controversies surrounding nuclear science. Ferenc Morton Szasz's thoughtful analysis of the themes, content, and imagery of scores of comics that appeared largely in the United States and Japan offers a fascinating perspective on the way popular culture shaped American comprehension of the fissioned atom for more than three generations.
Author Bio
Regents Professor of History, Ferenc Morton Szasz taught at the University of New Mexico for forty-three years. Renowned for his wide-ranging interests, in his teaching and scholarship he focused on American social and intellectual history, thereby embracing the history of American religion, World War II, and the Atomic Age. The Day the Sun Rose Twice: The Story of the Trinity Nuclear Site Explosion, July 16, 1945 remains one of his most popular books.
Reviews
"Atomic Comics is well worth reading for those who want to know more about how the Atomic Age impacted the American imagination."—Rain Taxi
 
Rain Taxi
"Reading Atomic Comics reminded me of the reasons why I enjoy smart history and historians who draw meaningful conclusions from their research." -- ISLE
ISLE