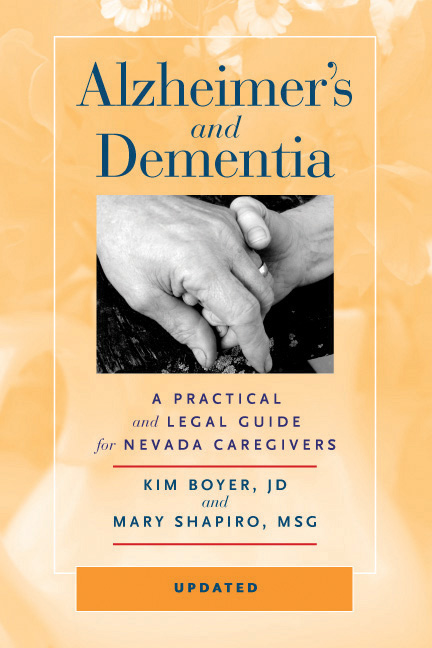 Alzheimer's and DementiaA Practical and Legal Guide for Nevada Caregivers$21.95
Author:
Kim Boyer
Author:
Mary Shapiro
Format: Paper
Pages: 176
ISBN: 9780874178586
Published Date: 2011
            Individuals or families receiving a diagnosis of Alzheimer's disease, dementia, or brain damage from a stroke face daunting questions: how to provide for care when the patient can no longer manage his or her own affairs, how to protect their rights and property, where to go for help, and how to cope with the day-to-day challenges of fading memory and diminished cognition. Here is a comprehensive guide specifically for aging Nevadans and for family members, professional caregivers, and health care workers who help them.
The authors—an elder law attorney and a specialist in geriatric care management—offer readers useful advice from the perspective of Nevada resources and Nevada law, addressing such topics as the legal and financial steps that patients and their families can take to protect themselves and their assets, paying for long-term care, arranging for guardianship, and tending to the details that follow the death of a loved one.
 This edition, updated in 2011, includes information about recent changes in laws that affect seniors, new research and treatments, and a new guide to resources throughout the state that can provide assistance to people afflicted with these medical conditions.
Author Bio
Kim Boyer, J.D., is a certified elder law attorney and founder of Boyer Law Group where she practices in the areas of elder law, estate planning, guardianship, and probate. She is also a trainer in the University of Nevada School of Medicine's geriatric education program. Currently, she lives and works in Las Vegas.
Mary Shapiro, MSG, is a gerontologist and counselor who is cofounder of Senior Direction, LLC. She is also a trainer for staff at Alzheimer's care facilities and in the University of Nevada School of Medicine's geriatric education program.
Reviews
"This book gives good down-to-earth advice on how to grow old in Nevada. It is full of empathy and compassion. It assumes that if growing old is not for sissies, it is for the well informed." -- Marjorie A. Slavin, MSW, author of What to Do When Your Son or Daughter Divorces
"This book provides an easy-to-read road map for navigating the journey and challenges of caregiving. To survive, caregivers need to be assertive and informed. This book shows you how. It is a valuable planning tool that will inform caregivers about the legal and financial issues as well as provide gentle tips for dealing with loved ones with dementia. You have found the Holy Grail for overworked, stressed-out caregivers." -- Jo Voege, MS, founder of Aging, a geriatric care management company in New York
"This book is great--very comprehensive and easy to read." -- Dr. Charles Bernick, Associate Medical Director, Cleveland Clinic, Lou Ruvo Center for Brain Health