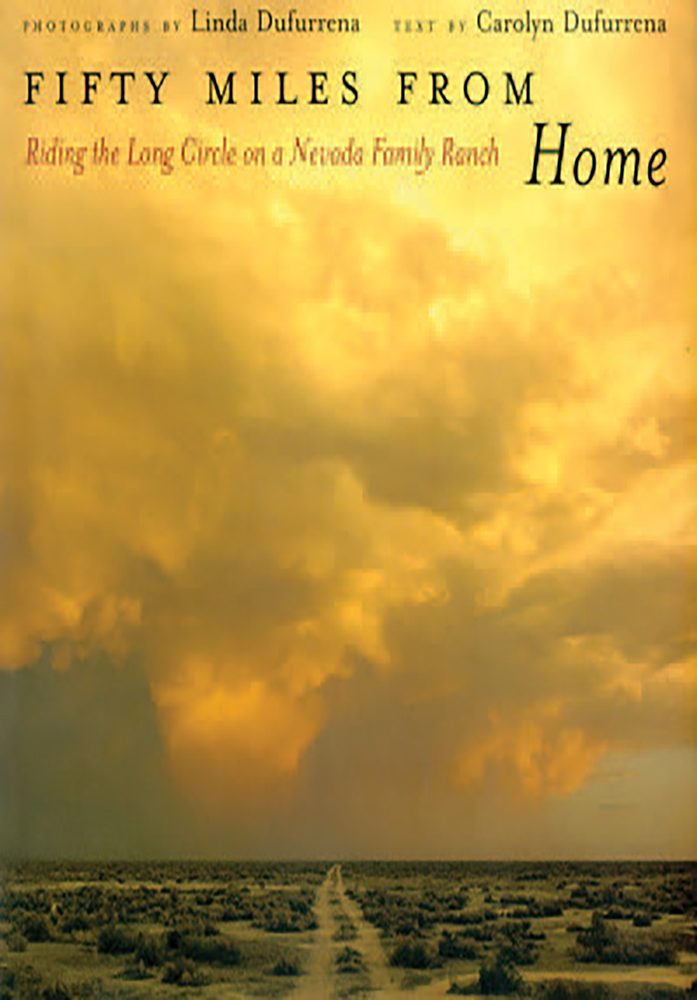 Fifty Miles from HomeRiding the Long Circle on a Nevada Family Ranch$29.95
Author:
Carolyn Dufurrena
Author:
Linda Dufurrena
Format: Paper
Pages: 179
ISBN: 9780874178463
Published Date: 2011
For more than a decade, photographer Linda Dufurrena has recorded with powerful eloquence the rugged, beautiful landscape of northern Nevada and the patterns of life on the Dufurrena family ranch in the Quinn River Valley. Over 100 of her finest photographs are collected in book form. Accompanied by a brilliant essay by her daughter-in-law, geologist Carolyn Dufurrena, that discusses the rhythms of the land and of life on the ranch, the photographs in Fifty Miles from Home vividly depict the heart of the West and its fabled ranch culture.
Within the fifty-mile circle of territory over which the Dufurrena family ranch operates—territory ranging from the edges of the barren Black Rock Desert to high, aspen-filled mountain basins—Linda and Carolyn Dufurrena follow the annual cycle of ranch work and the seasonal changes of the surrounding landscape. Life in this remote Nevada backcountry is shaped by the challenges of the austere Great Basin desert around the ranch and by the time-honored skills of generations of ranch families. And around the ranch, in every direction, are vistas of breathtaking beauty as the natural landscape evolves through the seasons, as flowers bloom and storms pass overhead.
Author Bio
Carolyn Dufurrena is a writer and teacher who first arrived in Nevada as a geologist. Her articles on ranch life and regional topics have appeared in Range Magazine and her poetry and essays have been anthologized. She has received the Nevada Writers Hall of Fame Silver Pen Award and the Donald Kerr Award for her works.
Linda Dufurrena is a widely exhibited and published Nevada photographer who specializes in depictions of rural Nevada scenery and of traditional ranch life. Her book, Fifty Miles from Home, won the Donald Kerr Award from the High Desert Museum in 2005.
Reviews
"Dufurrena's photography has always reflected her life—the geography of where she lives and the people around her. She shows the endless skies and vistas, the stories that live in Nevada's rocks, the two-track roads that seem to lead to nowhere, the wildlife and flora of the desert, the people at work, at rest and at ease." —Reno Gazette-Journal
". . . Expect great photography, particularly landscape and nature shots, and fine commentary that will take you right into the heart of Nevada ranching country." —Western Horseman
"Linda's photos are always competent; the landscapes are often better than that. They portray a moody, weathered land, downy with snow on one page, gasping for water on another. And always there is the potential for soaring beauty, most particularly in the form of dramatic skyscapes." --Las Vegas Life
"This well-made and heartfelt book is at once a primer in high desert ranching, a salute to the stark beauty of this empty country and the people who work it, and—alas—an elegy to a culture that is disappearing." —Journal of the West
"Duferrena's photographs—while beautifully rendered and composed—resist sentimentality and romantic notions of ranch labor." —Western American Literature
"Readers of Fifty Miles will likely be seduced by Carolyn's writings and equally, or even more, by Linda's exquisite and creative photography." - Klamath Falls Herald and News