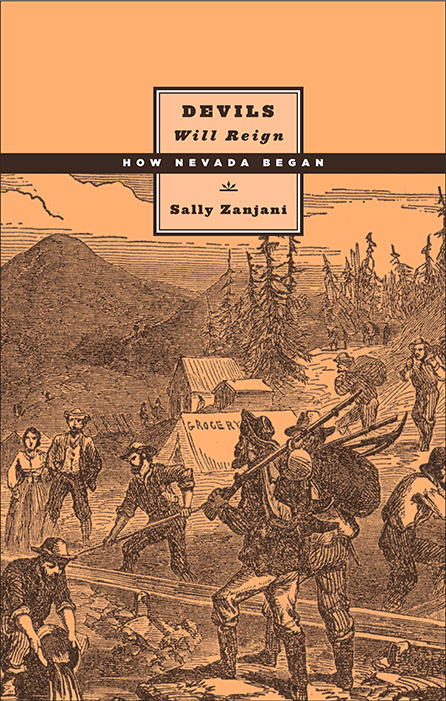 Devils Will ReignHow Nevada Began$18.95
Author:
Sally Zanjani
Format: Paper
Pages: 240
ISBN: 9780874177244
Published Date: 2007
Nevada entered the Union in 1864 as the thirty-sixth state, a mere two decades after John Charles Frémont and his party undertook the first Euro-American exploration of the Great Basin. However, the intervening years were exceptionally eventful—gold was discovered in California in 1848; the debate over slavery in the territories made the Far West a significant topic of congressional concern; and the Mormon establishment in Utah stimulated national suspicion of the sect's ambitions and policies—giving this remote, sparsely populated region on the eastern slope of the Sierra Nevada an importance that it probably would not have had in less turbulent times. In 1849, more than 22,000 people traveled the emigrant trails across the Great Basin, and soon Mormons from Utah set up a trading station in the Carson Valley to reap profit from the emigrant trade and anchor the western periphery of what their leader, Brigham Young, envisioned as a Mormon inland empire. Miners in Gold Canyon (just south of what is now Virginia City) and settlers in the Carson Valley were pushing the Native Americans out of their ancient homelands and vying with one another for control of choice land and rudimentary local governments. In Devils Will Reign, acclaimed historian Sally Zanjani recounts the momentous early history of the territory that is now known as Nevada, weaving the colorful saga of this rowdy frontier into the larger story of national political crises and economic ambitions, rapid development in California, and religious antipathy toward the polygamous Mormons. Here are intrepid frontiersmen, beleaguered Native Americans, zealous Mormons, and colorful characters and farmers, including a group of African Americans who successfully settled in the Carson Valley. Zanjani covers the lives of the pioneers, as well as the development and impact of the Comstock silver bonanza and the tenuous, halting efforts of the region's residents to create first a territorial, then a state government. Seldom has the process of western settlement and government-making been described with such detail and insight.
Author Bio
Sally Zanjani is a faculty member of the Department of Political Science at the University of Nevada, Reno. She is a former president of the Mining History Association and the author of eight books on the history of Nevada and the West.
Reviews
"This new book from University of Nevada Press is informed and interesting, splendidly written and enjoyable to read." —Utah Historical Quarterly
"Like all great stories of the West, Zanjani's narrative plays heavily on the ironic twists of fate that often make up the collective history of a region.... The tension between the desire for individual freedom and the need for societal structure is evident throughout this book that, although well documented, contains all the elements of great legend and myth." — Journal of the West
"...This book is an invaluable read for an intense examination of a brief and important period in Nevada's past." - New Mexico Historical Review
"This is an outstanding book. It is well researched and, as we have come to expect in anything from Sally Zanjani, beautifully written. It becomes the definitive study of the period of the 1850s. Devils Will Reign is an excellent and lively read, quite authoritative, and highly recommended. - Nevada Historical Society Quarterly