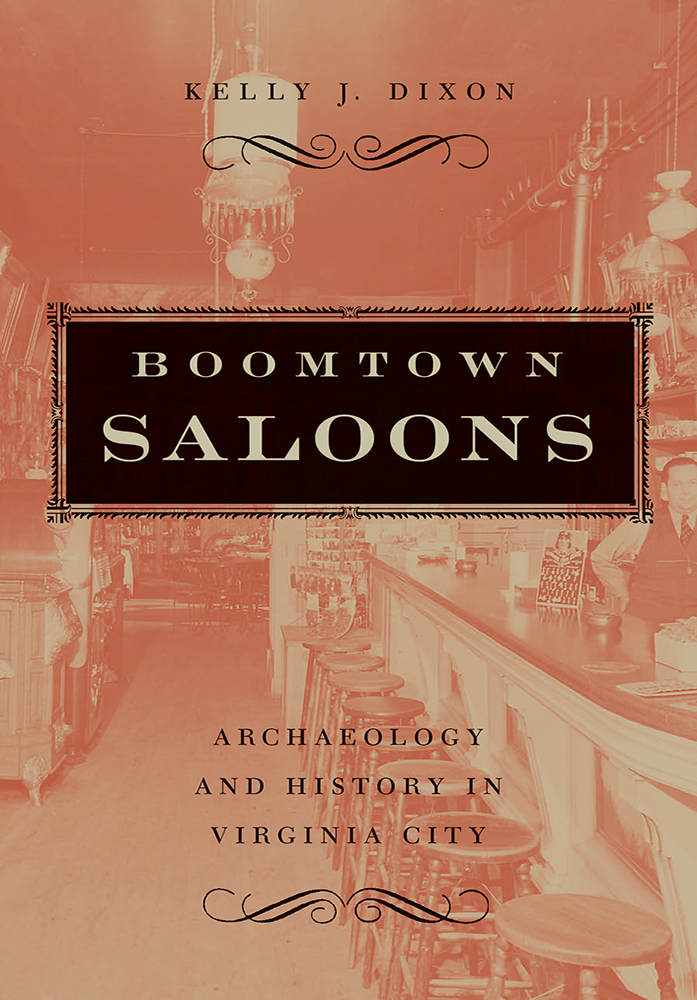 Boomtown SaloonsArchaeology And History In Virginia City$21.95
Author:
Kelly J. Dixon
Format: Paper
Pages: 256
ISBN: 9780874177039
Published Date: 2006
The image of Old West saloons as sites of violence and raucous entertainment has been perpetuated by film and legend, but the true story of such establishments is far more complex. In Boomtown Saloons, archaeologist Kelly J. Dixon recounts the excavation of four historic saloon sites in Nevada's Virginia City, one of the West's most important boomtowns, and shows how the physical traces of this handful of disparate drinking places offer a new perspective on authentic life in the mining West. During the second half of the nineteenth century, the Comstock Lode's mineral wealth attracted people from all over the world. At its peak, Virginia City had a cosmopolitan population of over 20,000 people. Like people everywhere, they sought to pass their leisure time in congenial company, often in one or another of the four saloons studied here. Dixon's account of the role these four establishments played in the social and economic life of Virginia City offers keen insight into the businesses and people who made up the backdrop of a mining boomtown. The saloons in this study were quieter than legend would have us believe; they served relatively distinct groups and offered their customers a place of refuge, solidarity, and social contact with peers in a city where few people had longtime ties or initially any close contacts. Boomtown Saloons also offers an equally vivid portrait of the modern historical archaeologist who combines time-honored digging, reconstruction, and analysis methods with such cutting-edge technology as DNA analysis of saliva traces on a 150-year-old pipestem and chemical analysis of the residue in discarded condiment bottles. The book is illustrated with historical photographs and maps, as well as photographs of artifacts uncovered during the excavations of the four sites. Dixon's sparkling text and thoughtful interpretation of evidence reveal an unknown aspect of daily life in one of the West's most storied boomtowns and demonstrate that, contrary to legend, the traditional western saloon served an vital and complex social role in its community.Available in hardcover and paperback.
Author Bio
Kelly J. Dixon is a professor of anthropology at the University of Montana. She specializes in Historical Archaeology in the American West, with recent research at the site of the ill-fated Donner Party in the eastern Sierras and in mining boomtowns such as Virginia City, Nevada. Her research areas include the archaeology of frontiers, boomtowns, landscapes, and mining and logging industries in the West. In addition to her expertise with archaeological field and laboratory methods, she is also experienced in forensic recovery techniques on historical sites. She is currently working with several graduate and undergraduate students to develop a historical archaeology research program in Montana and also has several students assisting the analysis of the Donner Party archaeological investigations.
Reviews
"This delightful study gives us a better picture of life in a Nevada boomtown than we have ever had before." —Mark Michel, American Archaeology

 
"Boomtown Saloons is . . . fascinating as a corrective to exaggerated historical accounts." —Archaeology
 
"A cutting-edge delve into the fine nuances of what archaeology can tell us about America's past." - American History Shelf
 
"By sharing the stories behind the digs of four Virginia City, Nevada, saloons, Kelly Dixon has methodically revealed how excavations can shed light on a culture's dining habits, vices and amusements, architecture and more...Dixon wields the right tools to paint us an accurate picture of 19th-century saloon culture." - True West