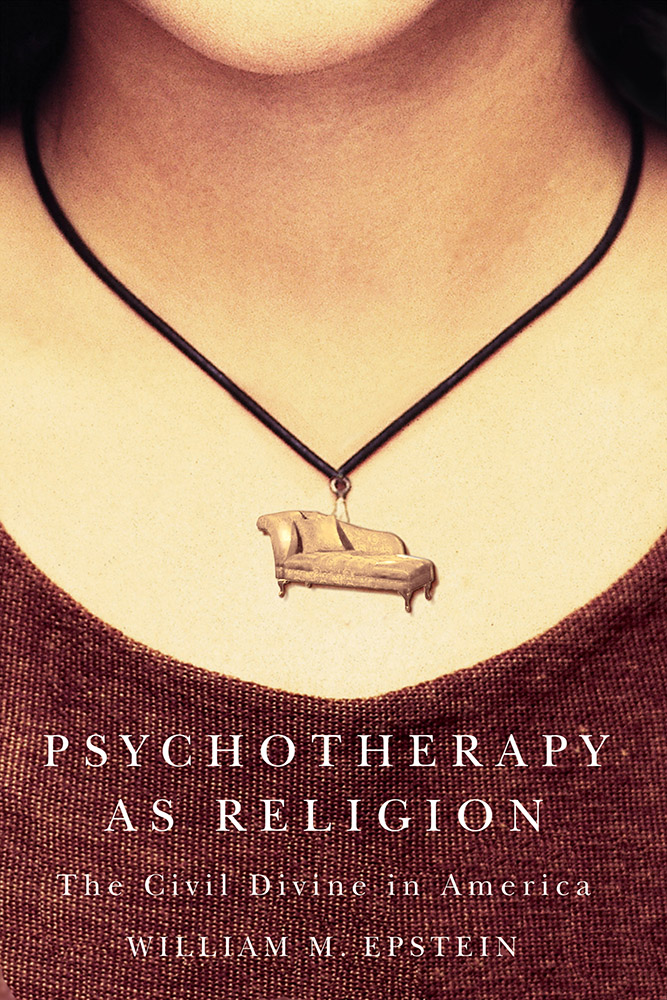 Psychotherapy As ReligionThe Civil Divine In America$24.95
Author:
William M. Epstein
Format: Cloth
Pages: 288
ISBN: 9780874176780
Published Date: 2006
A provocative look at America on the couch.In Psychotherapy as Religion, William Epstein sets out to debunk claims that psychotherapy provides successful clinical treatment for a wide range of personal and social problems. He argues that the practice is not a science at all but rather the civil religion of America, reflecting the principles of radical self-invention and self-reliance deeply embedded in the psyche of the nation. Epstein begins by analyzing a number of clinical studies conducted over the past two decades that purport to establish the effectiveness of psychotherapeutic treatments. He finds that each study violates in some way the standard criteria of scientific credibility and that the field has completely failed to establish objective procedures and measurements to assess clinical outcomes. Epstein exposes psychotherapy's deep roots in the religious and intellectual movements of the early nineteenth century by demonstrating striking parallels between various types of therapy and such popular practices as Christian Science and spiritualism. Psychotherapy has taken root in our culture because it so effectively reflects our national faith in individual responsibility for social and personal problems. It thrives as the foundation of American social welfare policy, blaming deviance and misery on deficiencies of character rather than on the imperfections of society and ignoring the influence of unequal and deficient social conditions while requiring miscreants to undergo the moral reeducation that psychotherapy represents. This is a provocative, brilliantly argued look at America on the couch. Psychotherapy as Religion is essential reading for anyone interested in the history and current state of mental health.
Author Bio
William M. Epstein is a professor at the School of Social Work, University of Nevada, Las Vegas. He is the author of six other books, including The Illusion of Psychotherapy.
Reviews
"With such a provocative cover, title, and subject matter, the important question is does the book deliver? ... I have to say to that, as someone who has spent 25 years treating patients in psychotherapy and who has published many articles and books in the field, including an undergraduate textbook, the answer is yes!" —Thomas G. Plante, PsycCRITIQUES/ Contemporary Psychology: APA Review of Books 52.7, February 2007
 
"William Epstein has for quite a while been a trenchant critic of the scientific pretensions of psychotherapy, and his most recent book is a tour de force. If I had to single out one book to represent the critical literature on psychotherapy, this would be it. Not only does Epstein demolish the more recent so-called scientific research supporting therapeutic practice, but he also offers a masterly critique of the theoretical bases and principal assumptions of the main approaches. His argument that therapy is first and foremost a cultural phenomenon —a central plank of US commitment to 'heroic individualism'—is constructed with such force as to be very nearly unanswerable. But of course, as Epstein well recognizes, it will hardly dent the sublime self-confidence of psychotherapy's researchers and practitioners, as their world is built on self-deception and interest, not reason—much more akin to magic and religion than to scientific truth." —David Smail, www.davidsmail.freeuk.com
 
"This book is timely, compelling, and lucid. It will become a symbol of rationality in a field that has intitutionalized an illusion." —David Stoesz, School of Social Work, Virginia Commonwealth University
 
". . . an important point of view, which adds to our collective discussion of the issue. It is a truly important contribution." —Duncan Lindsey, Department of Social Welfare, UCLA

 
"Epstein has admirably undertaken the task of sitting down with the literature on psychotherapy to critique it, demonstrating a perseverance that must be credited." - American Academy of Child and Adolescent Psychiatry