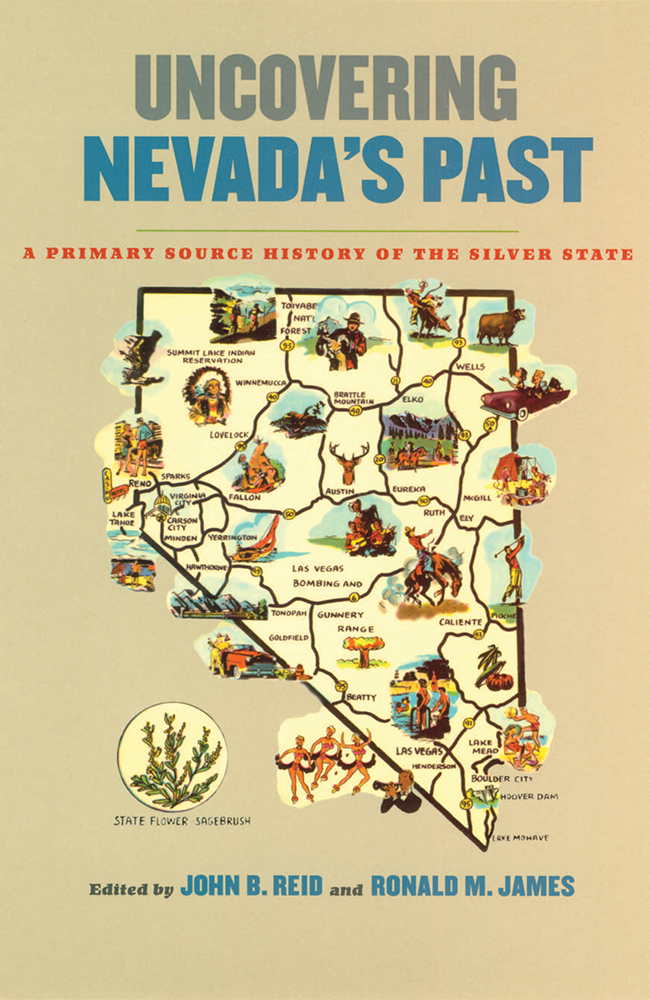 Uncovering Nevada's PastA Primary Source History of the Silver State$24.95
Editor:
John B. Reid
Editor:
Ronald M. James
Format: Paper
Pages: 248
ISBN: 9780874175677
Published Date: 2004
Nevada's relatively brief history has been nonetheless remarkably eventful. From the activities of the first Euro-American explorers to the booms and busts of the mining industry, from the struggles and artistry of the Native Americans to the establishment of liberal divorce laws and such unique industries as legalized gambling and prostitution, from Cold War atomic tests to the civil rights movement, from the arrival of a diverse and rapidly growing urban population to the Sagebrush Rebellion, Nevada has played a part in the nation's development while following its own ruggedly independent path. In Uncovering Nevada's Past, historians John B. Reid and Ronald M. James have collected more than fifty major documents and visual images—some never before published—that define Nevada's colorful and complex development. Here are the words of such literary luminaries as Mark Twain, Sarah Winnemucca, and Arthur Miller; anonymous newspaper articles; public documents including Abraham Lincoln's proclamation of Nevada statehood and the probate records of murdered Virginia City prostitute Julia Bulette; personal letters; political speeches; and personal accounts of, among other subjects, the construction of Hoover Dam, life in a mining boomtown, racial segregation in Las Vegas, political careers, and atomic testing. Images include photographs of significant Nevada architecture, the masterpieces of renowned Paiute basketmaker Dat-so-la-lee, tree carvings by Basque sheepherders, and tourism promotions. The collection ranges from the earliest descriptions of the region to the current debate on Yucca Mountain. The volume editors have provided an introduction and headnotes that set the documents into their historical and social context. Uncovering Nevada's Past is a vital, enlightening record of Nevada's history—in the words of the people who lived and made it—that makes for lively and engaging reading.
Author Bio
John B. Reid currently serves as chair of the Cultural and Societal Studies Department at Truckee Meadows Community College. He received his B.A. and M.A. degrees from the University of Nevada, Reno in 1987 and 1990, respectively. His specialty in his Ph.D program was Race and Race relations in the United States with a strong minor in African history. Dr. Reid has published several articles and encyclopedia entries on his areas of research.
Ronald M. Jamesis the author or co-author of ten books, and he received the Wilbur S. Shepperson Humanities Book Award in 1998. His articles on history, folklore, and archaeology have appeared in six countries, and he has lectured on western history throughout the nation. James also lectures occasionally at the University of Nevada, Reno in history and folklore. He is the chairman of the National Historic Landmarks Committee for the National Park Service, and he served as Nevada's State Historic Preservation Officer for three decades.
Reviews
"...An easily readable collection" - Journal of the West